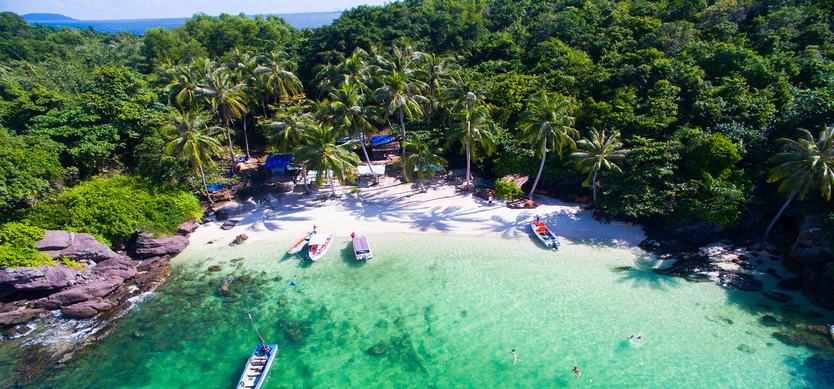 Kien Giang - the tropical paradise has many beautiful landscapes, dreamy and peaceful beaches, and charming islands.
If you love sea and islands, you should not ignore the enchanting islands in Kien Giang below.
5 most beautiful islands in Kien Giang
Nam Du Island
Phu Quoc Island
Ba Lua Island
Hai Tac Island
Hon Son Island
Nam Du island
Nam Du may be unfamiliar to many people because it is a newly exploited Island and retains the wild beauty of the archipelago. Nam Du comprises 21 islands and is located in the east of Phu Quoc Island, Kien Giang province. Landscapes on the island are very beautiful and charming that makes anyone who has ever set foot here excited.
Coming to Nam Du island, visitors will admire the charming scenery like Men beach, Mau beach, Big islet (Hon Lon) considered the most beautiful island in Nam Du with gentle white sand, clear blue water, and towering coconut trees. It is very wonderful to immerse in the extensive sea and move away from the chaos of life to enjoy yourself in nature.
In addition to swimming, you can also participate in many exciting activities such as snorkeling, watching the fish in the area of Hon Ong. Floating on fishing boats can give you chance to enjoy fresh fishes all day. Moreover, you can also explore Nam Du lighthouse, view the panoramic scenery of the island. Watching beauty sunset or sunrise on the sea will amaze people by the stunning scenery.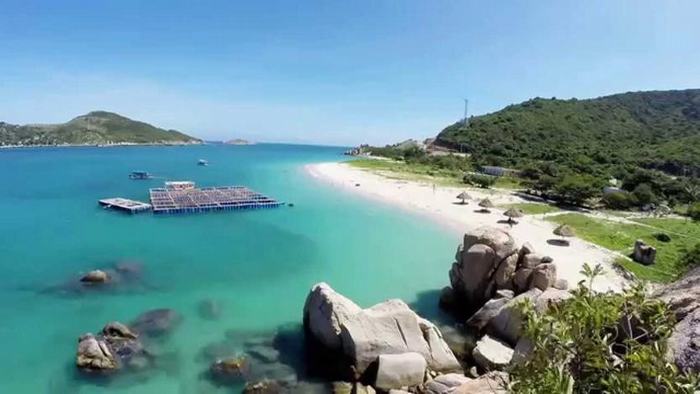 The stunning beauty of Nam Du Island
Phu Quoc island
Phu Quoc has long become one of the islands attracting many domestic as well as foreign tourists. Once voted as one of three most beautiful tourist destinations in winter by National Geographic and head of the top 10 tourist ideal beaches in Asia by AsiaOne ... Phu Quoc always gives each visitor the unforgettable memories and impressions.
With stunning beauty, every scene in Phu Quoc captivates much more tourists. Phu Quoc is home of many most beautiful beaches in the world like Sao beach, Long beach, and others. So poetic, dreamy and beautiful is the scenery, tourists coming here once give many compliments and wish to go again.
Besides swimming, Phu Quoc also gives you many wonderful experiences as snorkeling, squid fishing, watching the sunset in Dinh Cau, driving cross-country forest ... All brings an exotic attraction you do not find in other places.
Ba Lua island
Situated in Kien Luong District, Kien Giang, Ba Lua archipelago is renowned as one of the islands with the poetic, stunning and pristine beauty. With more than 40 large and small islands, so no one can visit all of these islands. However, many visitors considered this island as a "small Halong" of the South because of not having strong winds and large waves.
The most beautiful islands of Ba Lua include Dam Duong, Duoc island, and Gieng island. All three islands have blue waters, beautiful beaches with white sand and pristine beauty. Among three islands has a small pond, everyone can swim or hike from one island to another. Moreover, you will be very excited to see the colorful fishes swimming around the foot while transferring between these islands.
This is an opportunity to witness the daily life of fishermen, hundreds of fishing boats bobbing in the sea or stunning sunset, or shimmering sunrise like the scene in paradise ... Also, you will enjoy a lot of fresh seafood such as fish, shrimp, crab, squid, snails ...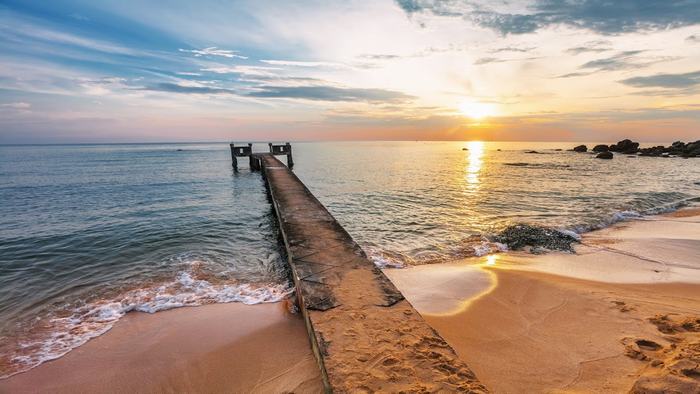 Sunset in Ba Lua Island
Pirate Island
Pirate Island is located in Tien Hai village, Ha Tien district, Kien Giang province. Known as an important trade route from China to Western countries in the last century so it became a place so that pirates sheltered, ambushed and attacked merchant ships. Hence it is called the name 'Pirate Islands with the system of 16 islands, located in the bay area of Ha Tien - Rach Gia.
Today, it remains the unspoiled and enchanted beauty with long white sand beaches and many rocks with extremely strange shapes. Not only swimming, but tourists can also comfortably organize games on the beach, go snorkeling, catch crabs and snails around the reefs. All will give you an impressive experience.
Hon Son island
Hon Son island is located between Nam Du archipelago and Hon Tre, in Lai Son commune, Kien Hai district, Kien Giang province, so it is not difficult to come and explore the beauty here. Previously, the island was also known as Otter island because there are many otters living here.
Coming to Hon Son, you will witness the peaceful beauty with rocky islets in many shapes, the beautiful beaches with clean blue water. The gentle white sand beaches covered by towering coconut trees rustling day by day and sounds of sea waves will make you feel as in Fairland.
Besides swimming, you can discover and witness the activities of fishermen, watch sunset or sunrise on the sea, or rent a boat to go fishing, conquer majestic ​Ma Thien Lanh peak... All will give you an unforgettable lifetime.
With these breathtaking islands, you will definitely have a memorable holiday when coming here. You can also get further information about Mekong Tours via our website. Hope that this article is useful for you. Have a great trip!