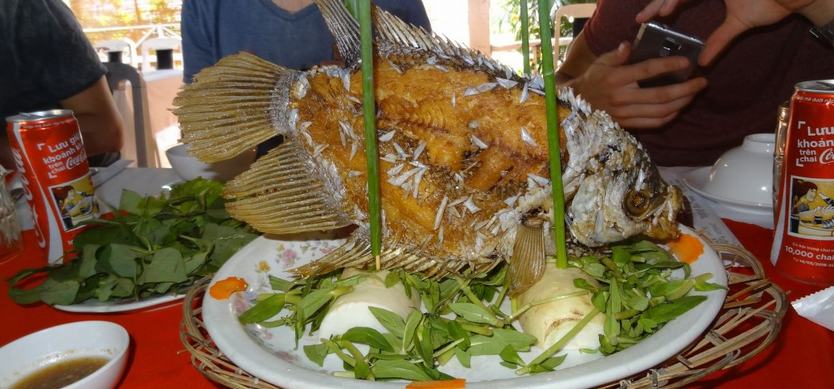 Mekong Delta's cuisine will make you have an unforgettable time because of its irresistible flavors. So, if you can not spend time to enjoy cuisines in the land, it means that you have ever visited Mekong Delta.
But! What dishes you have to try when taking Mekong river cruises?
Let's scroll down to read the full descriptions about these famous Mekong Delta's dishes.
1/ Jaggery
When visiting Mekong Delta, you don't forget to enjoy Jaggery which is a typical tree species in the Bay Nui area, not only for fresh and cool drinking water but also as a material for the specialty jaggery of An Giang people. The genuine jaggery is made from nectar and jaggery fruit which undergoes many stages to produce yellow steaks of cowhide, sweet, and fragrant.
In addition to enjoying directly to feel the sweet taste, jaggery sugar is also used to cook green bean tea and fish sauce to increase the flavor. It is the reason why if you have a chance to visit the place, you don't forget to enjoy the fruit and buy some jaggery to enjoy and gift for friends and family as well.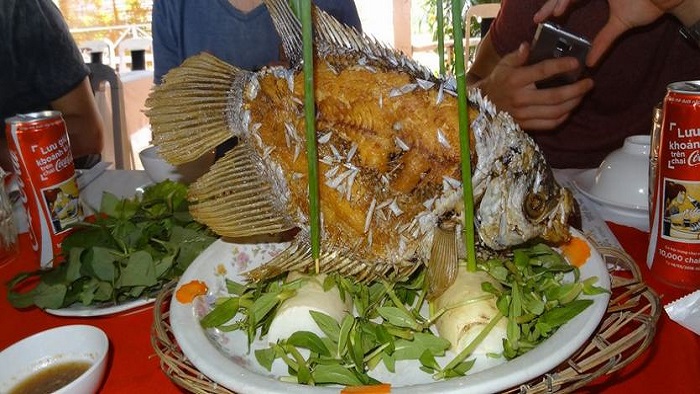 The most incredible Foodie tour of Mekong Delta
2/ Chau Doc fish noodle
Besides famous and attractive fruits, Mekong Delta also attracted tourists by special and delicious foods, especially noodles. Therefore, when you have the chance to visit the place, you do not forget to enjoy Chau Doc fish noodle which is considered as one of the must-try noodles in Mekong Delta.
Fish noodle is quite a famous dish in many areas such as Ca Mau fish noodle, Soc Trang fish noodle, Kien Giang fish noodle and etc. among them, Chau Doc vermicelli is more famous because it almost keeps the original flavor of Fish noodle which is originally from Cambodia. Furthermore, the soup of Chau Doc fish noodle is made from pork bones and seasoned with fish spirit and fish sauce to create a unique flavor. The fish must be boiled, boiled and then stir-fried with turmeric to reduce the fishy smell and increase the flavor for a fish noodle dish. Moreover, Chau Doc fish noodle dish is often served with fish lettuce, basil, banana and crazy cotton which is very typical of the West. Therefore, there are a lot of tourists falling in love with the dish in the first try.
3/ Hotpot sauce
It is known as the most famous local foods in Mekong Delta, hotpot sauce is one of the specialties of the Southwest. The hotpot is only really delicious when the soup is made from the fish sauce or fish sauce of Chau Doc, An Giang.
Hotpot is cooked from pork bones combined with the spirit sauce or chopped fish sauce, then added a little mushroom, eggplant to increase the flavor. The ingredients for hot pot sauce are bacon, fish, eel, beef, and snail which form a pot of hot pot, flavorful. In particular, the fish sauce hotpot with indispensable raw vegetables are all kinds of crazy cotton, chopsticks, water hyacinth of the Western region.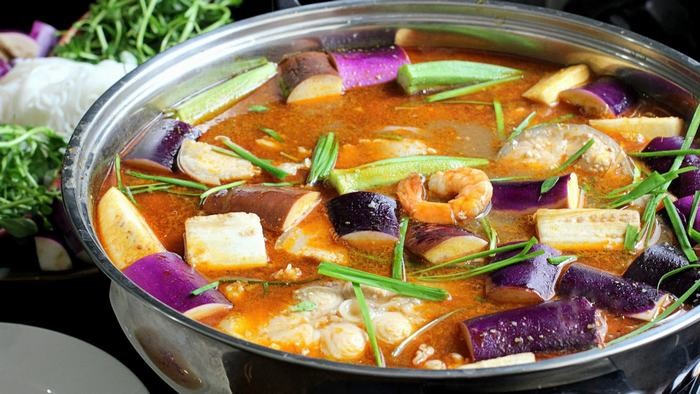 Hotpot sauce
4/ Debris hotpot
If you want to find out the hotpot which has a reasonable price, delicious and attractive, debris hotpot is the best choice for you. For Westerners, everyone ate through chili salt, but even though it was so sour, many people were still addicted to "cork" like falling in love with mango. Therefore, there is no need to see the hotpot in front, just listen to the hotpot, everyone immediately copies their mouth because of sour.
Furthermore, Attached to cork is eel - also a simple and hard-to-find ingredient in the West. In order to prepare this dish, Westerners must eel, wash and straighten. After that, eel is rubbed with chili to deodorize fishy and marinated. Moreover, the sourness of the peace with the spicy chili peppers and the sweetness of the eel produces a strong flavor. Served with hotpot is banana, herbs, and lemon basil leaves. On a windy day, Westerners just need to cook hotpot next to the kitchen, inhale the sour and mixed flavor, and feel warm.
Besides these dishes above, there are a lot of famous and delicious dishes and foods for enjoying. Furthermore, there are many wonderful and attractive destinations for traveling in the Mekong Delta, so you should spend time traveling. It is the reason why if you have time for traveling to Mekong Delta, you don't forget to visit the floating market which is the most famous and wonderful place for joining in there. However, if you want to enjoy the place, you have to stay at local people and join the place in the early morning because the floating market opens early from 6.00 am to 8.00 am. In addition, when visiting the floating market, tourists will have the chance to enjoy and live like local people.
We hpe that after the post, tourists will have full and useful information for traveling in Mekong Delta. Furthermore, if you need more information about traveling, don't forget to visit our website to get more information.