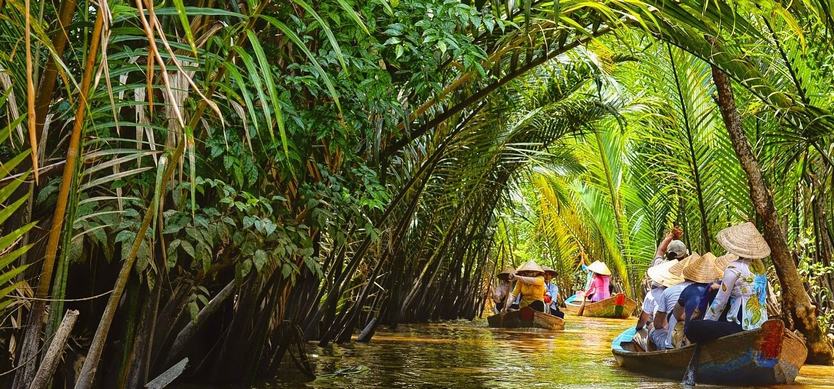 If Northern Vietnam attracts tourists with majestic landscapes such as Halong Bay or Ha Giang rock plateau then the Southwest region holds you with lush islets, the hospitality of native people and the featured characteristics of river region. It's the simplicity that makes this place become an ideal holiday destination. If you're about planning your upcoming trip here and wondering "where is Mekong Delta?", take a look at our article below.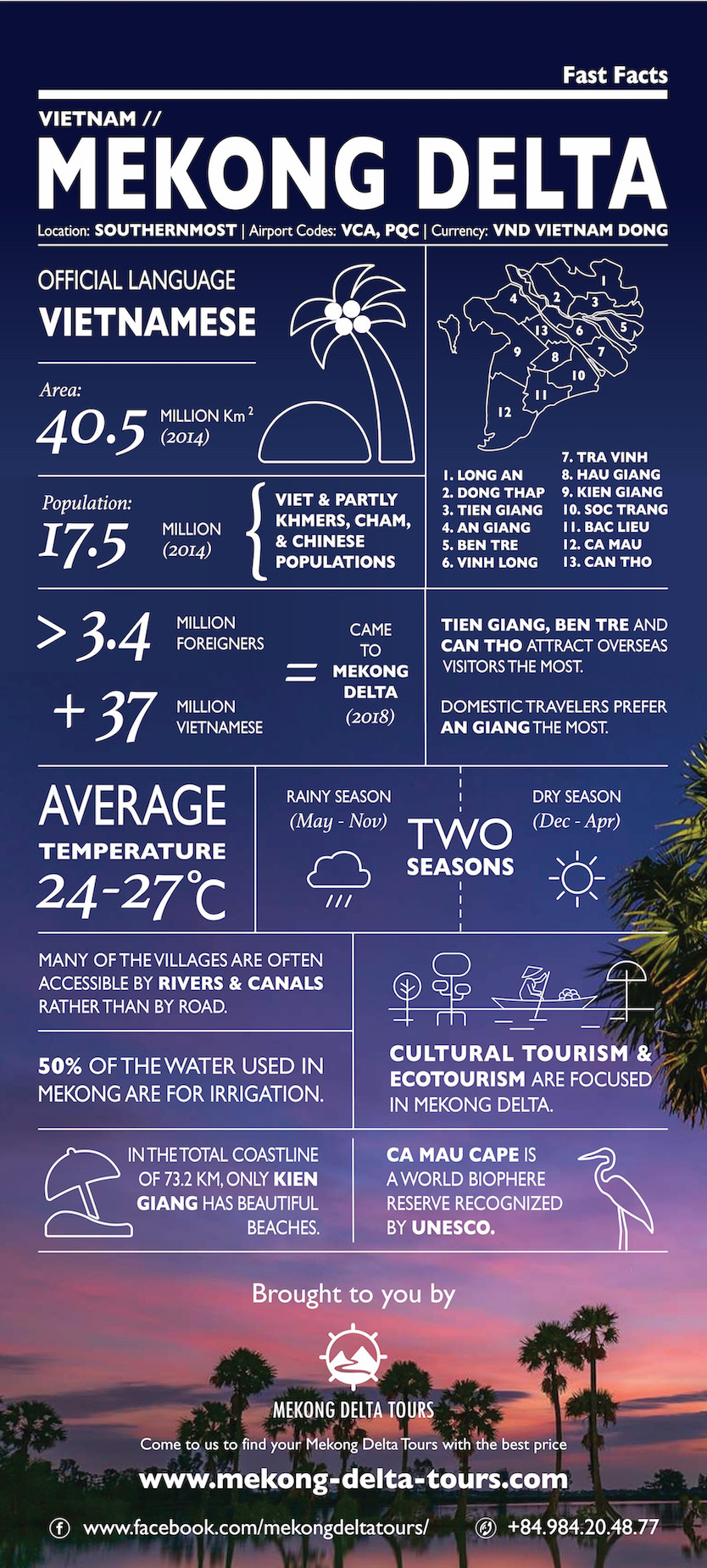 Geographical location
The Mekong River Delta is located in the southernmost part of Vietnam (the Southwest region), bordering the northeast by Ho Chi Minh City, the north by Cambodia and the west by the South China Sea and the Gulf of Thailand. The total natural area of about 39,712 square kilometers is the low delta with a lot of rivers and canals and always occurs the process of accretion and erosion. Due to the low terrain types, floods frequently happen in this region. Most of these types of terrain are diverse and have quite a flat surface, not higher than 2.0m above the sea level, especially in U Minh Thuong and U Minh Ha areas only 0.1- 0.3m high
In terms of geology and soil, this is a land of alluvial deposits of two main rivers: Tien River and Hau River. This soil is very suitable for perennial crops and wet rice. Therefore, promoting the development of wet rice agriculture has brought the Mekong Delta into a granary of the country.
With three sides surrounded by sea, Mekong Delta includes 12 provinces and one city: Long An, Tien Giang, Ben Tre, Kien Giang, Hau Giang, Bac Lieu, Vinh Long, Tra Vinh, Soc Trang, Dong Thap, Ca Mau, An Giang and Can Tho City.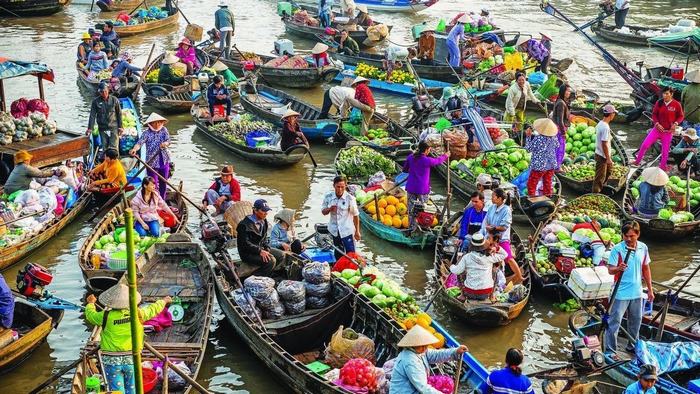 Floating market in Mekong Delta
The territory consists of many islands and archipelagos with a coastline of 73.2 kilometers. It is an advantage when it is next to the west of Southeast region because when it comes to the development, the Southeast region is in the top of the most dynamic regions in the country. The economic exchanges occur strongly and the processing industries are supported.
Mekong Delta is situated in the area of maritime and air transport between Southeast Asia and South Asia, facilitating the convenience for international cooperation and exchanges. Cambodia is a country bordering the North of Mekong Delta, so it created favourable conditions for exchanges with countries in the Mekong basin.
Weather in Mekong Delta
The Mekong Delta region has the general characteristics of the Southern delta climate, with the equatorial monsoon climate regime with high temperatures all year round and heavy rainfall divided by seasons. There are two distinct seasons in the year: the rainy season lasting from May to November and the dry season starting from December to April next year. In addition, the climate is influenced by the monsoon tropical climate regime and characterized by coastal plains.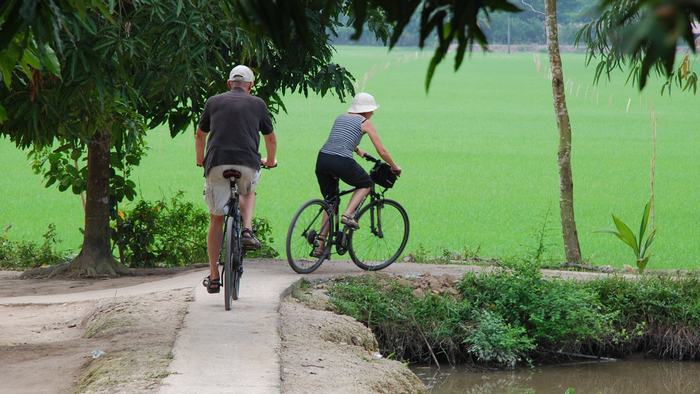 Cycling in Mekong Delta
Mekong Delta's tourism
The Mekong Delta has relatively rich tourism resources and the unique features of the river. Most of the tourism resources associated with water, gardens, and floating markets.
The Mekong Delta houses three biosphere reserves, five national parks, three nature conservation areas, three species conservation zones, seven habitat protection zones and one forest of scientific experimental research. These are very precious ecotourism resources of the region as well as of the whole country.
The Mekong Delta is also the intersection of ethnic cultures of the Kinh, Chinese, Khmer Krom and Cham people. This is a very important factor that forms the foundation of a very special and valuable humanitarian tourism resources system. Currently, the Mekong River Delta holds many attractive festivals, such as Ba Chua Xu Festival (Sam Mountain, An Giang), Festival to celebrate the National Hero Nguyen Trung Truc (Kien Giang) or other special ethnic festivals such as: Bay Nui (An Giang), Ooc-Om-Boc (ethnic Khmer), Ngo boat race, Nghinh Ong festival, Fruit Festival, Festival Nam Hai Quan Yin (Bac Lieu).
Typical in the diversity of cultural values in the Mekong Delta is the folk art "Don ca Tai tu" which has been recognized by UNESCO as an intangible cultural heritage of humanity. This type of folk art is very popular in the life of the Southern people whose roots are identified in Bac Lieu.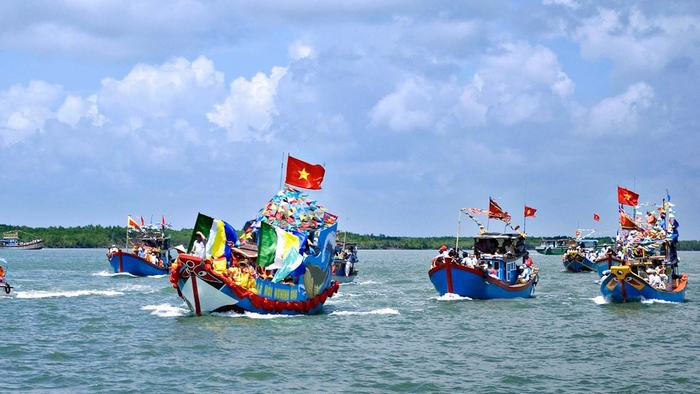 Nghinh Ong Festival
The Mekong Delta does not have many beautiful beaches, except for Ha Tien, Kien Luong (Kien Giang province) and breathtaking beaches on Phu Quoc Island - one of Vietnam's most important island destinations.
In 2015, the whole Mekong Delta region welcomed over 1.8 million international visitors and over 18 million domestic tourists. Total income from tourists reached over VND 8.6 trillion. Tien Giang, Ben Tre and Can Tho are tourist spots that attract the most international visitors, meanwhile, An Giang is the most attractive destination for domestic travelers.
There is no shortage of interesting things about Mekong Delta which we cannot say enough in this article. Therefore, we would like to suggest you visit our website to get further information about Mekong Delta and Cochinchina as well. We hope that you will find this blog helpful and have the most unforgettable time when taking Mekong Delta Tours. Thank you!