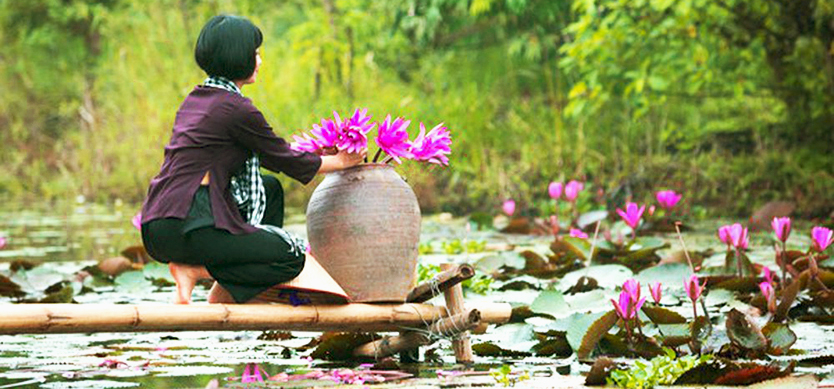 Ao ba ba - Casual wear in South Vietnam
If ao dai is a symbol of Vietnamese women in general, "ao ba ba" is considered the image of the diligent, delicate and rustic Southern women in particular.
The outside of "ao ba ba"
"Ao ba ba" is typical casual wear in South Vietnam, especially in rural Mekong Delta areas. "Ao ba ba" simply consists of a pair of silk pants and a long sleeved shirt. The shirt is long and split at the sides of waist. It usually has a button line and two pockets at the bottom. "Ao ba ba" is usually matched with silk or satin pants in white or black, with the typical conical hat and bandanna of the South.
Because of the materials which are easily washed and quickly dried, "ao ba ba" is a favorite outfit of the farmers in the Mekong Delta. Besides, it is cut on the sides, making the wearer feel comfortable. Thanks to that convenience and comfort, "ao ba ba" are worn by both men and women in the Mekong Delta at work, shopping, and outings.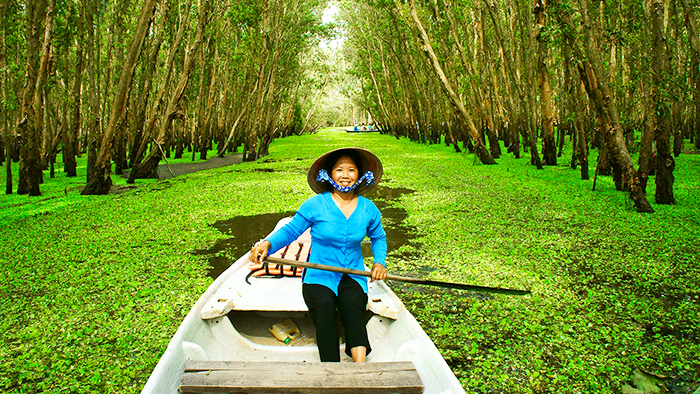 A familiar image of the Southern women
Later, especially in the period of 1960-1970, the traditional "ao ba ba" was improved by urban women, which was both ethnic, beautiful, and modern. The current "ao ba ba" is not as straight and wide as it used to be, but is narrowly sewn, embracing the body. In addition, people also created many different types of shoulder, wrist, hand, swallows, knitting, or lotus leaf collar, etc which were acquired from foreign clothes.
Hand-assembled models have also been improved. From the style of the old blouse sticking to the hands, people thought of how to separate the hand from the sleeve, creating a modern beauty for the traditional "ao ba ba".
"Ao ba ba" in people's life
In the old days, South Vietnamese always wear "Ao ba ba" not only when they are inside but also outside. It is used even when people do farming. It became popular in the major community because of its usefulness. Furthermore, materials for making "ao ba ba" are so easy to find. If you don't have silk, you can replace by normal clothes as long as they are comfortable. Depending on colors, "ao ba ba" has different usages. Dark colors such as black and brown are used for working clothes, while bright and colorful outfits are for events, festivals, or going-out days, etc.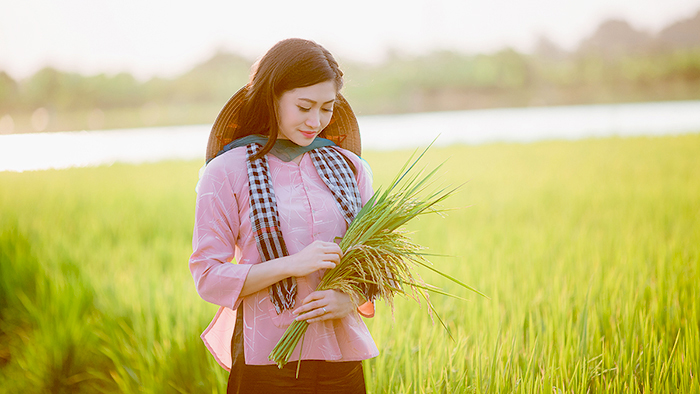 The elegant beauty of Southern women
Modern versions allow countless different designs, colors, and embroidery, which have allowed the costume's transition into modern Vietnamese fashion as well. Nowadays, although people do not wear "ao ba ba" as regularly as before, it still keeps a spiritual position in their life because it is a part of not only history, culture but also Vietnamese nation.
Reffering to "ao ba ba", many people will immediately think of the Southern countryside, to the honest, hospitable, and generous people. Behind that simple outfit is a kind heart - a heart of the Western people. If you like this unique characteristic, don't hesitate to plan a wonderful trip here with your beloved people. For further information about Mekong Delta tours, feel free to contact us or visit our website. Thank you.