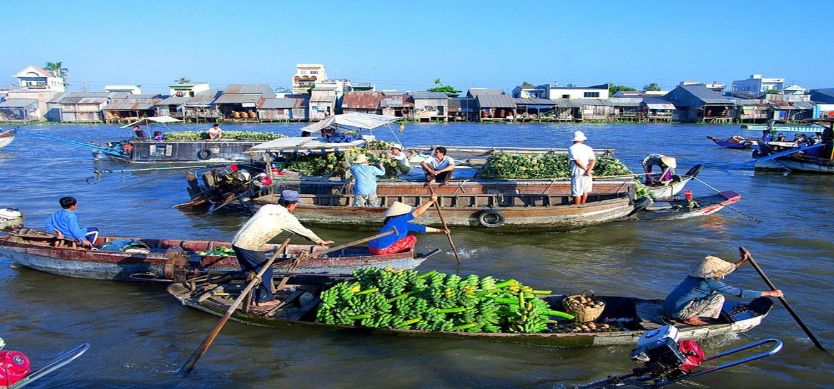 Wake up early and explore Cai Rang floating market on a boat - a memorable experience you must try when joining Mekong Delta tour.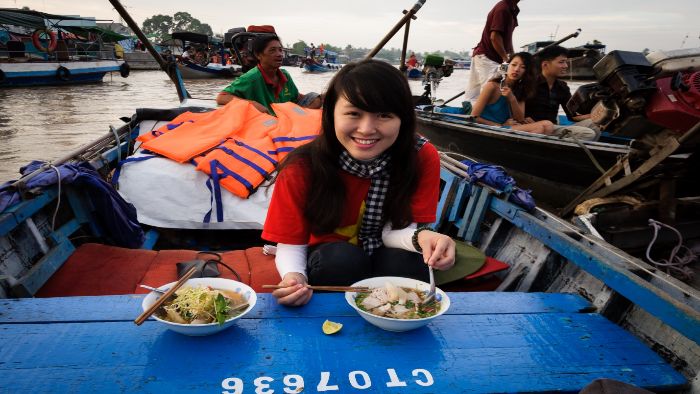 Enjoy food on boat in Cai Rang floating market
Cai Rang Floating Market is one of three largest floating markets in Can Tho. It is featured by business of Mekong Delta fruits. Cai Rang floating market is located on Cai Rang river, near Cai Rang bridge, far from the center of Can Tho city about 6 km of road and 30 minutes if you go by boat from Ninh Kieu pier (Can Tho city - the capital of old Tay Do).
Cai Rang market overview
Like other floating markets in Mekong Delta, the market was formed to meet the needs of sale, goods barter when road traffic has been not developed yet. People gathered on the river by means such as canoes, boats,...Today, though road traffic network has developed widely but the floating market has existed and grew increasingly with economic and tourism potential for Mekong Delta.
Cai Rang market usually begins pretty early, from the early morning until about 8 am or 9 am. Goods are sold on the boats, each boat will usually specialize in one type of goods. In front of each boat, there is a pole on which hangs types of goods that the boat sell. For example, if the boat sells sweet potatoes, the pole will be hang some sweet potatoes; if the boat sells mangoes, the pole will have some mangoes, which means that "selling potatoes here"or" here selling mangoes ". These boats are called "ghe bẹo".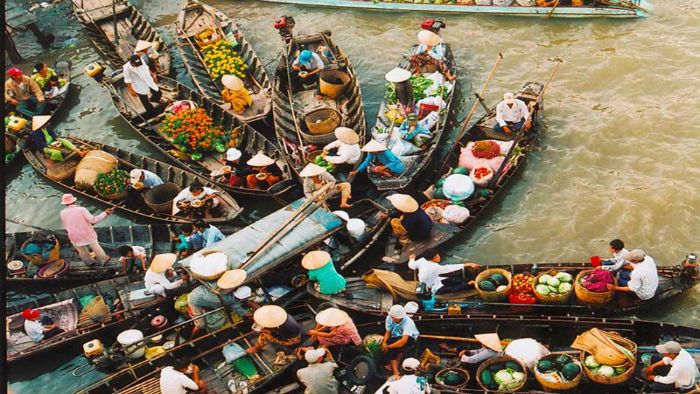 Cai Rang floating market
Experience Cai Rang floating market
In addition to boats of fruits and agricultural products, there are also many other types of services: pho, noodles, coffee, floating pubs, tourism boats (usually small boat) for shopping and visiting the market.
Not only preserving cultural beauty of water region, the floating market today becomes an attractive tourist destination, especially foreign tourists who like to explore and experience. Foreign tourists feel very excited and interested in the river scenery, even sweet songs as "mía lùi" of Tay Do girls. Price of visiting the market by motorboat is VND 20.000 / person, if travelers want to watch Can Tho bridge on sunrise, price will be surcharged VND 10.000/ person.
Cai Rang floating market is famous for its vibrant operation which reflects the diverse lifestyle and culture of local people. With the information above, we hope that you have a great time in Cai Rang market as well as Mekong Delta. Thank you!