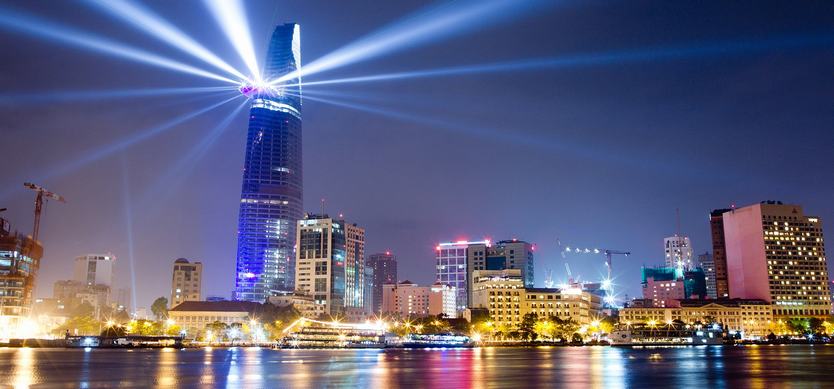 Known as "the city never sleeps", Ho Chi Minh City is the promised land for those who are into challenging and exploring new things. When the night falls, Ho Chi Minh City becomes a noisy and gaudy city with sparkling street lights and massive buildings.
Surely, when visiting Ho Chi Minh city one time, especially enjoying vibrant activities in the night, you always want to come back
Let's explore the top "must-try" activities in Saigon's night to explain why most of the tourists want to visit Saigon one more time.
What to do at night in Ho Chi Minh City?
Watch the panorama of the city from Bitexco Financial Tower
Relax at bar/ club
Have some beer at Ta Hien Street
Enjoy music at the coffee house
Wander around the walking street
Gather at Saigon Opera House
Shop at Ben Thanh Market
Watch the panorama of the city from Bitexco Financial Tower
Bitexco Tower is considered the most obvious night symbol of Ho Chi Minh City. With a height of 262 meters consisting of 68 floors, the tower is built from the inspiration of a lotus bud as the rise of Vietnamese spirit. This building also has an emergency helipad at the top circle.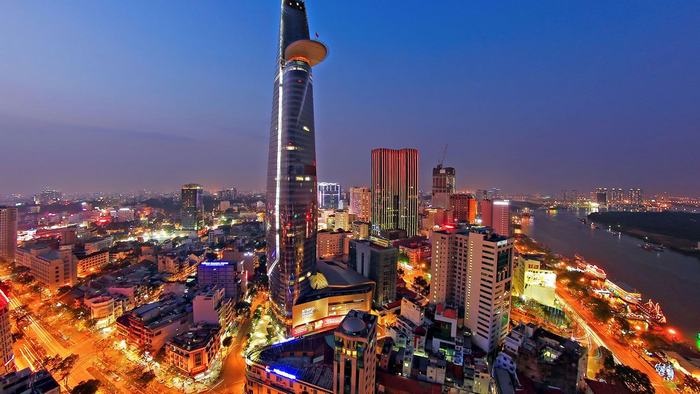 Top 7 crazy things to do in Ho Chi Minh City at night
The Cafe EON 51 on the 50th, 51th, and 52nd floors is an ideal place to enjoy meals and see the city view from a height of 200 meters. If you want to see the panorama of Saigon, head to the Saigon Skydeck observatory on the 49th floor.
Relax at Bar/Club - Beerclub
Bars and clubs are favorite places of the youth where they can enjoy a lively atmosphere and relaxing time with friends.
Air 360 Skybar (136 - 138 Le Thi Hong Gam, District 1): has a luxurious space to admire the beauty of Saigon at night.
The Penthouse (208 Nguyen Trai, District 1): has a cozy and classic design, which is suitable for dating or friend meetings.
S.I.X (9 Nguyen Trai, District 1): With the cool and comfortable space, reasonable price and attentive service, it is one of the places that attracts many young people in Saigon, especially at weekends.
Have some beer at the Western Street - Bui Vien
It will be an omission when mentioning to Saigon nightlife without Bui Vien Street. It is the second walking street in Sagon after Nguyen Hue Street. Bui Vien is the most attractive spot for foreign visitors when traveling to Ho Chi Minh City.
Bui Vien is the convergence of the cuisine essence from many countries around the world. The restaurants, bars, and eateries here are various, from the luxury to the affordable one. Coming here, visitors can enjoy grilled dishes such as seafood, goat, beef, chicken and traditional Vietnamese cuisine such as pho, Hue beef noodles, Quang noodle. You can also find Indian, Korean, Mexican, Thai or French restaurants here. The prices are clearly listed at each restaurant.
Enjoy music at Coffee House
If you do not want to go to noisy places, just enjoy the quiet space then the coffee house is the place for you. Choosing a table, sipping a cup of coffee while listening to music, you will find the most peaceful moment for your mind. These are some suggestions: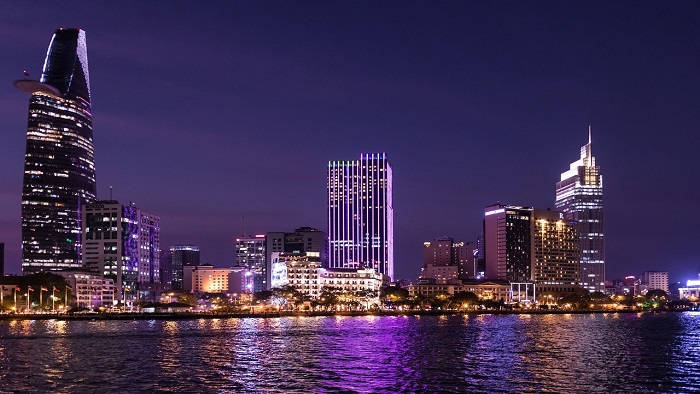 Top 7 crazy things to do in Ho Chi Minh City at night
Cafe House No.7 ( 7 Ngo Thoi Nhiem, Ward 7, District 3)
Relax Garden Coffee (12AB Thanh Da, Binh Thanh District)
Gu Cafe (145 D3 Street, Binh Thanh District)
Cucuta Coffee (2D Nguyen Thanh Y, Dakao District)
Coi Rieng Cafe (334A Nguyen Trong Tuyen, Tan Binh District)
Wander around Nguyen Hue Walking Street
Nguyen Hue Walking Street is the top place to visit in Saigon at night. In the evening, the lights from high buildings make this place shimmering. The bustling and vibrant space spreads on every street corner. There are a lot of interesting activities here that attract many people. You can listen to music from music bands, take part in dancing or take photos with your friends to capture memorable times.
Gather at Saigon Opera House
Located on Dong Khoi Street, Saigon Opera House is both a theater and a place to organize many interesting music and art programs. If in the daytime you are voyeuristic with its unique architecture then at night, the sparkling lights make this place become more fanciful than ever.
With a cup of coffee or milk tea gathering with friends in front of the theater to chat or just watch the busy traffic, you will have a very interesting experience here. For many young people, the Opera House has become a favorite place at night in Saigon, especially the weekends.
Do night shopping at Ben Thanh Market
Ben Thanh Market has been known as the symbol of Ho Chi Minh City. It is located right in the center of District 1, on 4 streets Phan Chu Trinh, Phan Boi Chau, Luu Van Lang, and Nguyen An Ninh, opposite the East and West gates.
Visitors to Ben Thanh night market are the ones who love the unique culture of Saigon and buy souvenirs for their families. The goods in the Ben Thanh Night Market are diverse, from foods, handicrafts to amazing cuisine. It can be said that Ben Thanh Market at night as a miniature of Saigon which can fully meet the needs of tourists.
Ben Thanh night market has become a cultural characteristic, a must-visit place for tourists when taking Saigon - Mekong Delta 5 days package.
Besides Ho Chi Minh City, the nearby Mekong Delta offers numerous interesting things for you to discover beautiful Vietnam. You can visit our website to get further information. Share this article with others if you find it helpful. Have a nice trip!