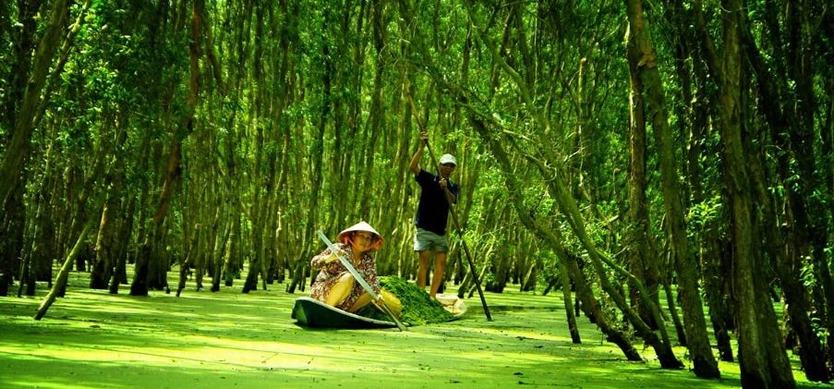 An Giang is one of the most famous provinces in the Mekong Delta thanks to a variety of appealing spots including Tra Su forest.
A trip to Tra Su will take you to explore the rich flora and fauna, floating houses, historical sites in the jungles and feel the airy space outside the bustling city.
If you haven't heard about this natural world inside there, it's such a pity.
After reading this guide, you will know 5 things of Tra Su mangrove forest:
Tra Su's location: An Giang province
The biodiversity of Tra Su: recognized a landscape protection area
How to get to Tra Su forest: by a passenger bus
How to explore Tra Su: by wooden boat
Best time to visit Tra Su: the 8th – the 11th lunar year
So, let's read 5 things below about Tra Su. Surely, you'll want to get there immediately.
Tra Su's location
Tra Su forest is located in Van Giao province, Tinh Bien District, An Giang Province.
Currently, Tra Su Melaleuca forest is one of the typical places to visit in the flood season in An Giang with an area up to 850 hectares. This is also a submerged forest with the rich flora and fauna in the Southwest region.
Coming here, visitors will be overwhelmed by the rows of melaleuca trees along the road. Moreover, you can also see vast rice fields interspersed high palm tree rows.
About 10km from the Vietnam - Cambodia border, Tra Su forest is part of a continuous tourism route: Sam Mountain - Cam Mountain -Tuc Dup Hill and International Border Gate Trade Zone in Tinh Bien District, so it attracts a lot of visitors, especially international ones.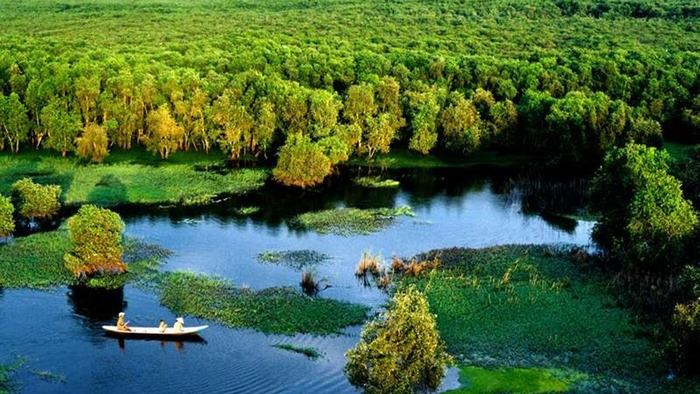 The beauty of Tra Su forest
The biodiversity of Tra Su Forest
Tra Su Melaleuca forest has an area of 845ha of core zone and 643ha of the buffer zone in the system of special-use forests of Vietnam, recognized as a landscape protection area (environmental conservation) in 2005.
Most of the plants in Tra Su forest are melaleuca which are over 10 years old with the height from 5- 8 meters. It is also home to many animals and plants, including:
70 species of birds, including two rare species listed in the Vietnam Red Book.
11 mammal species of which the most abundant ones are rodents and bats and the rare short-eared bat species are recorded in Vietnam Red Book.
25 species of reptiles and frogs.
10 species of fish appear all year round and 13 species only appear in the flood season.
Tra Su forest is also home to 140 plant species, including 22 species of timber trees, 25 shrubs, 10 vines, 70 kinds of grass, 13 aquatic species, 78 species of medicine and 22 species of ornamental plants.
How to get to Tra Su forest
Tra Su Forest is located about 30 kilometers from Chau Doc City to the Southwest and 64 kilometers from Long Xuyen City. From Ho Chi Minh City, guests can buy the bus tickets to Long Xuyen or Chau Doc from the West Station with the price ranging from 150,000 VND to 300,000 VND.
Depart from Chau Doc: you follow the Tan Lo Kieu Luong Road connecting with National Highway 91. When passing Tra Su Bridge in Nha Bang Town, Tinh Bien district, turn left to Tra Su canal and Tra Su forest is a few more kilometers.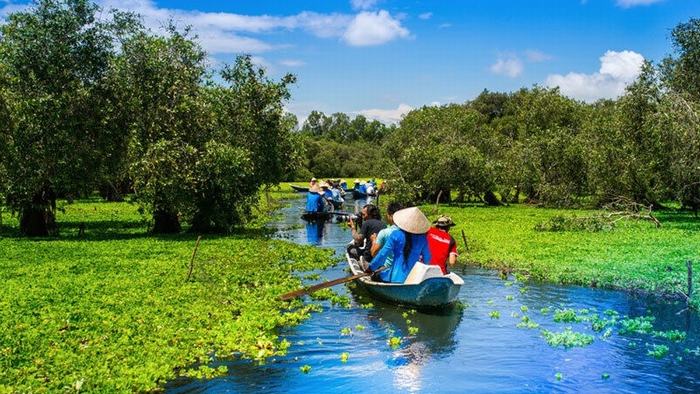 Tra Su forest
How to explore Tra Su forest
It can be said that Tra Su cajuput forest is the pride of tourism in An Giang province in particular and the Southern region in general. This place has a lot of typical features with the typical ecosystem of Hau River.
There are long canals with cool water that will gradually appear in front of visitors as they stand on the bridge entering the mangrove forest gate.
The journey begins from the motorboats or small wooden boats carrying from 3-5 people each boat to go deep into the forest.
Just about 50,000 – 60,000 VND per person, you can discover Tra Su forest within 2 hours.
The fanciful natural landscape will bring you to get into a true paradise. You should visit the forest in the early morning to breathe in the cool fresh air before the sun shines. When the drew still lingers on the leaves, birds sing to greet the new day and fly to find food.
The boat will bring you deep into the forest to see the beautiful natural scenery and take pictures. You will be immersed in the shiny yellow of common sesban flowers or the green color of water hyacinth covering the surface of the water.
The special thing here is that the tour guides are local people who are well-trained to row the boat.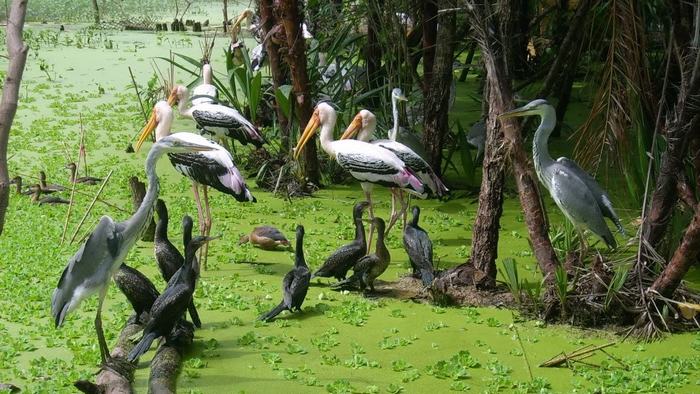 The biodiversity of Tra Su forest
Traveling to Tra Su forest, do not forget to drop by Vong Observatory to admire the vast cajuput forest by a telescope with a view of 25 kilometers. From here, you can see the villages of Khmer and Kinh groups. If you have time, you should also visit the unique handicraft villages such as silk weaving and brocade of Khmer ethnic people, the honey beekeeping area or the cajeput oil making area.
The best time to visit Tra Su forest
The best time to visit Tra Su is from the 8th – the 11th lunar year when tourists can learn more about animals and plants which only appear in the water season.
The most beautiful time of the day is from 7 am to 9 am and 5 pm to 7 pm.
Besides Tra Su forest, Mekong Delta also has a lot of beautiful spots to see. Let's take Mekong River Cruise tours and explore. If you have any questions, feel free to contact us. Share this article with others if you find it useful. Thank you!