Not only famous for the breathtaking landscapes, Mekong Delta is also well-known for its interesting culture and customs. Thanks to the characteristics of geography, wooden boats play an important part of the locals and attract a lot of tourists' interest.
About Mekong Delta
Being a very rich, beautiful and lush area, Mekong Delta is the southernmost region of Vietnam end of the Mekong River. It splits in Cambodia into two main rivers, the Bassac (Hau Giang) and the Upper River (Tien Giang), then in Vietnam into a more complex system, creating a maze of small canals, rivers, and arroyos interspersed with villages and floating markets. Life in the Mekong Delta revolves much around the river and wooden boats are still the main means of transport to access villages.
The important role of the wooden boat in daily life
The main means of transport of most of the families in Mekong Delta provinces is a small wooden boat (xuong). This boat is part of the life of the inhabitants of the region with its interlacing rivers and channels just as motorbikes are to Ho Chi Minh City residents. Most xuong have engines but visitors sometimes see boats propelled by oars. You may burst out laughing on seeing the way some boys use their feet to row the boats. With Mekong Delta day tour, you will have the opportunity to sit on wooden boats and explore Mekong floating daily life as well as floating markets in Can Tho, Cai Be in all day.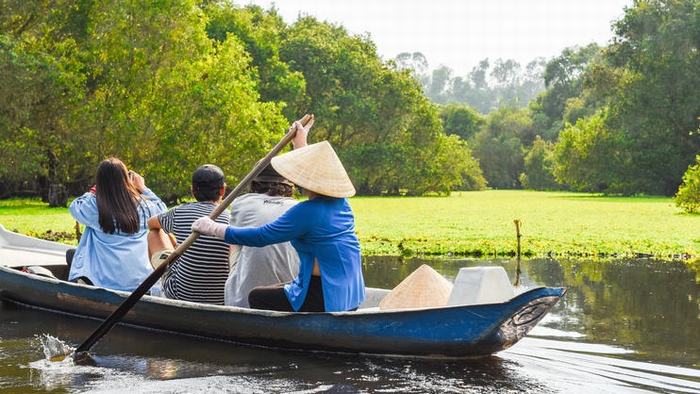 Explore Mekong by wooden boat
Another choice to explore Mekong Delta
Designed with various sizes to meet the needs of each tourist group, the yacht on the Mekong River has its own cabin for overnight stays. From the private boats for small groups to big luxury 5-star yachts up to 62 cabins, visitors will experience the nature and people here.
Depending on the schedule of visitors, they can choose the different duration. The popular schedule that most tourists choose when coming there is a 2-3 day tour with sleep overnight on boat. They often choose the wooden boats with the capacity of about 40 people.
The main tourist spots are My Tho, Cai Be and Can Tho. Taking Mekong tours, visitors will be transferred to small boats to explore small canals, walk ashore or go cycling to visit islands. You can also discover the life of native people (having lunch with them, enjoying local specialties and fruits or visiting floating markets), and participate in activities such as catching fish, picking fruits or taking care of orchards.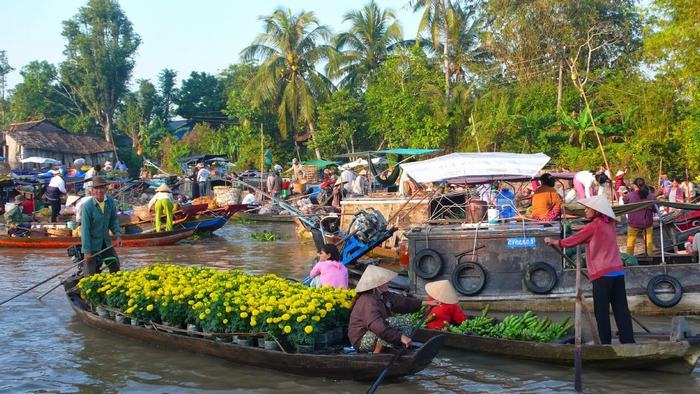 Floating market
For more information about Mekong Delta, you can visit our website. If you have any questions, feel free to contact us. We hope that this article is useful for you.