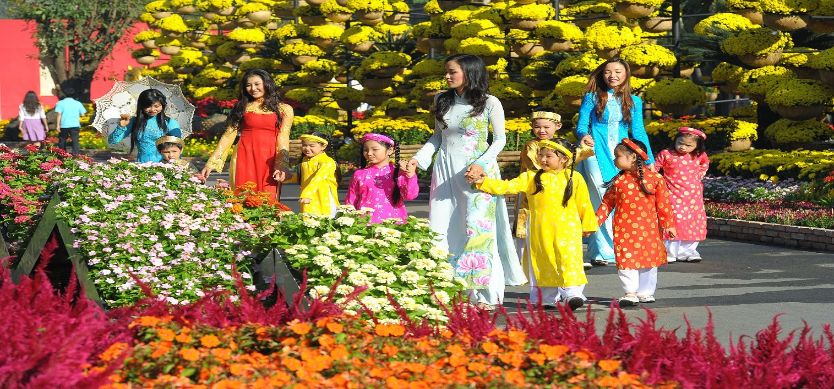 Whenever spring is about to come, the atmosphere in every corner of Vietnam becomes suddenly bustling and lively with many social and cultural activities and events. This year, a fair of arts and handicrafts with the theme "Tet in Vietnamese house" will be operated in Hanoi to promote and expand the Vietnamese traditional culture.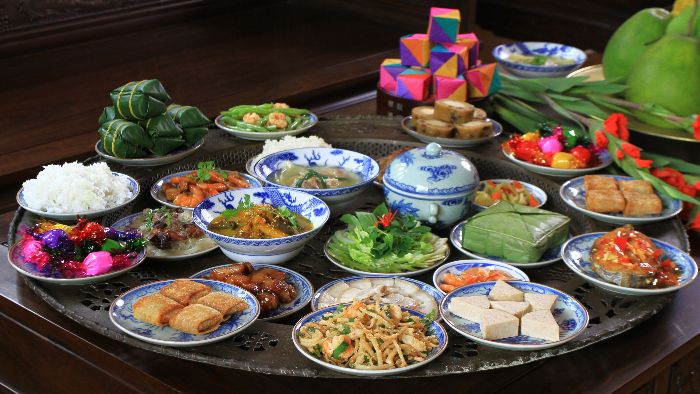 Traditional meal in Tet of Vietnamese people
The program of the "Tet in Vietnamese house" fair
From January 15th to February 5th, Hang Da plaza Hang Da Galleria and the Management Board of Hanoi's Old Quarter in cooperation with Gallery at 39A Ly Quoc Su will organize Fair of arts and handicrafts "Tet in Vietnamese house".
The event is organized with the desire to contribute to the preservation of ancient Tet features in the harmony with Tet nowadays
The Fair will introduce to the public a space of Tet with about 200 paintings, 200 works of ceramics, 50 collections of ao dai and hundreds of delicate handicrafts which are suitable for decorating and refresh the home of each family in Tet holidays.
The fair will introduce the ancient ao dai fashion with innovative designs suited to wear in Tet; display ceramics from the famous traditional village and handicrafts for families. Besides the space is reserved for the New Year paintings of contemporary artists and the famous Dong Ho village; 39A Gallery's collection. Another space of the fair is devoted to traditional cuisine and program "Rice with meat" fundraising to support for poor children on the occasion of Tet. On this occasion, the Organizing Committee also showcases 30 selected newspapers and people going to Tet fair can read these newspapers at the "market".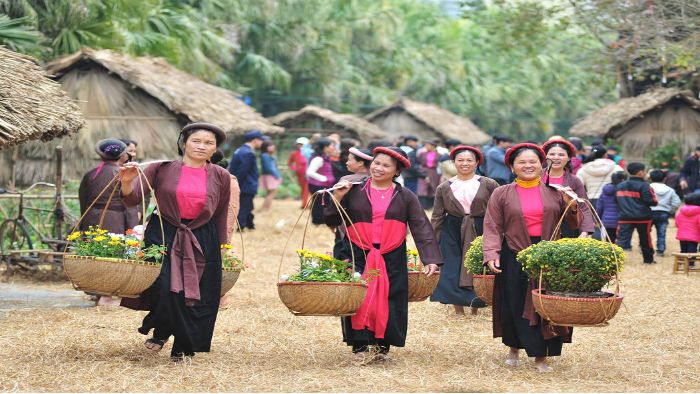 Flower fair in Hanoi
The meaning of the "Tet in Vietnamese house" fair
The fair with the name " Tet in Vietnamese house" is a rare chance for all of Vietnamese people looking back what had done after a year and listen to the the events of country within a year which are shown in a special way- by the materials of arts. There, when visiting this fair, visitors can charm the beauty of Vietnamese society via the eyes of art in an aethestical way. Besides that, it is a great chance for people to relax after a long time working and have a short free time to enjoy the Tet atmosphere with friends, and family as well as enjoy the delicious food in the fair.
Tet is the most important festival in Vietnam that are waited by all of Vietnamese people, so there are many interesting and meaningful activities operated during Tet vacation. Let's come to Vietnam during this time to enjoy a profound Vietnamese cultural space. If you have a plan to visit Vietnam during Tet vacation, please contact us via Mekong tour. Thank you!