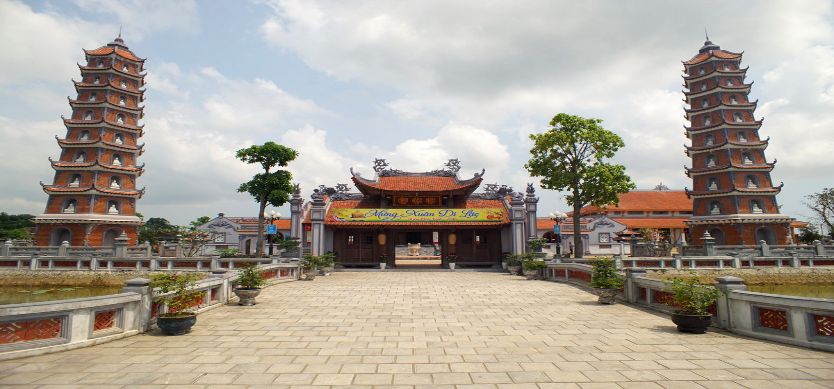 On the occasion of traveling to Quang Binh, visitors do not forget to visit and worship at Hoang Phuc Pagoda which is one of the oldest famous pagodas in Quang Binh. According to the historical compilation, in 1301, the king Tran Nhan Tong preached at this very temple, so Hoang Phuc pagoda is very sacred, so far, Hoang Phuc Pagoda has a history of over 715 years and is one of the oldest pagodas in Central Vietnam.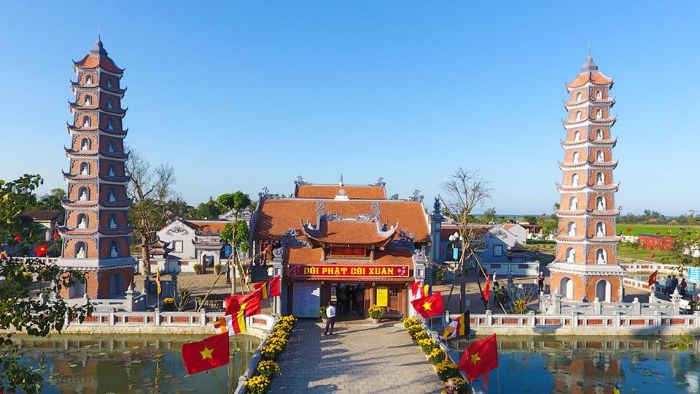 Spring festival of Hoang Phuc pagoda
The event of Hoang Phuc pagoda ranked the national historic monument
On January 16th, Hoang Phuc pagoda (Thuan Trach village, My Thuy commune, Le Thuy district) received the recognition of National Historic Monument.
Hoang Phuc Pagoda is 715-year-old ancient temple located in Thuan Trach village, My Thuy commune, Le Thuy district.
Over a year ago, with the permission of the authorities, Vietnam Buddhist Church and local people, Hoang Phuc pagoda was conducted to reconstruct, embellish with the fund of over 55 billion VND from donations of BIDV's union and Buddhists.
In the end of year 2015, Hoang Phuc pagoda is ranked as national historic monument by the Ministry of Culture, Sports and Tourism.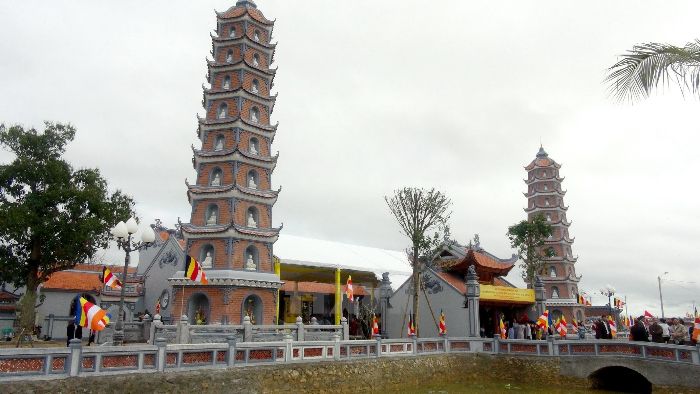 Hoang Phuc pagoda
History of Hoang Phuc pagoda
The distance from Dong Hoi city to Hoang Phuc Pagoda is about 55 km. You can rent a motorbike to run along the National Highway 1A to Kien Giang town, Le Thuy district to visit Hoang Phuc Pagoda.
Hoang Phuc pagoda was formerly known as Kinh Thien pagoda, or Tram pagoda, in Thuan Trach ward, My Thuy commune, Le Thuy district, Quang Binh province. The pagoda is located on a high land, nearly 10,000m2 wide, on the right bank of Kien Giang river, 4 km from the center of Le Thuy district to the south.
According to ancient history, the king Tran Nhan Tong came to Hoang Phuc pagoda and blessed for inhabitants in 1301, at which it was named Tri Kien temple. In 1716, Lord Nguyen Phuc Chu named Kinh Thien Tu. In 1821, King Minh Mang visited the pagoda and renamed it as Hoang Phuc pagoda, the familiar name as Tram pagoda or Quan pagoda.
The pagoda is the place concealing revolutionaries in the war.
Mr. Bui Huu Duoc, Director General of Department of Buddhism (Government Religion Committee) said Hoang Phuc Pagoda after completion of reconstruction and embellishment will be the spiritual and cultural destination, preserving traditional cultural identity.
Through many ups and downs of history, the destruction of time, and war, the pagoda was seriously destroyed. After that, this pagoda was restored and restored in the direction of maintaining the former pagoda's status, this becomes a religious site for local people as well as tourists around the country. If you need any information about Hoang Phuc pagoda or Vietnam tour, please contact us. Thank you!