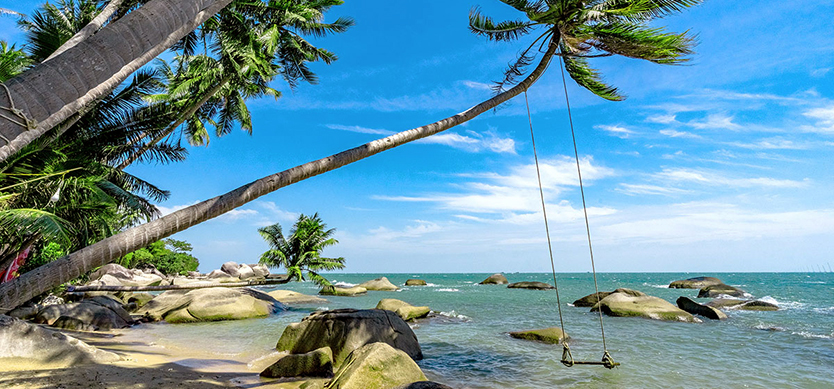 Coming to Nam Du and Ba Lua archipelago, Kien Giang, visitors will be immersed in the navy - blue sea covered by the white sands and enjoy a variety of fresh seafood.
Besides the famous Phu Quoc Island, Kien Giang also owns many islands with unspoiled and mystic beauty like rugged ornaments that have not been honed. When taking steps on the land, tourists surely will feel interesting with anything there.
Nam Du archipelago
Approaching Nam Du, the first thing that people fancy about is immersing in the blue sea with the prolonged endlessly sky color. The most beautiful and famous sights here are the beaches on the Huge Island as Men beach and Dat Do beach with coconut trees bending down their shadows on the white sand and crystal clear water.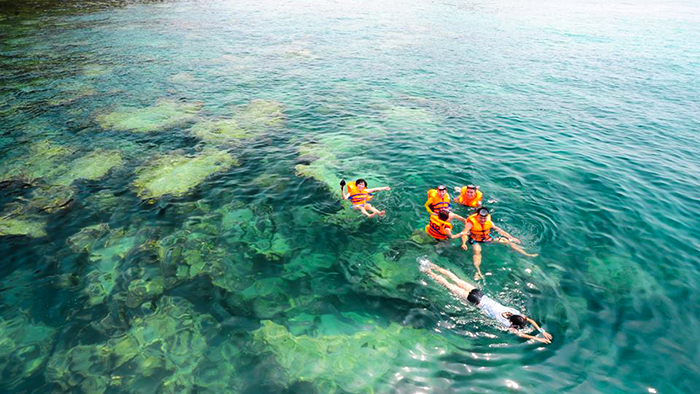 The clear water in Nam Du archipelago
After the eventful aquatic games, travelers can rent a motorbike to promenade along the roads around the island to sightsee landscape with cliffs in the one side, a blue-navy sea in another side, many small islands as well as countless distant boats going up and down on the waves. Nam Du's cuisine surely cannot be ignored with fresh seafood just caught from the sea, of which the dishes of grilled bananas green-bones fish or crunchy chewy squid soup are very attractive.
Ba Lua archipelago
Located in territorial waters, Kien Giang contains many beautiful and famous islands as well as beaches. In the other aspect, Ba Lua archipelago (belonging to Kien Luong district) fascinates travelers by its rustic and simple character.
Attracting most of the travelers, a group of Huge island, Duong island, and Gieng island become the most famous islands. Beaches here are rather shallow with gentle waves so that visitors can walk from one island to another island during the period of low tide, at the same time explore the landscape and the lives of the honest fishermen. This is an interesting experience which guests cannot experience at any other points in the country. Under boundless waters, visitors can relax, have fun with friends, take a dip in the cool water, or experience the pleasures of hunting species of seafood such as clams, oysters, sea snails, etc as real fishermen.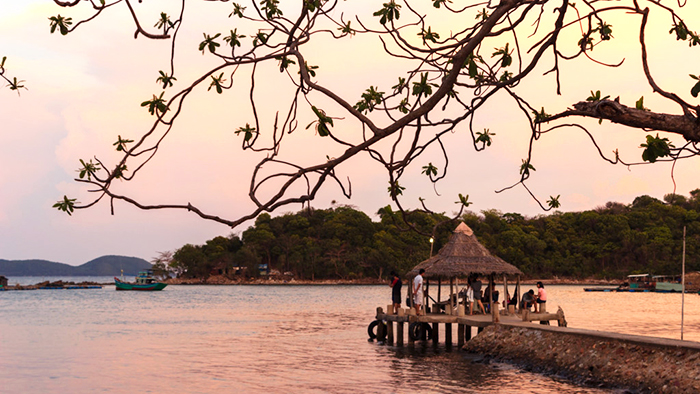 Natural scenery on Ba Lua archipelago
Featuring rustic and beautiful scenery of nature, Nam Du and Ba Lua archipelagos of Kien Giang are the tourist spots you should not miss in the tours to Phu Quoc. Also, if you need more information about other Mekong tours, feel free to contact us or visit our website. Like and share if the article is useful for you. Thank you and hope you will save the wonderful memory here.