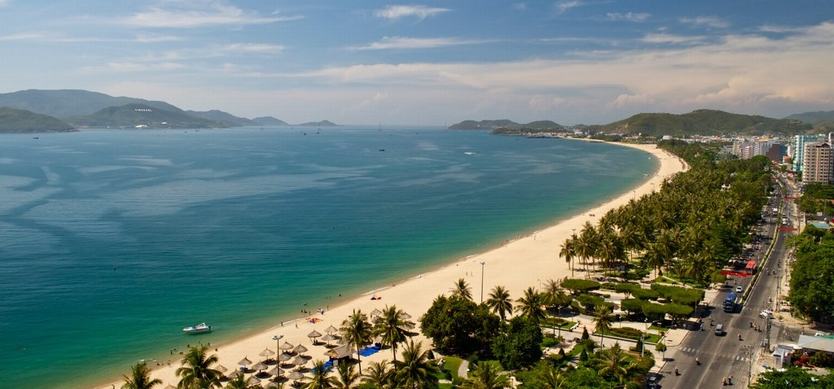 Tourism Magazine Tripadvisor (USA) has named the top 10 leading tourist destinations in Asia, in which Nha Trang (Khanh Hoa) was ranked in 8th/10th position. According to the opinion, assessment, and selection of international travelers, Nha Trang is one of the emerging destinations in Asia where visitors are encouraged to travel in 2016.
An overview of Nha Trang
Nha Trang beach city stretches along the coast, is limited by the high mountain ranges of 700 – 900 m in the west. It is like "paradise island" with many sheltered bays, favorable for the development of this kind of sightseeing tours, resort, swimming … from above looking down, Nha Trang looks like a vivid and fantastic picture that is created carefully by nature. Curved beach with white sand seems to hug all the blue sea in the bay. In seaside, a long range of coconut and tree in the wind make the beauty of this peaceful water become nicer.
Speaking to Nha Trang, we cannot forget mention to the Nha Trang Bay – 2nd largest bay in Khanh Hoa (after Van Phong bay) with an area of 507 km², including 19 islands and islets scattered near and far, bringing much spectacular revenge, of which the largest cave is Hon Tre island with an area of approximately 36km2. Besides, there is a series of small islands such as Hon Mieu, Hon Rua, Hon Yen, Hon Tam, Hon Mun, Hon Noi, and Hon Ngoai…
Best places to visit
Vinpearl Land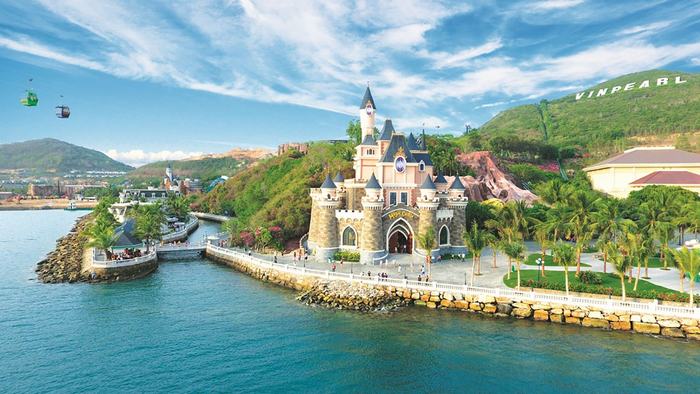 Vinpearl Land
Located on Hon Tre Island with green beaches all year round, Vinpearl Land is known as the "tropical paradise." In addition to the luxury hotels, beautiful gardens, ideal freshwater pool, this place also attracts visitors with thrilling game area and majestic 4D cinemas.
Hon Mun Island
Hon Mun has clear waters and splendid coral ecosystems, which have been assessed by the World Wildlife Fund (WWF) as the best marine biodiversity area in Vietnam. Coming to Hon Mun, visitors cannot ignore the activities such as floating bar at sea, or diving to explore coral.
Hon Tam Island
The island has an area of about 110 hectares, 7km from Nha Trang city to the southeast. From Hon Tam, you can see both Nha Trang city in the north and Cam Ranh peninsula in the south. In addition to the beautiful beach, this place is also famous for its glass bottom boat exploration as well as coral diving and snorkeling services.
Ninh Van Bay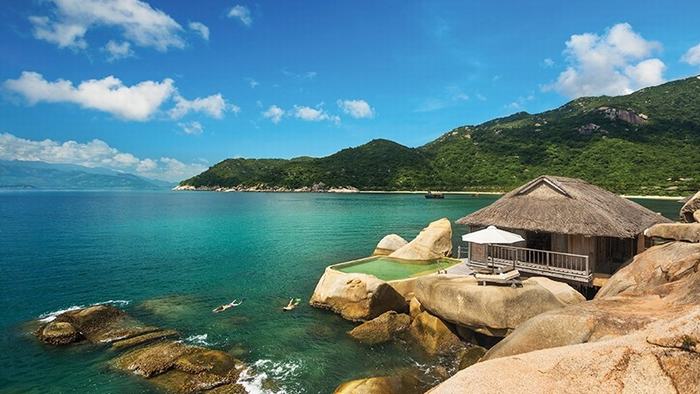 Ninh Van Bay
About 60 km from Nha Trang coastal city, located on Hon Meo peninsula, Ninh Van bay owns a pure beauty. It is especially suitable for those who want to find a sense of relaxation in a calm sea space. In addition, you can also watch corals, snorkel or try surfing, windsurfing, kayaking.
Po Nagar Cham Tower
Po Nagar Cham Tower is a perfect ancient architectural work of Cham people, 2km from the center of Nha Trang City to the North. The complex consists of four towers, two shrines, and the largest tower of Ponagar goddess. After visiting Po Nagar Tower, you can combine to take a mud bath at Thap Ba hot spring resort nearby.
Hope that with our information, you can choose the most favourite place for your upcoming trip. Or if you concern more about Mekong Delta Tours, please visit our website. Share this article with others if you find it useful. Have a nice trip!