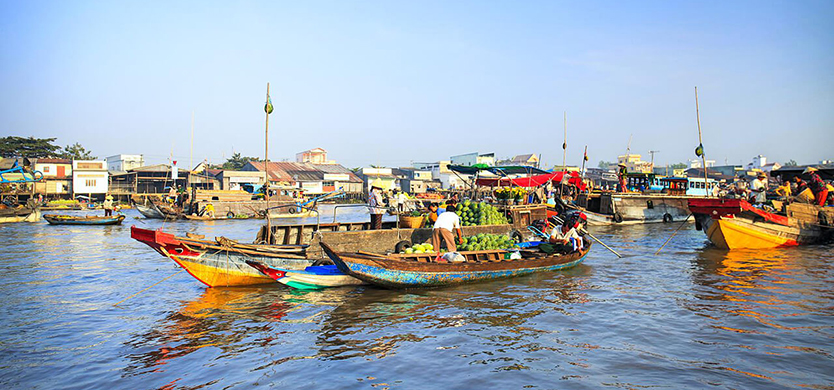 New Year festival is time to gather with friends and family. However, try a new experience on the first days of the year in Can Tho province will surely make you unforgettable.
Visiting temples and floating markets
On new years day, again it was really quiet. We wandered around and found ourselves near a Buddhist temple. A friendly monk showed us around and directed us to another bigger and more ornate temple hidden down a side street.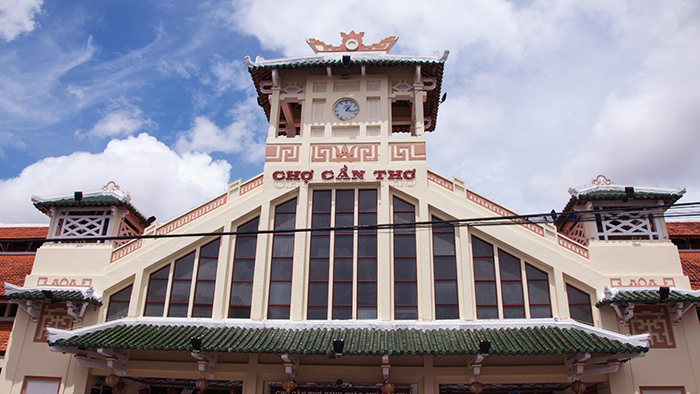 Can Tho market
Had no problems getting our bus from Ho Chi Minh city to Can Tho in the end. Arrived nice and early so the market on the riverfront was still bustling. One of the main attractions of Can Tho is the nearby floating market, which doesn't trade over the new year holiday so we went straight on the river to catch the last floating market of the year. The market had almost finished for the day but we saw long boats piled high with watermelons, cabbages, and other vegetables and other smaller boats going between these floating stalls to buy their goods. We looped back via some canals – it was a very relaxing boat ride!
Having a meal with local families
We arrived in time for a service that was being conducted where people were making offerings of rice. We were invited to join in, and stay for lunch after, which was awesome! Back on the riverfront, we saw a stage being constructed for music performance that night. The whole riverfront was decorated with fairy lights and banners as well as lots of food and toy stalls.
It was really busy in the evening but parents seemed more interested in getting their children to speak English to us and do little dances rather than watching the performances! All the little girls were dressed up in long white dresses and all the boys were launching spinning toys in the air and chasing after them – very cute.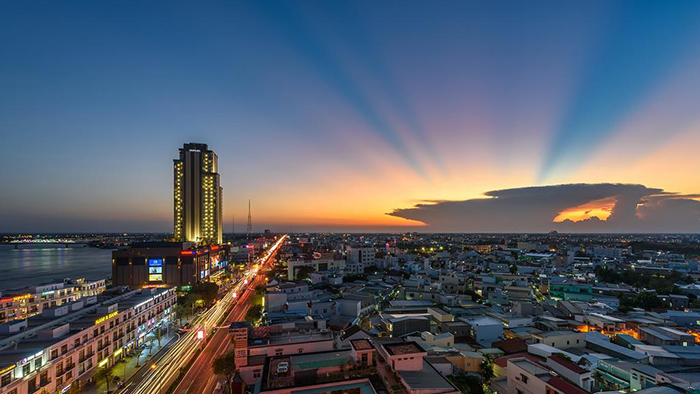 Sunrise in the city
Enjoying Tet in another place like the Mekong Delta is a strange yet interesting experience for us. We will never forget the rustic, simple people and the peaceful scenery of the water life in South Vietnam. Thank you for giving us one of the most joyful memories of our lifetime.