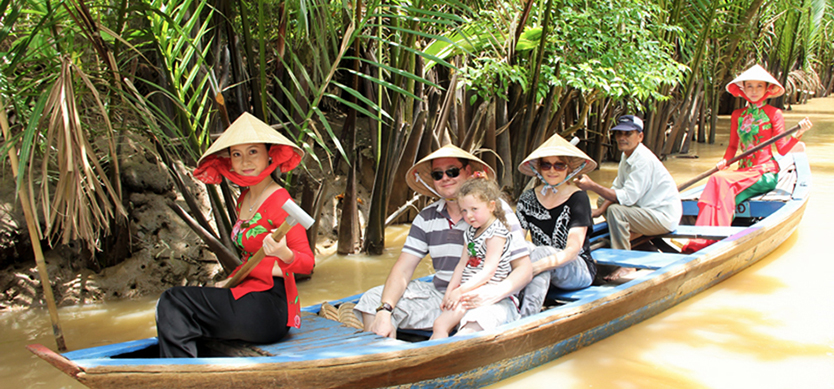 The rich natural environment like Mekong Delta is very advantageous for the development of kids, so many parents have brought their children to their Mekong river trip.
I have got an amazing and memorable time in Mekong Delta with my family for 3 days by interesting and vibrant activities which are really unique and special.
Do you want to have unforgettable experiences like me? Referring to the wonderful itinerary for travelling Mekong Delta with your kids and family in the article below
Why it is good for kids
Increasing knowledge, skill and health
More and more parents see outdoor activities as one of the compulsory activities every day, bringing great benefits to children. They encourage children to play and be more active outdoors. Playing in open space with fresh air offers children many factors affecting their mental and physical development.
Not only is it good for bones but exploring the Mekong also helps children develop better muscle systems, improve mobility, flexibility, and balance skills with places that require walking and movement a lot like islands, orchards, national parks, historical monuments, temples, etc. Also, we can see that when going to Mekong Delta, children have the opportunity to meet and play with all people, from which can communicate, make new friends, explore the natural world, and expand knowledge and skills.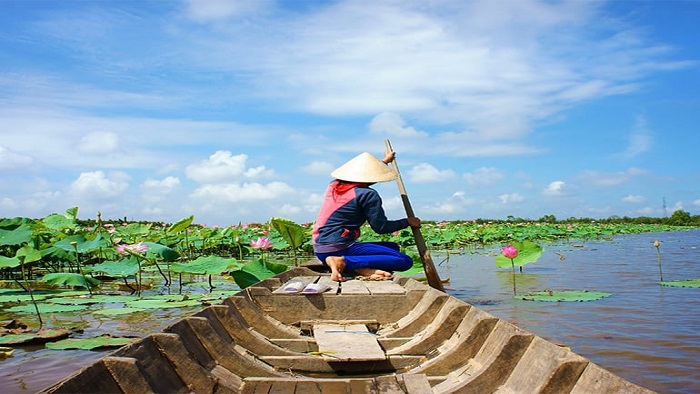 Best Mekong Delta itineraries for kids and family
Increasing family love
Traveling with parents is a chance to help enhance children's family love and connection. The kids might not be able to remember all the memory in the trip, but they will know that their family has shared the most wonderful time together. Especially, Mekong Delta offers several activities requiring the player's teamwork and creativity, ensuring your kids will be extremely fascinated.
Suggested Mekong Delta itineraries for kids
Lan Vuong tourist area, Ben Tre
Located in Phu Nhuan commune, Ben Tre city, only about 5 kilometers away from the center of Ben Tre, Lan Vuong tourist area is a new place to visit and play, owning an exciting paradise of fun with a large space, unspoiled nature, and immense water. In here, you can fish, ditch to catch fish, wade into the fields to catch crabs, row a boat, join Southern amateur music and karaoke, take photos, make a campfire, explore the pomelo garden, enjoy fruits, visit boar and goat farms, and sleep at cottages, etc, of which riding a bicycle through a footbridge is an extremely interesting game, attracting a lot of visitors to participate, bringing the laughter to viewers and players as well.
Phoenix islet, Ben Tre
Phoenix islet is the most beautiful one in Ben Tre with various attractions for tourists to explore, from the orchards, historical relics of Dao Dua (Coconut religion), traditional coconut candy factories, bee farms, to the experience of sitting on a horse wagon and fishing crocodiles, etc. Summer is considered the best time in the richest sources of fruits of Phoenix islet.
Tra Su melaleuca forest, An Giang
Tra Su is about 30 kilometers from Chau Doc with an area of nearly 850 hectares. The rowboat will take you into the most beautiful areas of the region where you can touch the green duckweeds. You can continue your journey in Chau Doc by exploring the lives of the people here. Chau Doc is famous for being a crowded place of Khmer and Cham communities. Many mosques or stilt houses featuring Cham culture will delight you.
Ba Chua Xu temple, An Giang
Best Mekong Delta itineraries for kids and family
Located at the foot of Sam mountain, Nui Sam ward, Chau Doc city, An Giang province, Ba Chua Xu temple is a must-visit spot for those who like to travel spiritually. With an altitude of 300 meters above the sea level, the temple offers fresh air and the panoramic view of the beautiful Chau Doc city. Not only does it attract tourists by the beautiful scenery but the temple also has a very unique and outstanding architecture.
Cai Rang floating market, Can Tho
The floating markets are a speciality of the West. Travelling to Can Tho, it will be a shortcoming to not visit Cai Rang floating market. The best time to go to the market is about 5:00-7:00 AM. Tourists often go to the pier to buy tickets and explore the market on a boat. In addition to fruits and vegetables, many small boats also sell breakfast, drinks, and snacks to serve the businessman and tourists. Enjoying a hot bowl of Phnom Penh clear rice noodle soup on the floating rowboat on the water, surrounded by a busy shopping scene is an unforgettable experience for visitors.
Tram Chim National Park, Dong Thap
Tram Chim National Park is one of the must-visit destinations in the West in the flood season. The park is located in Tam Nong district, covered by the immense green melaleuca forests and other rare, precious plants and animals. Visitors here can rent a canoe to explore with prices ranging from VND 500,000. In the afternoon, you can find an open position and watch the soft sunset, while the birds fly to the nest. At night, you can try to fish like a real farmer.
Xeo Quyt ecological area, Dong Thap
In the past, Xeo Quyt was a wild swamp of weeds and canals so, in 1960-1975, it was chosen as a strategic base. Now, Xeo Quyt is not only a historical relic but also a unique tourist destination, leaving many impressions in the hearts of travellers.
With an area of about 50 hectares, of which 20 hectares are melaleuca forest and the rest is a system of mangrove trees, vines, etc, Xeo Quyt is a diverse ecological environment with rich fauna and flora, having a beautiful natural landscape. Visiting the relics, visitors have two options: walking along the 1.5-kilometre-long path under the forest canopy or experiencing the West River by sitting on a rowboat, slowly following the small creek.
Travelling to Mekong Delta is really a good opportunity for your children to practice themselves as well as learn interesting new things. For further information, feel free to contact us or visit our website. Like and share it if the article is useful for you. Thank you.