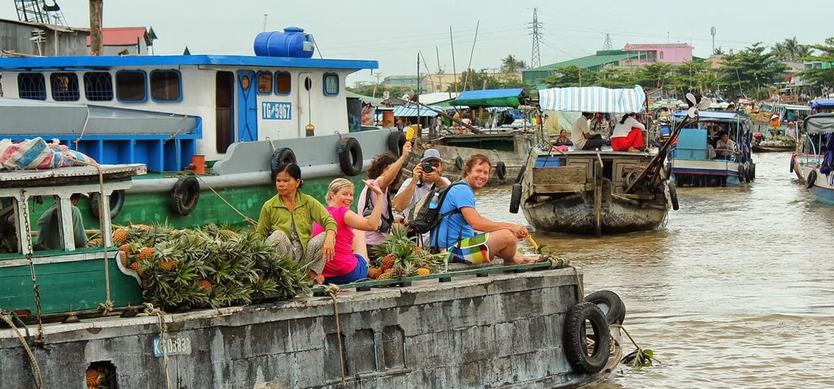 When taking Southern Package tours, it can't be lack of floating markets - a feature of this region, of which Cai Rang in Can Tho is the largest one.
Perhaps you don't know that most of them bring similar highlights. So, if Can Tho city is not included in your schedule, you can consider other alternatives in the region.
6 most famous floating markets in Mekong Delta
Cai Rang floating market
Cai Be floating market
Long Xuyen floating market
Nga Bay floating market
Nga Nam floating market
Tra On floating market
To have more enjoyable and complete experiences, check out the details below.
Nga Bay floating market, Hau Giang
Also known as Phung Hiep Market, Nga Bay market was founded in 1915. It's about 75 kilometres from Hau Giang City and 35 kilometres from Can Tho City Centre. This is a famous floating market in Hau Giang province where all goods exchanges of the Mekong Delta local occur. In addition, Nga Bay floating market is also an attractive tourist spot for visitors when taking Mekong Delta tours.
Coming here, you can see various colours of fruit and utensil such as the red of rambutans, mangosteen or the scent of durians. Each boat only sells one kind of fruit or item and this product is hung on a tall pole as a way of advertisement.
In particular, Nga Bay Floating Market also has products such as snakes, turtles, birds, squirrels or varnas all year round. On the Tet occasion, the boats are full of yellow apricot pots, ornamental plants, and beautiful bonsai trees. Weaving by big boats is small boats selling breakfast including hot rolls, pho or pancakes.
Nga Nam floating market, Soc Trang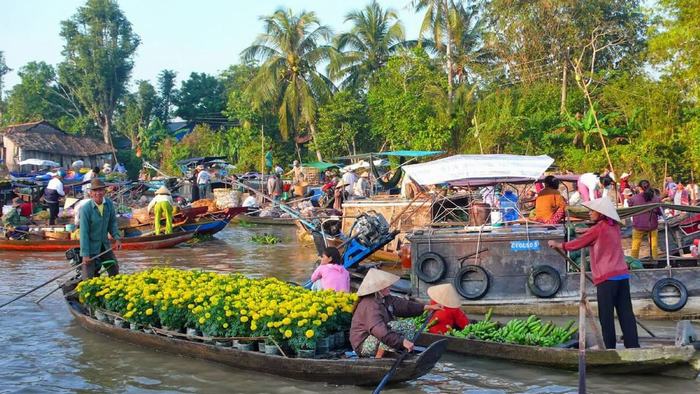 Situated at the intersection of five rivers, Nga Nam floating market is a famous market in Nga Nam Town, Soc Trang province. It is one of the oldest and most vibrant floating markets in the Mekong Delta.
Unlike other floating market, Nga Nam Market starts at 3 am and ends at 8 am. On the Tet occasion, the market opens all day. From a distance, visitors can see poles hanging goods such as cabbages, potatoes, tomatoes, onions, garlic or chilis.
Nga Nam market is home to most of the Mekong Delta's products from famous rice, vegetables to shrimps, crabs, and fish. The market is busy with the sound of sellers and boats that serve tourists with Vietnamese cuisines such as porridge, noodles or coffee.
Nga Nam floating market still retains the attractive rural idyllic feature and the typical soul of the Southwest market in baba shirts and the sweet melodies of the ancient songs.
Cai Rang floating market, Can Tho
As a famous market in Tay Do which attracts a lot of visitors, Cai Rang floating market is just four kilometres from Ninh Kieu pier.
The market starts from 5 am and till 6 am, it's crowded with boats. The special feature of this market is the trading of famous fruits of the Southern region, from the pomelos of Vinh Long, the Lai Vung tangerine to Cai Mon durian.
Like other floating market, people will hang on the pole what they sell. Coming here, visitors will be immersed with nature, rivers, early morning floating on the boats, watch the dawn or feel the unique bustle of floating markets.
Cai Be floating market, Tien Giang
Cai Be Floating Market
Cai Be floating market is located in Cai Be district, Tien Giang, in Tan Phong islet on Tien river, which is bordered by three provinces of Tien Giang, Vinh Long, and Ben Tre. The market is a place for trading and exchanging goods, as a hub for fruit and food products across all regions and also an attractive destination for Tien Giang province. Unlike usual floating markets that only meet in the morning, Cai Be floating market starts trading from the early morning until late at night. When the dawn is just up, the floating market is bustling like a small street on the river. The hawker boats such as pho, noodles, vermicelli, all kinds of groceries ... run along with the big boats. Sitting on a floating boat, enjoying a bowl of noodles or fragrant coffee in the morning is an indescribable experience. When the sun is behind the trees in the distance, it is also the "floating street" on the lights, the shimmering lights make the whole river become lively and colourful. Here visitors will surely feel many new things in the Southwest.
Long Xuyen floating market, An Giang
Long Xuyen floating market is not as big as other markets but is a tourist destination where visitors can find out about the idyllic, quiet, pristine nature of people and rivers here. The market is about 2 km from Long Xuyen city, located along one side of the Hau river with heavy alluvium. The main goods here are kinds of vegetables and famous snacks of An Giang region such as fish noodles or pork-skin cakes. The price here is reasonable.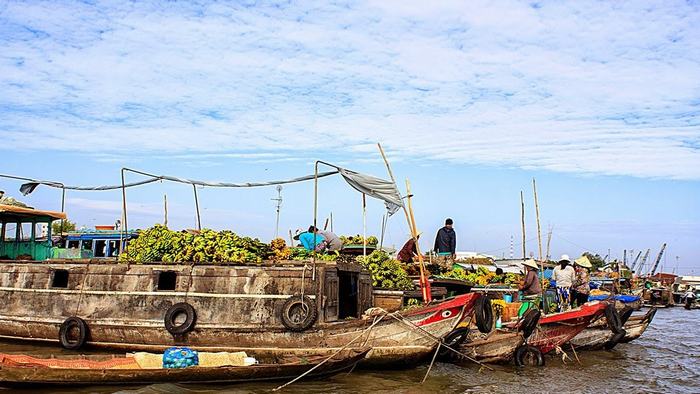 Long Xuyen Floating Market
Tra On floating market, Vinh Long
Tra On floating market is located on the Hau river in Tra On district, Vinh Long province. This is one of the oldest markets associated with many cultural activities of people in the region.
The market is located at a prime location between the junction of Mang Thit River and Hau River. In this trading position, Tra On the floating market is not only a market providing products for locals but also becoming a major wholesale market, supplying agricultural products to many neighbouring areas. The most goods in floating markets are fruits including bananas, coconut, guavas, tangerines, oranges, durian, mangosteen, mango, gourmet orange, or grapefruit.
If you get the chance to travel to Vinh Long and visit Tra On floating market in the early morning, you will see the busiest scene of the day. At this time, any visitor can easily retain the most vivid moments, from bright smiles of sellers to a long line of dragons and canoeing close by each other.
For more information about Mekong Delta, you can visit our website. If you have any questions, feel free to contact us. Share this article if you find it useful. Have a nice trip!