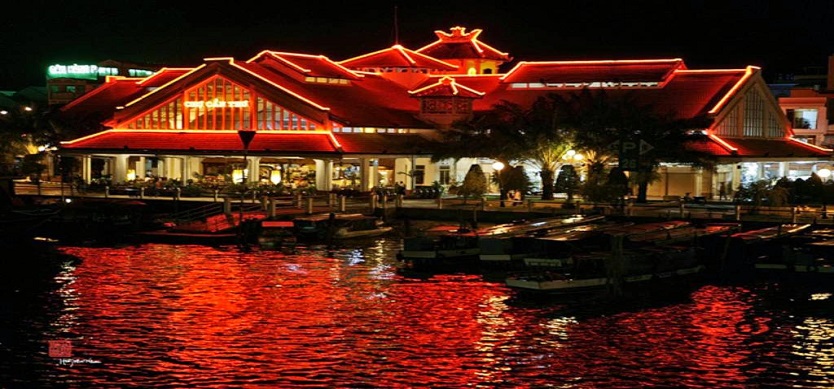 Many tourists agree with us that Can Tho is one of the famous and wonderful destinations in Vietnam. For many years in terms of Mekong river cruise, we ensure you will have no lack of destinations to visit and have fun in this city.
So today, we are a pleasure to pick up the most beautiful and interesting places for traveling in Can Tho.
Let's dig in!
1/ Cai Rang floating market
Cai Rang floating market is the most important and highlight place for traveling in Can Tho. Therefore, when you have a chance to visit Can Tho, don't forget to visit the place one time. Furthermore, Cai Rang floating market is also a wholesale market specializing in wholesale and purchase of fruits and agricultural products of the region. Goods are concentrated here in large quantities. Each item has been classified for uniformity in quality, size. If local people and surrounding areas often use boats, average boats carrying agricultural products to consume here, the big boats are from traders who buy fruits to spread everywhere, to Cambodia and China.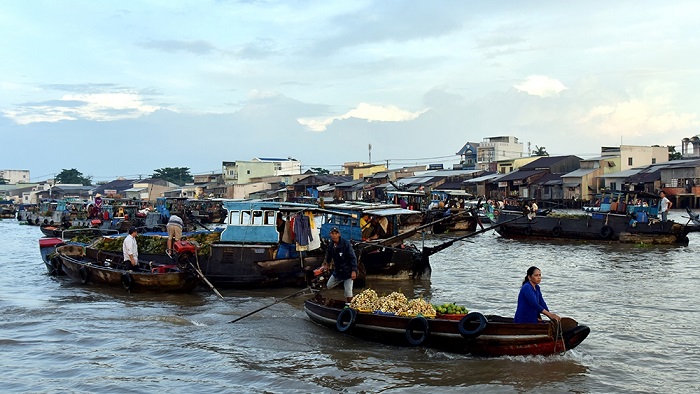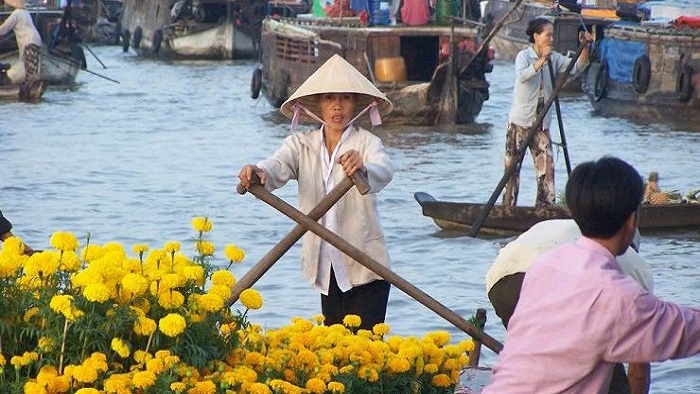 Cai Rang floating market
Moreover, when you immerse yourself in the bustling atmosphere of the market, visitors can observe and learn about the activities of many families of lakes with many generations living on boats. There are boats like "mobile apartments" on the river with ornamental flower pots, livestock species, full facilities such as color television, fork, and sound system including motorcycles perched on the boat.
2. Gardens in Can Tho province
Besides the floating market, the garden is also a wonderful choice for tourists when you have a chance to visit Can Tho province. The green tourism gardens have attracted more and more domestic and foreign tourists to visit.
You can choose My Khanh tourist garden, Mr. Sau Duong's garden, Binh Thuy orchid garden, arc garden on the rivers of Phong Dien, Phung Hiep and many other family tourism gardens in the growing O Mon and Thot Not for traveling. When visiting these gardens, tourists can free to enjoy special fruits and also buy a gift as well.
3/ Bang Lang Stork garden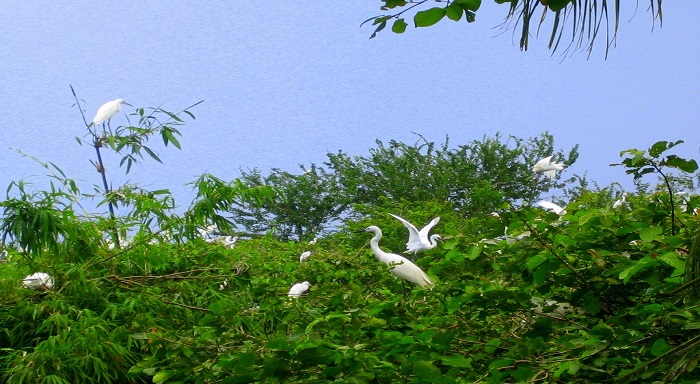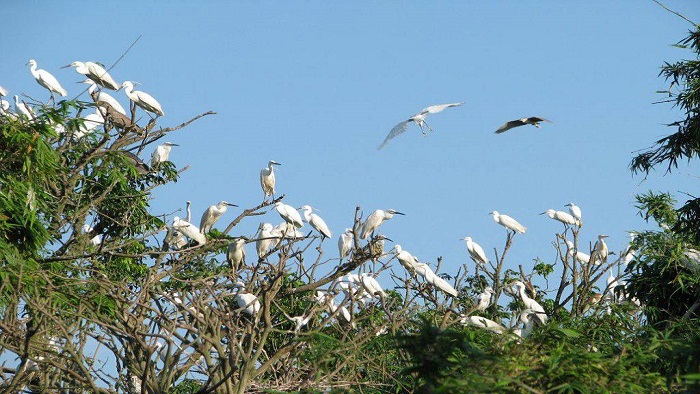 Bang Lang Stork garden
Located in Thoi Thuan village, Thot Not province, Can Tho city, Bang Lang stock garden is one of the good choices for you when visiting Can Tho city. On the way from Can Tho to Long Xuyen City (An Giang), passing Thot Not town about 5km is to Bang Lang stork garden. Going along the small riverbank, under the trees shaded in front of vast white water like the sea, it was the rice field that had been harvested in the season of floating water. Visitors to the stork garden will see hundreds, thousands and tens of thousands of storks including white stork, gray stork, black stork, goosebumps are fluttering and swooping down the bamboo branches, swinging in the wind and tangled call others.
Furthermore, around 4-5 pm, they took turns flying to the garden until it was dark. At that time, they parked on a tree-bordered by four surrounding fences. Therefore, if you want to admire the more storks, you should visit the place in the afternoon.
4/ Binh Thuy ancient house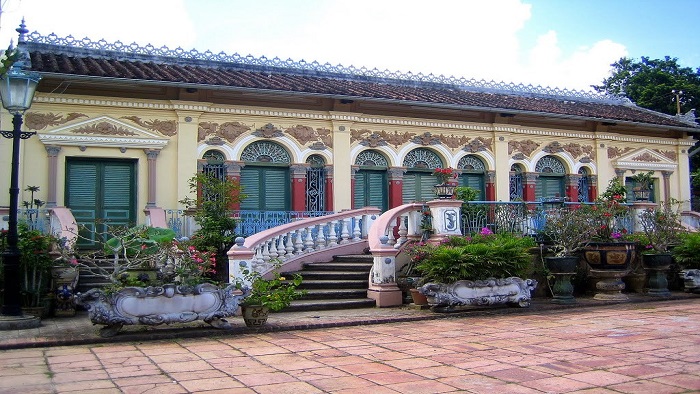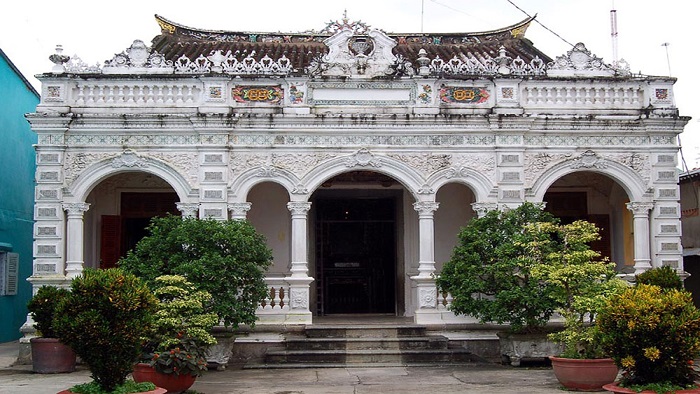 Binh Thuy ancient house
When visiting the ancient house, tourists will have chance to admire the architecture of French-style houses with a floor higher than 1m yard with four elegant arches which connect the house with a wide yard, high ceilings, decorative patterns, opening many small and large doors with a fairly simple iron frame to help the house open, a facade decorated with embossed reliefs. All red-black rose tiles are paved with a cast-iron fence to protect the campus, and all are placed and returned from France.
Furthermore, this is a rare ancient model that remains quite intact to help researchers learn about living and cultural life as well as the development process under different impacts at the intersection of the two centuries of Mekong Delta residents.
5/ Ong pagoda
Ong Pagoda is located in Hai Ba Trung Street, Tan An Ward, Ninh Kieu District, Can Tho province. Ong Pagoda is a place of worship and culture of Chinese people in Can Tho. The pagoda was recognized by the Ministry of Culture and Information as a national art architectural monument in 1993.
Furthermore, almost tourists when visiting the pagoda are attracted by a unique architecture that is preserved almost intact from the beginning. The pagoda was built in 1894 - 1896 on an area of about 532m². The roof of the pagoda is covered with yin and yang tiles with bundles of roofs made of tiles of dark green enamel tiles, there are innumerable colorful images of ceramics, birch, and moon-shaped fishes, and long and white birds on the edge of the roof.
At the two ends of the blade are two statues of people holding the sun and the moon. In the temple worship Quan Cong who was a general of the Three Kingdoms period, an example of fondness of meaning and the Quan Am Nam Hai, Thai Bach Tinh, Tho Dia, Dong Vinh and so on.
We hope that after the post, tourists will have more useful information to travel to Can Tho in particular and Mekong Delta in general. Furthermore, if you want to enjoy Mekong Delta Tours, you don't forget to visit our website to get more information.