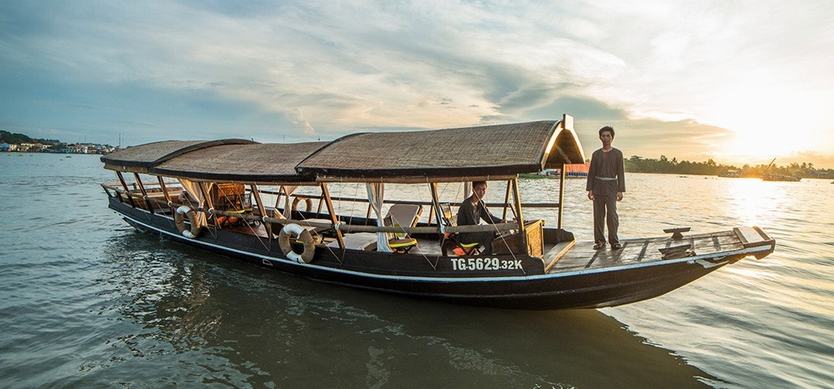 As a rich land with interlacing canals, luxuriant fruit gardens, and vast rice fields, Mekong Delta is always the ideal destination for tourists to immerse themselves in nature to escape busy working days.
Although you can visit Mekong Delta at any time of the year, there are a lot of tourists concerning about the best time for travelling to the land.
So, if you are wondering that, read our article below to get ready for your upcoming trip.
Let's see.
Best time for a cruise trip in Mekong Delta
In overall, Mekong River Delta has a pleasant climate all year round, so you can visit this region at any time of the year. Each season has its own unique feature which can bring tourists joyful experiences. The average temperature of the year is around 28 degree Celsius and stable all year.

The weather is separated into two distinct seasons: sunny and rainy. The sunny season lasts from December until the end of April. In this season, the humidity level is low with a lot of suns, so it is a tip-top condition for outdoor activities such as hiking, cycling or sightseeing. It is also considered the most suitable time to cruise the Mekong Delta. The rainy season starts from May to November when the humidity is high and it seems to rain almost every day but it doesn't last more than one hour.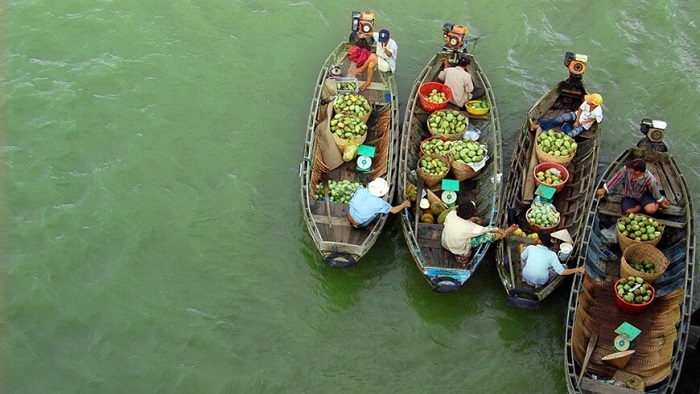 Best time to take a cruise in Mekong River, Vietnam
The most recommended activity during this season is fishing. A lot of rains are also good for fruit gardens of locals such as durian, dragon fruit, mango, jackfruit, rambutan, mangosteen, or longan. Travelling to Mekong Delta during this time, tourists can also get lower travel prices.
Some items that you should pack when visiting this region are light jackets, waterproof layer, and clothes, well-soled shoes, shorts, bug repellent, and sunscreen.
What to see when cruising in the Mekong in flood season
Due to the terrain of interlacing canals and rivers, boats are the major means of transport in the Mekong Delta. Cruising is the best way to explore the daily life of locals and learn more about their unique lifestyles. Besides that, this region is also home to a lot of beautiful landscape that you should visit once when taking a Mekong River Cruise tour.
Tan Lap floating village
Tan Lap floating village, also known as Tan Lap Melaleuca forest is located in Moc Hoa District, Long An province, about 100 km from the centre of Ho Chi Minh City. Coming here, you will feel like lost in the fairyland with the sun shining through the trees, the murmur of leaves, and the song of birds. If you want to see lotus flowers, you should go to Tan Lap in October and November.
Tra Su Mangrove forest, An Giang
Tra Su Mangrove Forest has located about 30 km from Chau Doc City, is considered the most typical and unique natural habitat conservation area of the wetland ecosystem in the Mekong Delta. Cajuput forest is the most beautiful in the floating season (from September to November).
Coming to Tra Su forest, you can admire the diverse fauna and flora. It is home to 70 species of birds, 11 species of mammals, 25 species of reptiles, and 10 species of fish. There are also 140 plant species belonging to 52 families and 102 genera.
Bung Binh Thien, An Giang
About 30 km away from Chau Doc, Bung Binh Thien, also known as the God lake is located in An Phu district, An Giang province, close to the Cambodian border. In the flooding season, Bung Binh Thien is romantic and dreaming with the boats hidden in the early mist or the sunset. The best time to visit this place is from August to November when the water surface of the lake increases many times compared to other months of the year.
Coming to Bung Binh Thien, visitors can experience new sensations when exploring raft houses and fish cages and admiring the green scenery of nature. In particular, at a hidden corner of the lake, you can see the blooming lotus flowers. You can also have the chance to learn more about the unique culture of Cham people living around Bung Binh Thien.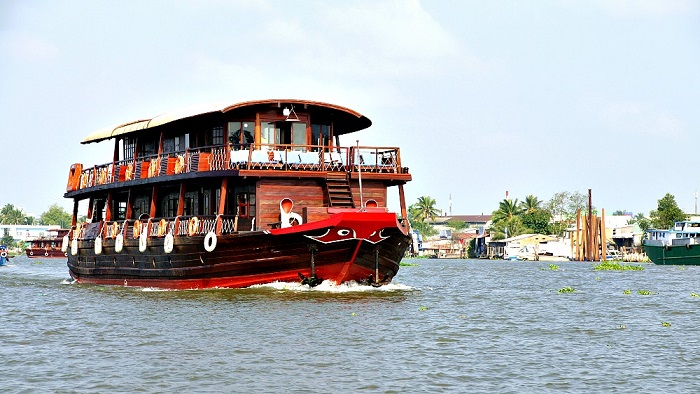 Best time to take a cruise in Mekong River, Vietnam
Tram Chim National Park, Dong Thap
Tram Chim National Park is one of the most famous tourist destinations in Mekong Delta that you cannot ignore. Covering an area of 7313 hectares, Tram Chim is home to over 130 species of plants and 233 species of birds of which 13 rare and precious birds are being preserved. The best time of the day to explore this place is in the afternoon. In addition, coming here, you can also admire the stunning lotus flowers.
Floating markets
Last but not least, your cruise trip in the Mekong will be incomplete without visiting floating markets. They reflect the spirit of the locals with a lot of fresh products such as vegetables, fruits, flowers, and specialties. The most well-known floating markets here are Cai Be (Tien Giang), Cai Rang (Can Tho), Tra On ( Vinh Long), Nga Bay (Hau Giang), Long Xuyen (An Giang) and Phong Dien (Can Tho).
We hope that with our information, your trip to Mekong Delta will become easier and more interesting. Whenever you get ready or need help, please contact us via our website. Share this article with others if you find it useful. Thank you!