With my travel experience, the Mekong Delta in Vietnam is one of the most ideal destinations to spend your holiday with kids. But, what is the best ways to travel with kids without unpredictable troubles, maybe you don't know.
So, today I will show you interesting things that you may not find anywhere else.
If you're planning your upcoming trip here with your kids, then invest your time to look over our suggested things to do below.
When is the most suitable time to visit Mekong Delta?
Mekong River Delta has a monsoon and sub-tropical climate with relatively pleasant weather. Unlike other regions in the country, it only has two seasons in the year: the dry season and the rainy season. The rainy season starts from May to November and the dry season lasts from December to April.
In each season, the Southwest region has its own characteristics and attractions. If you want to enjoy the fresh fruits, you should come here around the 5th or 6th lunar month. If you want to learn about the traditional culture of this land, then holidays are a suitable time. In particular, the Southwest has the water season from the 8th to 11th lunar month – the best time for eco-tourism.
Overall, you can travel to this place at any time of the year, although in the rainy season, the transport will be a bit difficult.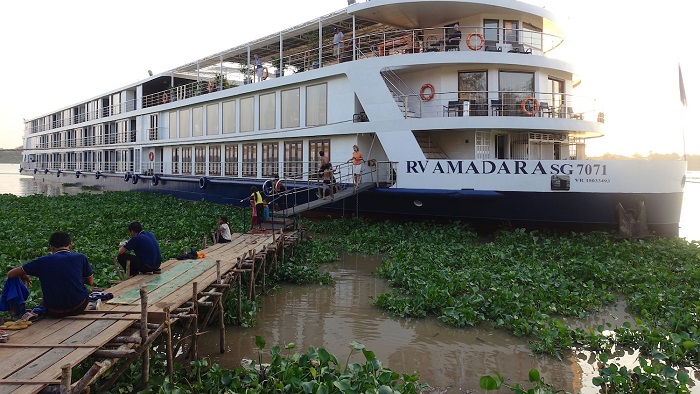 Cruising in Mekong Delta
How to explore Mekong Delta with your kids?
Cruise through small canals
With the terrain is mainly intertwined canals, surrounded by rivers, the Southwest region is an ideal place for tourists to take cruise boats through canals. The cool breezes and charming songs will give you an unforgettable impression. Sitting on a boat and weaving through rivers, you and your kids can fully feel the peace and tranquillity of this region.
Besides sailing and taking photos, do not ignore listening to the birds singing and the sound of the fish bouncing. If you're lucky enough to go through orchards, you can pick yourself fresh fruits and enjoy them.
Explore floating markets
The floating market is the most outstanding featured characteristic of the Mekong Delta. It can be said that your trip here would not be complete without visiting floating markets. The most famous ones here are: Cai Be floating market Tien Giang, Phong Dien floating market and Cai Rang floating market in Can Tho, Phung Hiep floating market in Hau Giang and Chau Doc floating market in An Giang.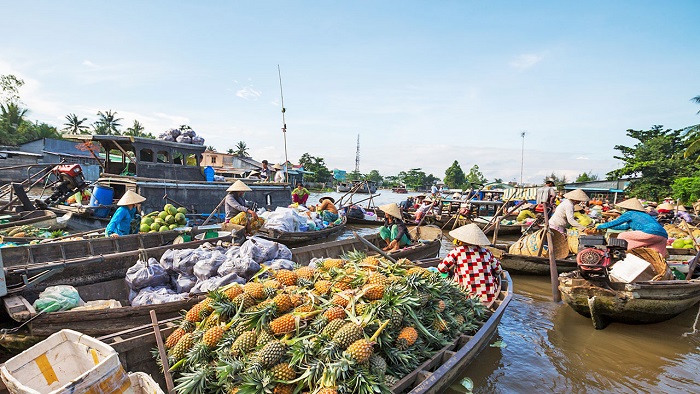 Visit floating market in Mekong Delta
The market often opens very early in the morning with full of boats of locals. The products here are various from vegetables, fruits to utensils of which the local fruits are the most one. An interesting point of each boat is that people will hang what they sell on a tall pole. There are also boas with a lot of savory foods such as pho, noodles, coffee, and pancakes.
Bird watching
Mekong Delta is dubbed as the Kingdom of birds and when one talks about bird watching when traveling there, it's deficient if we do not mention Tram Chim National Park. It is home to about 233 species of birds of which some are listed in the Vietnam RedBook.
Mekong Delta currently also has about 30 bird fields scattered across the provinces of Tien Giang, Ben Tre, Vinh Long, Tra Vinh, Dong Thap, Can Tho, An Giang, Ca Mau and Kien Giang. There are bird gardens formed from a long time with hundreds of hectares wide such as U Minh Thuong National Park in Kien Giang or Ngoc Hien bird garden in Ca Mau.
Visit orchards
Fruit gardens are also the highlights of the Mekong Delta River that should be included in your Mekong cruise tours with kids. Due to the pleasant climate, this region has a wide range of fruits such as rambutan, durian, pomelo, mango, coconut, mangosteen, jackfruit, longan, etc. Depending on the season, there will be different fruits. Some most famous orchards here are My Khanh (Can Tho), An Binh Islet (Vinh Long), Cai Mon (Ben Tre) or Cai Be (Tien Giang).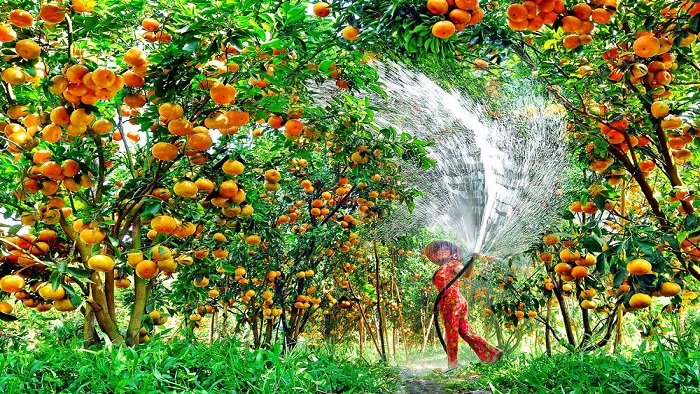 Visit fruit garden
Sightseeing
One way to get your kids and you learn more about Vietnam culture is to visit historical relics and some holy spots. Some suggestions for you are Vinh Trang Temple (Tien Giang), Truc Lam Phuong Nam temple (Can Tho), Doi Temple (Soc Trang), Giant Buddha Temple (An Giang) and Khmer Pothisomron Temple (Can Tho).
Listening to Southern Folk Songs (Don ca tai tu) is also an inspiring activity for you. This special music art was recognized as the Intangible cultural heritage. Through the songs, you can understand more about their stories, thoughts, and emotions.
We hope that with our suggestions above, you and your kids will have an unforgettable trip to this awesome land. There are also a lot of fascinating things waiting for you in the Mekong Delta. Do not hesitate to visit our website to get further information and contact us if you have any questions. Share this post with others if you find it helpful. Thank you!