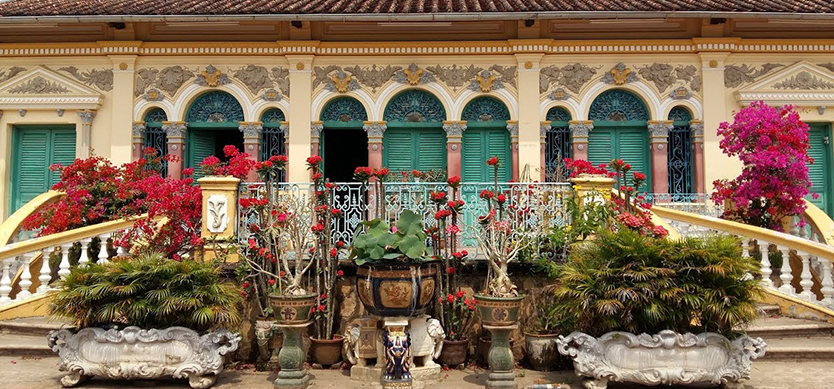 There are many ways to get to Can Tho from Phu Quoc, but have you known the best ways to transfer from Phu Quoc to Can Tho yet?
Well, there is no difficulty to travel to this city from Phu Quoc. And as you might know, Can Tho city is located in the center of the Mekong Delta, Southern Vietnam, about 250 kilometers from Phu Quoc. It is situated in the midst of a network of rivers and canals with peaceful landscapes.
And if you still don't know the best way to go to Can Tho from Phu Quoc, let us show you!
How to get to Can Tho from Phu Quoc?
By plane
By ferry/ speed boat
By passenger car
By taxi
Best way to travel to Can Tho from Phu Quoc
Can Tho is adjacent to 5 provinces: the North borders An Giang, the Northeast borders Dong Thap, the South borders Hau Giang, the West borders Kien Giang, and the East borders Vinh Long. The network of canals and urban architecture has brought Can Tho city a unique charm.
Plane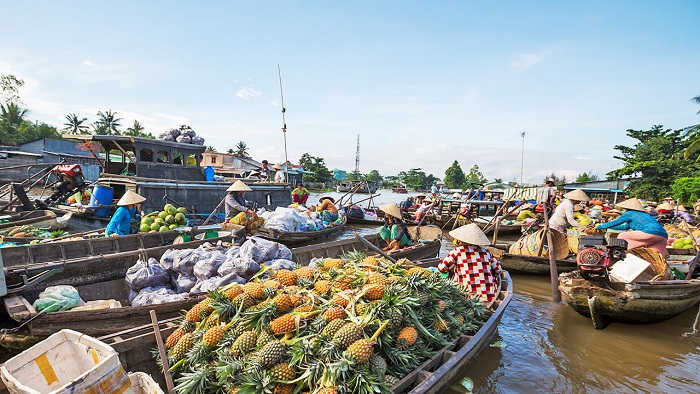 Cai Rang floating market of Can Tho
Since both Can Tho, Phu Quoc has airports in which there is an airline of Vietnam Airlines operating routes between the two points, traveling by plane is the easiest and fastest way for travelers. The price will range from VND 1,500,000-2,500,000/guest depending on the different seasons. There will have one flight each day from Phu Quoc to Can Tho at 1:20 PM, taking about 1 hour to arrive here.
If you want to save more money, you can go to Can Tho by combining the vehicles of ferry or speedboat with passenger bus or taxi. In this way, you will spend about 7-8 hours so it's only ideal for those who have plenty of time.
Ferry/speedboat
From Phu Quoc island, the ferry will take tourists about 2 hours to go from Da Chong port (Bai Thom, Phu Quoc) to Thanh Thoi port (Ha Tien town, Kien Giang). Fares range from VND 185,000 to 215,000 for an adult and VND 140,000 for a child. Otherwise, you can go from Ha Tien port (Ha Tien town, Kien Giang) or Rach Gia port (Rach Gia city, Kien Giang) by speedboat, which takes VND 215,000-230,000/adult and VND 150,000-160,000/child. Travel time by speedboat is 1 hour and 20 minutes. Afterward, travelers will continue to get to Can Tho by passenger bus or taxi.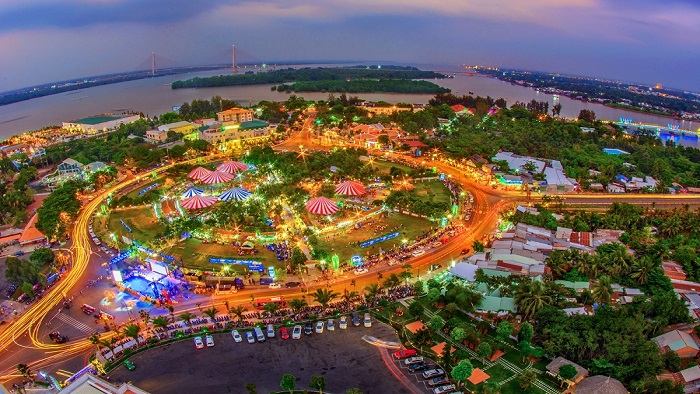 Can Tho city at night
Passenger bus
From Rach Gia port, there is Phuong Trang bus line operating the route from Rach Gia to Can Tho and vice versa. You can buy tickets at VND 100,000/guest with travel time is 3.5 hours.
If you go from Ha Tien port, you can choose Mai Thao with 2 times/day and travel time is 4.5 hours. The average fare is VND 120,000/guest.
Taxi
Nowadays, there is a service of taxi package that you will pay less than the normal cost. All you have to do is book the taxi in advance.
Top attractions in Can Tho
Cai Rang floating market
Cai Rang floating market is a typical cultural characteristic of people in the Southwest that you can hardly find in other localities. Especially, Cai Rang is one of the five largest floating markets in the Mekong Delta region. You should visit here at dawn because it is the most exciting and crowded time in the market. All the shopping and dining activities happen on the river, ensuring that you will definitely have interesting experiences here.
Can Tho bridge
Can Tho bridge is a bridge over the Hau river, connecting Can Tho city and Vinh Long province. Built in 2010, this is a cable-stayed bridge with the longest main span in Southeast Asia, 550 meters long. The total length of the whole route is 15.85 kilometers and width is 23.1 meters. On weekends or holidays, Can Tho bridge is lit by thousands of colorful bulbs, making Hau river glistening. At Ninh Kieu wharf, there is a train service that takes you to the middle of the river to watch the whole scene of the beautiful Can Tho bridge at night. Ninh Kieu wharf area today has a night market and a lot of restaurants or you to enjoy Western cuisine at night.
Binh Thuy ancient house
Binh Thuy ancient house in Can Tho city is a two-storey wooden house, built by the Duong family in 1870. The house is designed in French style but the interior design is in traditional style with a bold layout of Vietnamese family identity. The items in the house are made from a variety of rare and beautiful carved woods, associated with activities of Southwest gardens and rivers.
Truc Lam Phuong Nam Monastery
Truc Lam Phuong Nam Monastery is located in My Nhon hamlet, My Khanh commune, Phong Dien district. This is the largest monastery in the Southwest region. The main hall has an eight-roofed tile in the Tran style while one hall has a four-roofed tile in the Ly style. The drum and bell floor is designed in the style of Keo pagoda bell tower in Thai Binh province.
My Khanh fruit garden
From Can Tho city, you go along Nguyen Van Cu street towards Soc Trang to My Khanh tourist garden - a famous garden in South Vietnam. With more than 20 types of plants such as plum, mango, rambutan, jackfruit, strawberry, durian, etc which are always fresh, fruitful and have a unique, delicious taste, the spot will bring you a gentle and relaxing feeling. In particular, this place is also organized many interesting folk games such as pig racing, dog racing, monkey circus, crocodile fishing, etc, very suitable for groups of friends or family to relax at weekends.
With the best ways to go from Phu Quoc to Can Tho as well as the most famous tourist spots in Can Tho, we hope you will have fun here with your beloved people. Why don't you choose Saigon - Mekong - Phu Quoc tour to get to know more about these interesting destinations. If the article is useful for you, don't hesitate to like and share it with others. Thank you.