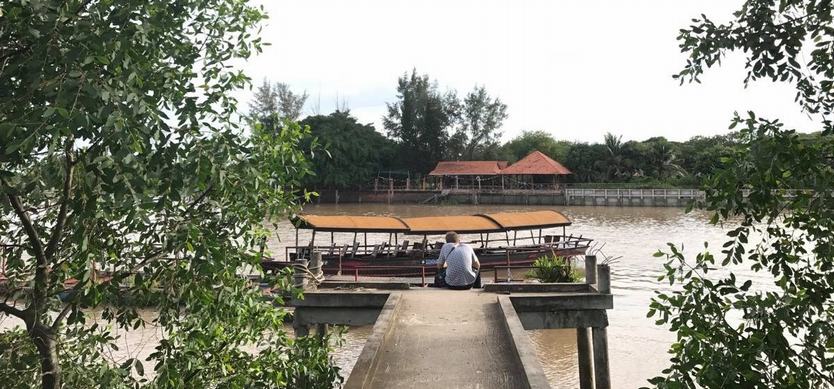 In addition to the ripened fruit orchards look so inviting to travelers, join Mekong Delta Tours in the summer, tourists will experience a lot of interesting things that are unlike in any other region in Vietnam.
Visit fruit orchards
The year-round lush fruit gardens are the specialty of the southern provinces. These orchards offer different fruits depending on season and time. Summer is usually the main fruit season attracting most tourist. There are many orchards for you to enjoy the feast such as My Khanh in Can Tho, An Binh Island in Vinh Long, Cai Mon in Ben Tre, and Cai Be in Tien Giang.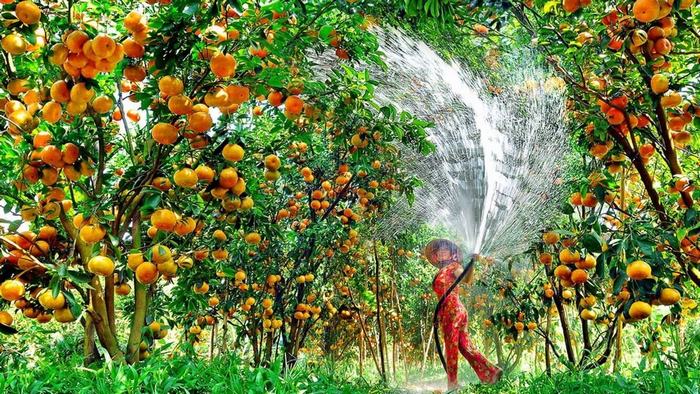 Fruit orchard in Mekong Delta
Immerse in the endless green
Travel out of big cities, the endless green of rice paddies slowly comes into view. Roads, houses, lakes, rivers, and canals are always covered with a cool fresh green. The color of palm trees, rice fields in An Giang, the so green of Tra Su Cajeput forest, the greenish mangrove forest in Tram Chim National Park, these many greens are blended together and paint a picturesque scene of the typical Vietnam countryside that you cannot find it anywhere.
Become a fisherman
Wearing farmer's costumes and bailing the water from the pond to catch fish. These activities are considered a cultural characteristic of the region. To experience the local way of life and become a true Mekong resident, you can join in such hands-on experiences. There are various ways to catch fish: by a fishing net, rods, bamboo traps or just by hand. Your reward will be a meal filled with freshly caught fish. The feeling of trying to find and catch fish under mud using hand or some local tools is simply thrilling.
Cross monkey bridges
Cross bamboo monkey bridge
For convenient transportation through small canals, local people build this type of bridge. They are typically made of a single bamboo log with a handrail on one side. It looks like the only monkey could make it across this scaring bridge. The name comes from the stooped monkey-like posture one may have to maintain while crossing so as not to plunge into the canal below.
Visit bird sanctuary
The very first bird sanctuary you should visit is Tram Chim National Park in Dong Thap province. Every year when the rainy season comes, Tram Chim wears a new look filled with the color and wonder of nature. The park boasts a diverse collection of over 200 types of birds which make up a quarter of the bird population in Vietnam, some have been put in the Red Book. Besides, the Mekong Delta has about 30 bird sanctuaries scattered across the provinces of Tien Giang, Ben Tre, Vinh Long, Tra Vinh, Dong Thap, Can Tho, An Giang, Ca Mau and Kien Giang. There are some sanctuaries have established for a long time covering an area of hundreds of hectares such as U Minh Thuong park in Kien Giang, Ngoc Hien in Ca Mau.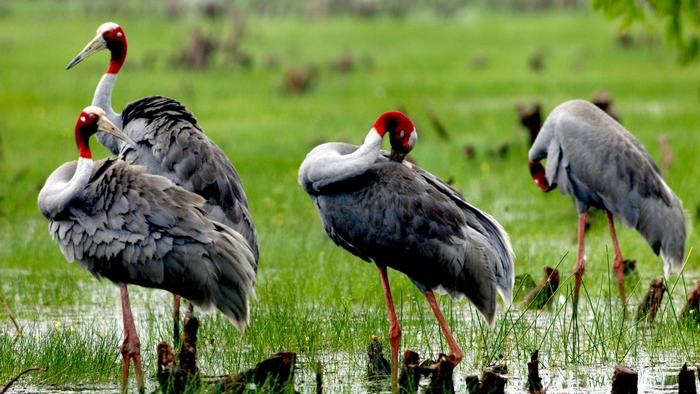 Tram Chim National Park
If you concern more about Mekong Delta Guide, please visit our website. Do not hesitate to contact us if you have any questions. Share this article if you find it helpful. Thank you!