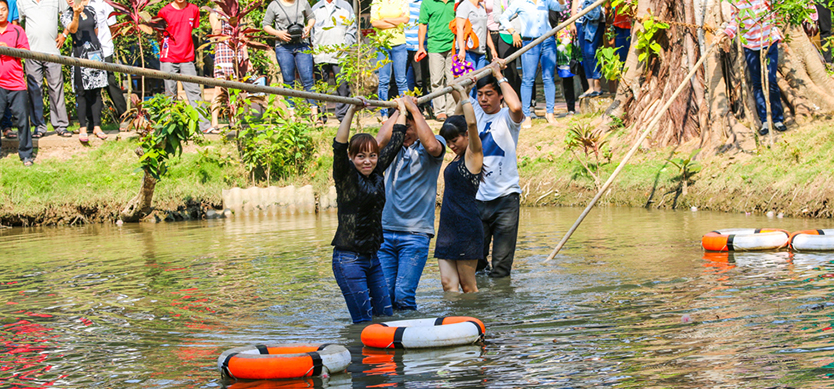 If you want to explore the most unique and featured sides of Mekong Delta in a limited time, My Tho and Ben Tre are the two spots you should not miss.
Don't believe it? Read our experience below to find out.
You'll see not only the scenery here but also the highlights making our trip memorable.
Spending New Year holidays in Saigon, we decided to have a one-day break with a nearby Mekong Delta cruise tour. Saigon is a vibrant, modern and crowded young city, with various attractive places to have fun and eat. On the contrary, Mekong Delta is very rustic and no less interesting than Saigon with unique characteristics and a long regional history. Fortunately, that point of time is also the flood season in the area which is considered the most ideal time to visit here.
Mekong Delta is well known by the interesting water culture and life along with rich sources of flora and fauna, so in flood season, the environment becomes more vibrant and there will be more attractions for you to explore. Let's see what we had enjoyed here.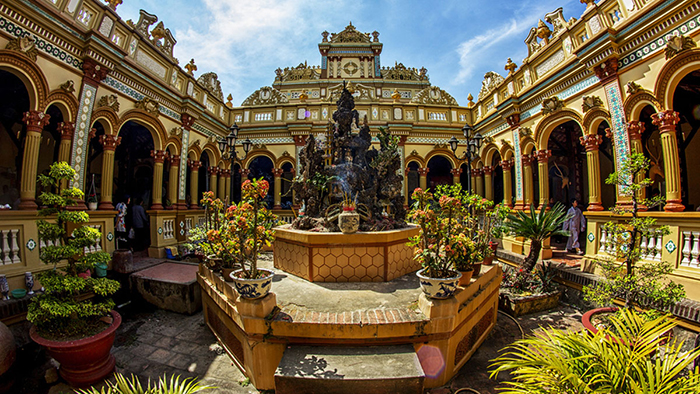 Vinh Trang pagoda
Morning itineraries: pagoda - fishing port - fruit garden
The vans picked us up from the Opera House on Cong Truong Lam Son street, District 1. After about 1.5 hours, we arrived in My Tho city, Tien Giang province and started to discover one of the most famous sacred pagoda in Tien Giang - Vinh Trang pagoda. If you go to My Tho from Saigon by your car or motorbike, you can follow 1A Highway (about 1.75 hours) or Ho Chi Minh - Trung Luong Highway (about 1.5 hours).
Vinh Trang pagoda was built in a harmonious style of Eurasian architecture, combining French, Roman, Thailand, Cambodian, and Cham architectures. However, the core architectural style still bears the Vietnamese tradition. The pagoda has an area of about 2 hectares, including many areas such as Amitabha Buddha monument, the main hall, the Quan Yin pagoda, the tower garden, the room for distributing scriptures, etc. In addition, there are an ornamental plant courtyard, a lotus pond, many tall old trees, and a shady orchard in the pagoda grounds.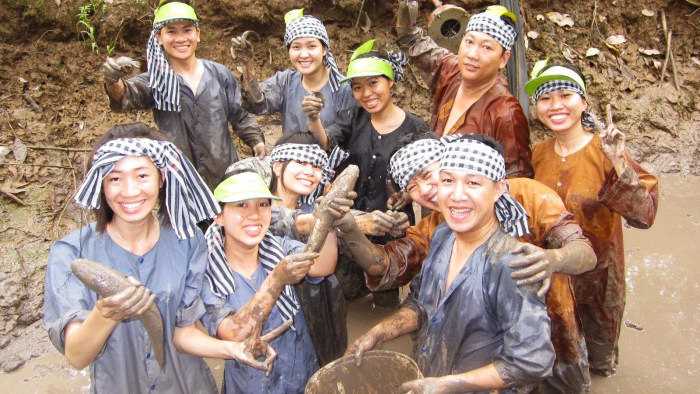 A tour of southwest fruit gardens
After 30 minutes in Vinh Trang, we moved to the pier, took a cruise on the Mekong River to see the four islands of Dragon, Unicorn, Turtle, and Phoenix, visit My Tho fishing port and the fish farming village along Tan Long island (or Dragon island). My Tho fishing port is the largest one in Tien Giang province with an area of 20,000 square meters, is the center of seafood distribution and trade of the province. In here, tourists can buy the freshest seafood such as fish, crab, squid, shrimp, and sea snail, etc.
In the four animal islands, Dragon island is a place specializing in aquaculture on rafts and repairing boats because it is near My Tho fishing port. In addition, the lush orchards are also a noticeable feature of the island. Coming here, visitors will enjoy famous specialties from durian, rambutan, cherry to seedless guava, orange, mango, and star apple, etc.
The last point before lunch was Thoi Son island (or Unicorn island). The tour guide took us to visit local people's houses, bee farms, enjoy honey tea, and take pictures with python reticulatus. Walking on Thoi Son village road, we went to a traditional coconut candy factory, watching the stages to make products and then enjoying. Finally, we sat down and enjoyed the seasonal fruit while listening to the Southern amateur music performance.
Lunchtime: Fried fish spring rolls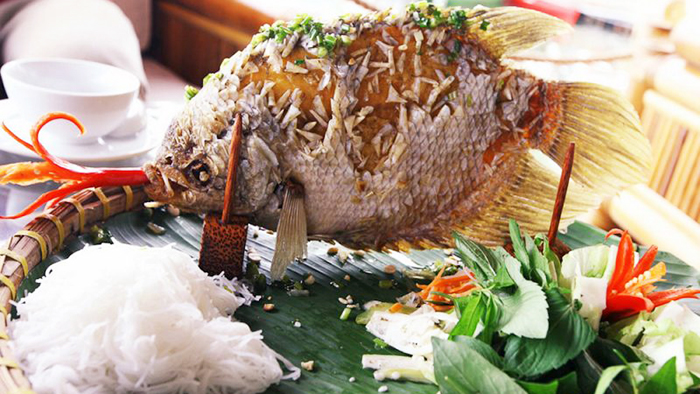 Fried fish spring rolls
Our lunch was included in the tour, which comprising rice, fried spring rolls, vegetable, and poached ribs. If you want to try fried fish spring rolls, you will have to pay an extra cost for the dish. This is the star dish of the restaurant here, which will make you satisfied by the freshness of the big fish supported by a prop. The fish together with noodles, fresh vegetables, coriander, sliced cucumber, carrot, and green mango will be rolled with rice paper, enjoyed with a special kind of seasoning sauce of local people.
After lunch, you can ride a bicycle around the island, visiting fruit orchards such as longan, mango, rambutan, plum, guava or resting on the hammocks in many fruit gardens.
Afternoon itineraries: historical relics - crocodile farm - mini zoo
We finished the tour by a visit to Phoenix island - the most attractive island in the four animal islands of Mekong Delta. Relics of Dao Dua (Coconut religion) of Phoenix island contain both the unique cultural and religious beauties. Dao Dua is a religion led by Nguyen Thanh Nam, an engineer who studied in France. Though he had a family, he decided to meditate and create the Coconut religion on the island in 1963. Dao Dua's allege is religious harmony and support for peace. Tourists will discover the place as an interesting journey to hear the legend of a monk of Ben Tre.
A new and exciting activity for tourists coming to the west river is crocodile fishing. Dozens of crocodiles lie in the lake waiting for talented players to conquer them. This is a typical service in Phoenix island that you should try once.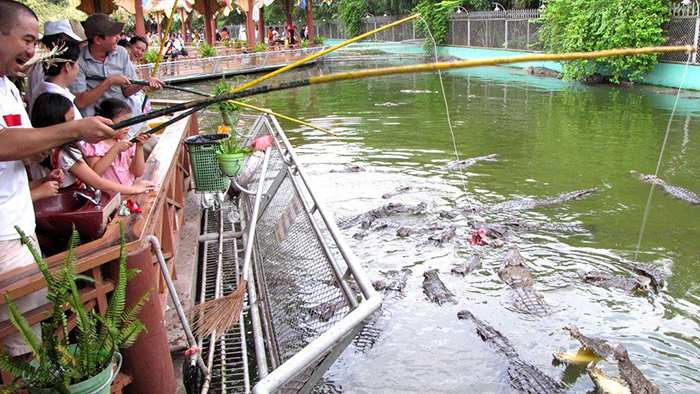 Having fun at the crocodile farms
Mekong Delta, especially My Tho and Ben Tre, brings a rustic and charming beauty, very ideal for those who love natural and cultural exploration. Traveling to Mekong Delta, you will surely have an unforgettable experience with the warm and hospitable Southern people. For further information, feel free to contact us or visit our website. Like and share if the article is useful for you. Thank you.