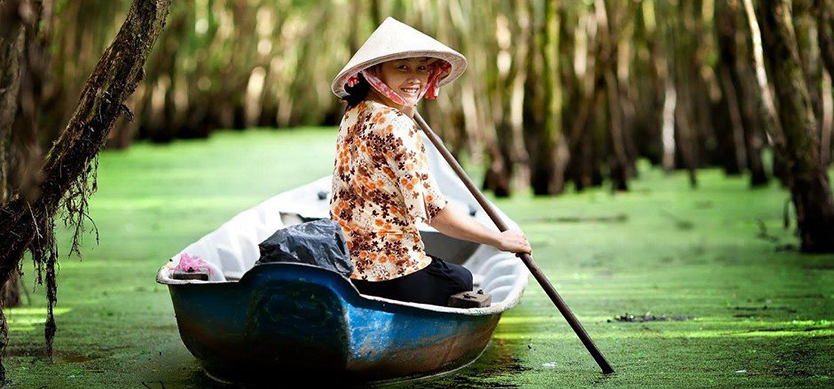 On the trip to South Vietnam, besides Saigon, we decided to explore Mekong Delta in the charming Tra Su melaleuca forest and Ben Tre's famous islands.
When referring to the highlights of Mekong Delta, we can't help thinking of the natural scenery, the diverse tropical fruits, and many fascinating activities on rivers or in fruit gardens, etc. These were exactly what we had enjoyed in the 2-day trip to the Mekong Delta river.
If you are in the same traveling taste with us, let's dive into the post!
The stunning trip to Tra Su Mangrove forest
At first, we planned to spend 3 days in Saigon right after the trip to Tra Su melaleuca forest, but we wanted to make our memory here more special, so we decided to visit the homeland of coconut in Vietnam - Ben Tre city. Due to the change in itineraries, we had one of the most special and unforgettable trips in our life.
Tra Su melaleuca forest is located in Van Giao commune, Tinh Bien district, An Giang. Tra Su is located about 30 kilometers from Chau Doc city and 64 kilometers from Long Xuyen city, so visitors can go to Long Xuyen or Chau Doc, then arrive in Tra Su forest by taxi or motorbike taxi.
Tra Su has full of the most typical features of the river region with the ecosystem of submerged forest areas in the west Hau river, where there are long canals with cool water gradually appearing in front of tourists.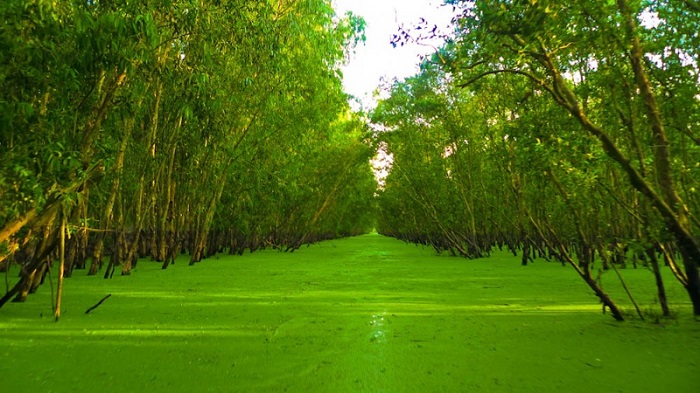 Tra Su melaleuca forest
The motorboats or small boats will carry tourists to explore deep into the melaleuca forest, of which each boat carries 3-5 people, taking VND 50,000-60,000/guest for 2 hours. The boat brings visitors into the deep forest to see the beautiful natural scenery and save memorable pictures. Visitors will be immersed in the pure nature, watching the shiny yellow "dien dien" flowers and the green color of duckweed covering all the surface of the water. Under the water, there are countless species of fish and above us, all birds flying around the pure white melaleuca flowers, creating an extremely beautiful natural picture.
In addition, visitors can also rent bicycles to explore and take pictures of animals in Tra Su forest. Especially, on the trip, there are various specialties that you should not miss in a tour to Tra Su such as grilled snakehead fish, fish, and "dien dien" flower hot pot, etc.
Note: Flood season is the most beautiful season in Tra Su melaleuca forest (from August to November of the lunar calendar), of which 7:00-9:00 AM and 5:00-7:00 PM are the best time here.
Ben Tre fruit garden tour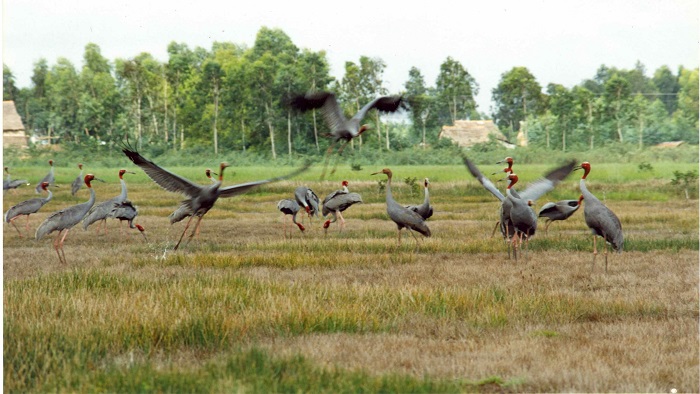 Vam Ho bird sanctuary
Traveling from Saigon to Ben Tre by car will take about 1.5-2 hours, so tourists can rent a car or buy a passenger bus ticket at the Western bus station, Saigon to Ben Tre. We chose the bus line of Thao Chau which departed at 7:00 AM and arrived at 9:00 AM.
Phoenix island
Phoenix island of Ben Tre is the most beautiful one in the 4 animal islands of Mekong Delta (islands of Dragon, Unicorn, Turtle, and Phoenix) with the historical site, the rich sources of fruits, and the unique culture. If you are a cultural and historical explorer, Dao Dua (Coconut religion) is an ideal place for you with the relics of the ancient religion of the island. After exploring the canals by boats, we visited some famous sites such as the coconut candy factory, crocodile farm, etc. Not only can tourists enjoy the nature of the charming river, but they also can try the rustic dishes bearing the culinary taste of the Southern river.
Vam Ho bird sanctuary
Vam Ho bird sanctuary is located in My Hoa and Tan Xuan communes, Ba Tri district, which is home to nearly 500,000 storks, cauldrons, and other wild bird species along with date palm forest and rich vegetation including all kinds of guava, mango, soursop, nipa, date palm, etc.
Visiting Vam Ho, travelers can take a walk on the forest road, take a boat through the mangrove forest, visit the resistance base, lie on the hammock under the trees, and breathe the fresh air of the Ba Lai river.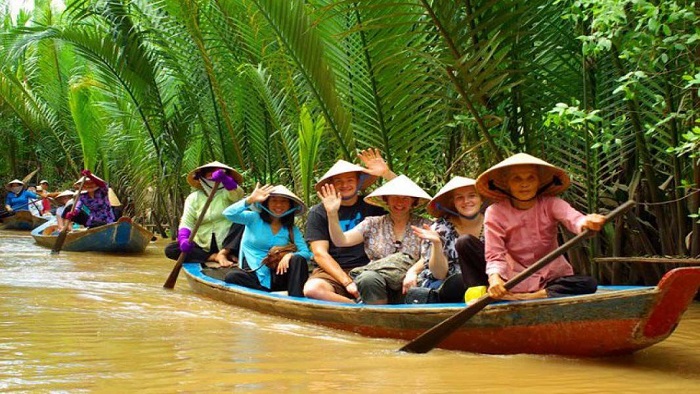 Exploring Ben Tre on a rowboat
Cai Mon fruit garden
Famous for Cai Mon durian, Cai Mon garden is located in Vinh Thanh commune, Cho Lach district. In this place, there are various kinds of fruit available all the time to eat. Annually, Cai Mon village also supplies to the market millions of seedlings from durian to mangosteen, mango, litchi, logan, etc.
In Cai Mon, many artisans also multiply and layer, creating ornamental plants. Those products are widely sold in Thu Duc (Saigon), Bien Hoa (Dong Nai province) and exported to countries in Southeast Asia.
Turtle island
Turtle island is famous for the charming river space and the sweet melody of Southern amateur music. Coming to the island, you can live in a peaceful space with an extremely comfortable climate. In addition, visitors can also enjoy fresh fruit at the gardens of logan, orange, pomelo, etc, drink honey tea, and enjoy the Southern amateur music which has been recognized by UNESCO as intangible cultural heritage.
Together with Tra Su melaleuca forest, Ben Tre is like a green island among the river space of Mekong Delta, becoming an attractive tourist destination for those who like to explore nature. If you like the place, don't hesitate to contact us or visit our website. Like and share if our guides are useful for you. Thank you.