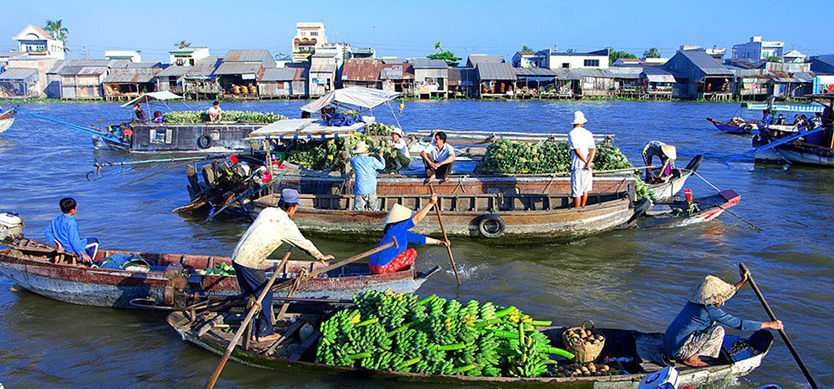 A Southern trip from Phu Quoc to Saigon via Mekong Delta
If you do not have much time to travel throughout Vietnam to admire its whole beauty, you can choose the south or the north to enjoying your trip depending on your travelling time.
According to the travellers' experiences, if you plan your trip to South Break 6 days, the ideal itinerary is Saigon, Mekong Delta, and Phu Quoc island is extremely memorable.
But how many days to travel? The itinerary is simple!
6 days and 5 nights are enough to explore the islands, beautiful beaches, rivers, vibrant cities, and especially the tasty local cuisine. The total cost of our trip is VND 6 million/person.
Late November is the perfect time for your trip because it's the flood season. Also in Saigon, it is the beginning of the dry season, so tourists will be comfortable having fun here.
After the post, you will know the reason why you should spend 6 days to travel to Southern Vietnam from Phu Quoc to Saigon through Mekong Delta.
The 2-day Phu Quoc trip
Our total cost in Phu Quoc is VND 3 million/person, of which eating cost is VND 600,000 and transferring cost is VND 400,000. If you want to save money, you should avoid going there on weekends and book the ticket, room for months in advance, because the cost of transferring and accommodation on Phu Quoc island is quite high.
Fortunately, we found a combo of a 2-day trip in Phu Quoc which included prices of a 1-way plane ticket and 1 night in a 5-star resort, costing VND 2 million/person. You can look for many kinds of combo on Facebook or Instagram travelling pages, but you should carefully research the seller's information to avoid tricks.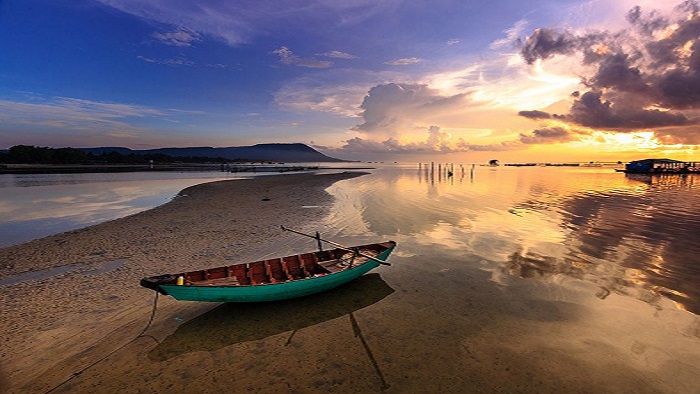 A Southern trip from Phu Quoc to Saigon via Mekong Delta
Bathing in Sao beach brought to us a feeling of immersing in heaven with pristine nature and cool water. You should not miss the beach when travelling here. At noon, we had a chance to admire the masterpiece of sunset at Rory's Beach Bar with a view of the sea. Space was extremely poetic with cute decorations and lights. The food was delicious and reasonable, processed in the Western-style. The evening is time to explore Phu Quoc nightlife, of which Dinh Cau night market in Duong Dong town is the most outstanding. The food here was not very cheap. In return, seafood was fresh and diverse.
If you have plenty of time, you can go to Ham Ninh fishing village in the early morning to see the sunrise which is no less beautiful than our experience at Rory's. We transferred to Hon Mong Tay island, which later made us stunned by the wild natural beauty and the clear green water as emerald. Along the silky sandy coastline was a row of inclined coconut trees, interspersing with rocks under the blue sky. All of them had created a natural picture as paradise. Moreover, this is also an ideal place for diving and seeing coral reefs.
The 2-day Mekong Delta trip
From Phu Quoc, we moved to Mekong Delta by speedboat, combining with taxi and passenger bus. The total transferring cost in Mekong Delta is about VND 800,000/person depending on the destinations. Eating cost is VND 300,000/person because the food here is very affordable. Staying at a hotel cost VND 70,000/person in An Giang and VND 100,000/person in Can Tho.
Our first point was Tra Su melaleuca forest. Tra Su is very attractive in flood season with many kinds of bird in a vast space of water and trees. With only VND 45,000/person, we had a rowboat tour through the mangrove forest, along the river to explore nature here. Afterwards, we explored the famous Ba Chua Xu temple which was about 13 kilometres from Tra Su melaleuca forest. With an altitude of 300 meters above the sea level, Ba Chua Xu is the appropriate place to enjoy the fresh air and see the whole beauty of Chau Doc city. It attracts tourists not only beautiful scenery but also a very unique and eye-catching architecture.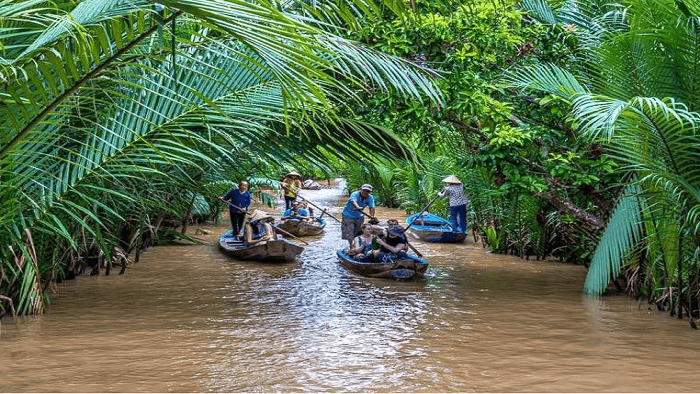 A Southern trip from Phu Quoc to Saigon via Mekong Delta
Travelling to An Giang, you should not miss the chance to admire the beautiful sunset on Bung Binh Thien - the largest freshwater lake of the Southwest. Bung Binh Thien turned into a different look in floating water season, creating a new wind in the charming Western picture. If accidentally lost in this place in a sunny afternoon, looking at the shadow of the boat and cathedrals above the water, visitors will feel a peaceful and fresh feeling between the green space of the river and the sky.
It will be a shortcoming if you don't visit Cai Rang floating market in Can Tho city. The shuttle bus took us from An Giang at 3:20 AM so that we could get to Cai Rang in time in the early morning. In here, we learned about the bustling life on the river of local people with boats of goods, food, and fruits. Having breakfast on a rowboat was also very interesting.
The last day in Saigon
Saigon is a vibrant metropolis of the South, so tourists coming here will feel a hectic and modern lifestyle. Because we used to visit Ho Chi Minh city before, this time we decided to explore the charming cuisine in District 1 and District 11, as well as drop by some famous coffee shops in the city. The cost of travelling to Saigon is VND 600,000/person. The plane ticket to Hanoi from Ho Chi Minh City is VND 1.1 million
Hope that with our guides and experiences, you will have the most wonderful time here with friends and family. Note that the larger your group is, the cheaper your trip becomes. If the article is useful for you, don't hesitate to like and share with others. Thank you.