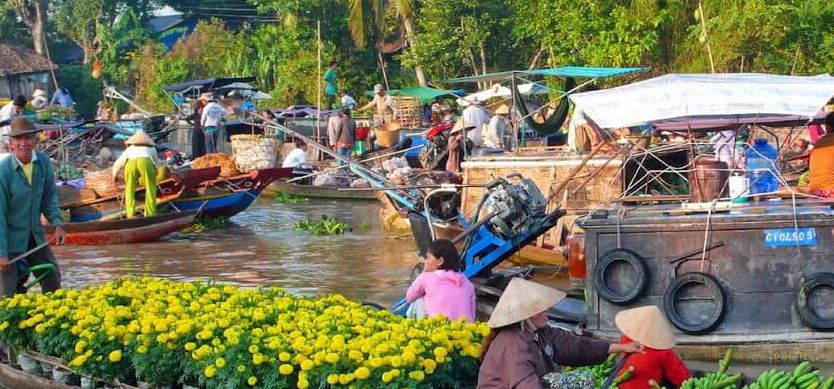 The mighty Mekong River flowing through Southern Vietnam discloses a fertile land for tropical agriculture, where quaint and unique village lifestyle is kept original.
This place always has something to keep you busy.
Below are 5 unique activities for you to try in your Mekong Delta tours.
5 unique activities to try in Mekong Delta
Experience exotic homestay and cuisine in Vinh Long
Go cycle around villages
Visit floating markets
Visit fisheries on stilts
Admire fireflies in the mangrove
1. Experience exotic homestay and local cuisine in Vinh Long
This experience is one of the most unique that Mekong Delta tours have to offer you. It is 2 completely peaceful days to enjoy the authentic local lifestyle, get to know local customs and traditional cuisine. After 5 hours driving from Ho Chi Minh city, you reach Long Island, a surprising hidden destination, out of any beaten tracks, free from mass tourism.
This is the world of orchards and mangroves, the typical scenery of the Mekong Delta. Here, you discover a charming banana-tree house and especially have a chance to be welcomed by the cherubic smiles of the lady of the house. From now, you spend Mekong Delta 2 day tour at this local house as a virtual resident of the Mekong.
Besides wandering around to enjoy the charming village sights, the highlight of this experience is local cuisine experience with Banh Xeo, Vietnamese pancakes made from coconut milk, shrimps, and vegetables. Travelers call this dish "the queen of Vietnamese specialties".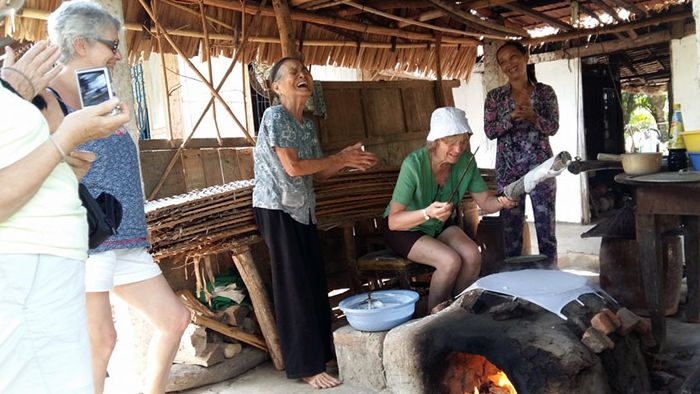 Learn how to make rice paper cake
As a special part in your Mekong Delta tour Vietnam, you will not only witness the way they create the tasty and crispy cakes, but also learn the recipe and try your hand in a fun cooking class with the hostess, and finally, of course, enjoy your "achievement".
2. Cycling around the village and interacting with the locals
The best way to start your day in Mekong Delta is to take a short tour on 2 wheels around the village and fully immerse yourself in the local community. Experience for yourself, the warmth and hospitality of the Vietnamese down south.
You will enjoy a little soft activity and slowly explore the rustic village on the leisure wheels of the bicycle. The bike tour allows you to both witnesses and feels the entire charm along the cool paths shaded by green plants. It's time for your soul to get bewitched by the perfectly poetic picture of meandering canals and narrow alleys leading to lovely garden houses.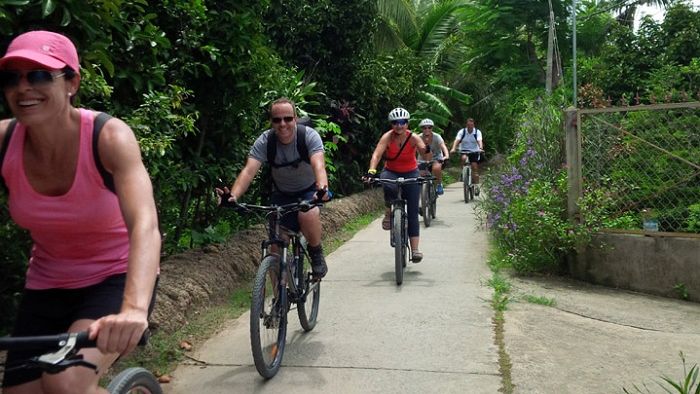 Cycling around Mekong Delta village
3. Experience floating markets
Talking about the Mekong Delta tour, we can't miss its famous floating markets and the most well-known one is the Cai Rang floating market, which is situated 5 kilometers from Can Tho city.
This is another face of Mekong Delta, different from the surprising tranquility of its rural villages; it's a busy and crowded market on the water. The picture of Cai Rang floating market is as vivid and colorful as the life of Mekong Delta residents.
Observing the market, you will see the characteristic of the generous and easy-going people who earn their living on the river. Wooden boats are full of fresh tropical fruits and vegetables. The sellers hang their product samples on a long stick in front of the boat as a sign to inform buyers what they sell. This is a very special experience that you couldn't find anywhere else in the world.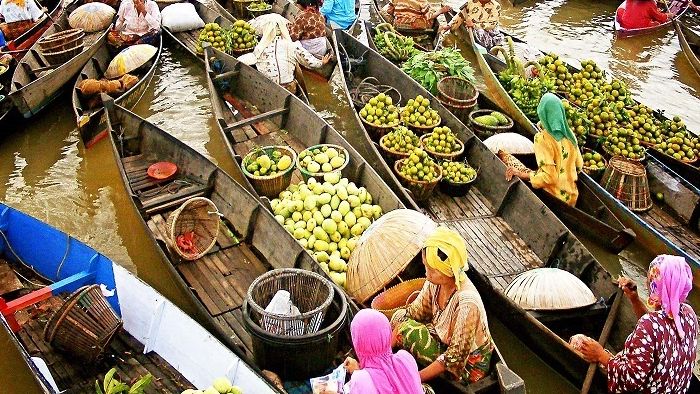 Fruit boat in Cai Rang floating market
4. Visiting the fisheries on stilts
Another source of livelihood of which the locals are heavily dependent on is fishing. And unlike the big sophisticated fisheries which dominate most fish-rich areas, Mekong Delta is sprawled with these micro fisheries on stilts - usually out of bounds to visitors. This is a privileged opportunity to witness how these locals carry out their unconventional means of rearing their catch.
5. Admiring spectacular fireflies in the mangrove
From where we come from, these magical sightings are only found in storybooks and documentaries. But if you are looking for something memorable to post on Instagram, this is it. A wonder moment to behold, this is definitely the climax to your visit to the Mekong Delta region.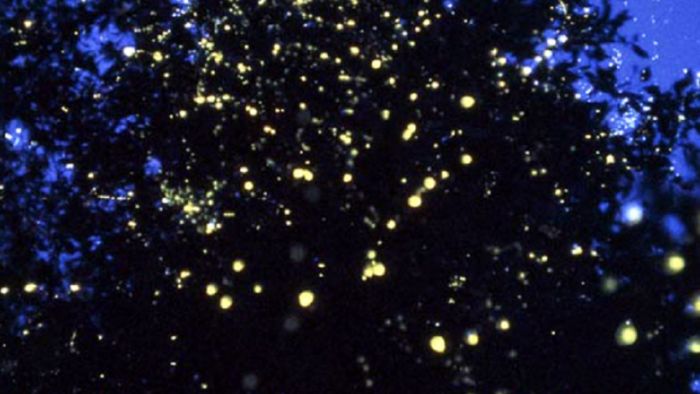 Admiring spectacular fireflies in the mangrove
The Mekong Delta conceals inside its abundant lands many stories of the cherubic and generous people, who love this land as their life and inspire us to live happily every day. This land not only offers beautiful landscapes, lovely villages but also a special spirit of friendly and kind-hearted villagers. Take a Mekong Delta tour and don't miss any in these top 5 activities to turn to start your most memorable Vietnam tour.