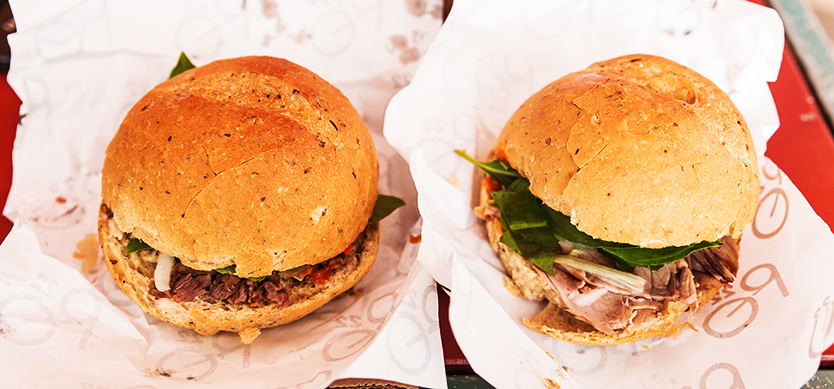 Certainly, no one can tell all kinds of bread in Vietnam because each region has the different "variation" styles. With pho bread (Banh Mi Pho), this dish was a mix of the picky flavor of noodle and the quickness of bread.
A novelty dish based on traditional ingredients
The pho bread looks like a regular hamburger, but a big difference is seen in the crust. By creation, chef of Ro22 makes the pho bread with crusts having a fragrant smell of pho. Bread flour is mixed with 22 spices used in noodle soup, so it takes more time and skills to make the crust than other types of crust.
Undergo several stages, being molded by the hands of bakers, spices are absorbed into flour. After baking, the crust of the bread is not only fragrant, delicious, and crunchy but it also has a special smell of Vietnamese Pho inside.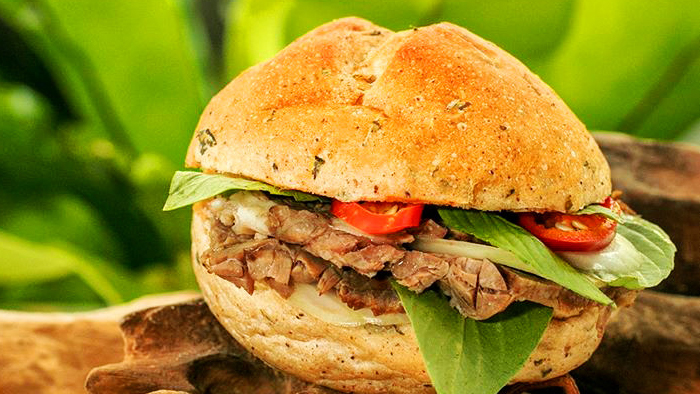 The tasty banh mi pho of Saigon (webtretho.com)
Vegetables eaten with this bread are basils, coriander, and onions instead of lettuces or tomatoes - these herbs are indispensable when eating noodles. The main crumb consists of brisket and plate. Beef which is cooked and sliced in accordance with the standard of pho is moderately soft. Just from the first bite of the bread, diners can feel the special taste of pho. The trick is that after clamping the beef and vegetables, the chef will add a sauce similar as condensed soup cooked from the bones as other common noodle soup uphill. Finally, a bit of chili sauce is added.
A nutritious fast food
Like many other fast foods, it only takes 1-3 minutes to have a hot loaf of bread with the fragrant smell of traditional beef noodle soup. This is a fast-food with health benefits because it contains many nutrients as a bowl of pho. You can fully replace "a bowl of pho" by "a loaf of pho bread" on busy days without worries about the quality as the other fast foods.
Pho bread is the perfect combination cuisine of the South and the North: Saigon bread has long been a distinctive brand of the South, also when mentioning Northern cuisine, it is the best-known pho.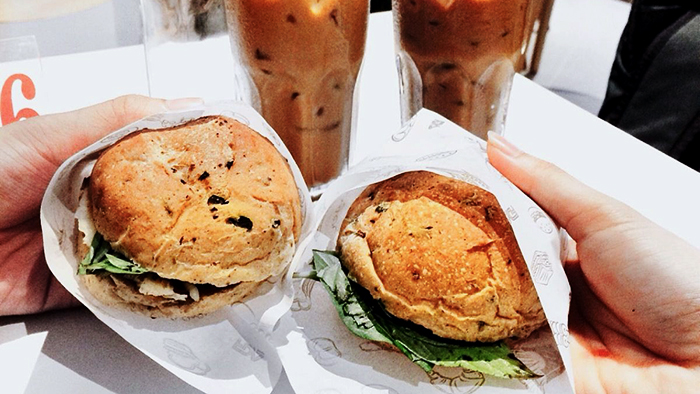 The familiar breakfast of Saigon people
Although this food appeared in Vietnam not long ago, not only Vietnamese people but a lot of foreign tourists also have come to try it. Most of them feel the novelty and charm of the bread. The first shop selling this dish is Ro22, Truong Dinh Street, District 3, HCMC. With trips to Ho Chi Minh City or trips from Ho Chi Minh City to Mekong Delta, visitors will have a chance to enjoy this new and delicious food.