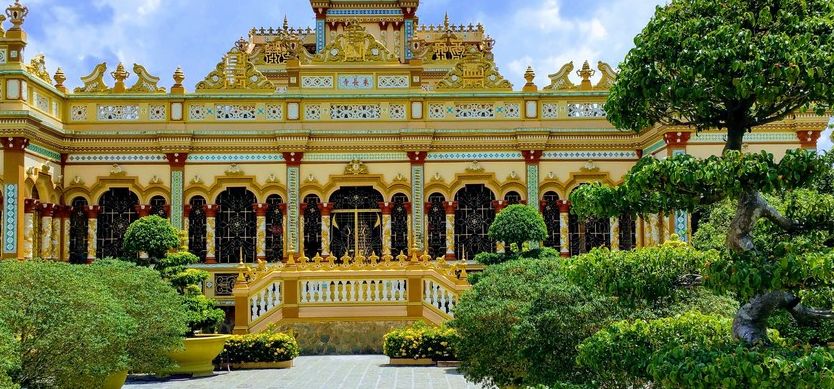 Located in the heart of Southeast Asia with thousands of years founding and development, Vietnam is a country of a diverse mix of many religions which had a strong & deep influence on Vietnamese culture and ideology. The Mekong Delta, a newly settled multi-cultural region, besides its characteristics as rivers, mountains, fruit orchards, and natural environment, it also has spirits which are believed to protect humans from outside enemies. The attitude towards spirit, life, death, people and the world exhibits a deep predomination of triple religions including Buddhism, Hoa Hao, and Cao Dai that live in harmony.
1. Buddhism religion
Buddhism represented in the earliest day as compared to other religions. While people in the north follow Mahayana Buddhism, people in Mekong Delta follow Theravada school.
Buddhism plays an important role in the spiritual life of people in Mekong Delta. Pagodas and temples are the centers of religious and cultural community. Up to December 2011, there have been 454 pagodas and 8574 monks. Buddhist teachings have become the social norms, leading people to the Truth and Goodness. Especially, Khmer people in Mekong Delta rule that every boy at the age of 12 – 13 will live the religious life in the pagoda for at least one month. There are many Buddhist festivals and ceremonies in Mekong Delta such as Buddha's birthday, Chol Chnam Thnay, Donta which enrich the religion as well as the culture of Mekong Delta.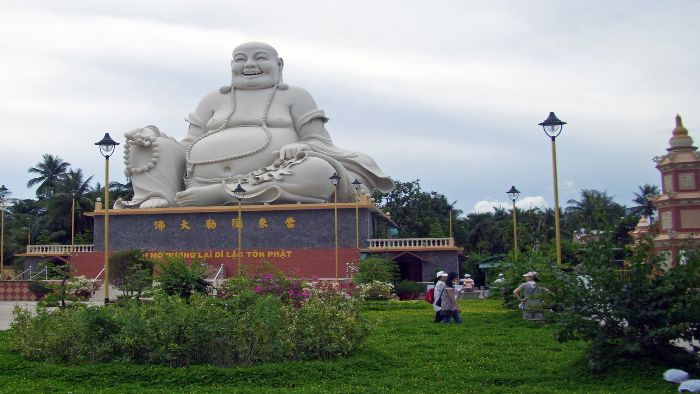 Buddha statue at Vinh Trang pagoda, Mekong Delta
2. Hoa Hao religion
Hoa Hao is the second most influenced religion in Mekong Delta with nearly 1.5 million followers (according to the census in 2009). Hoa Hao religion was instituted Tan District, An Giang Province in 1939 by Phu So Huynh.
Through more than 70 years of establishing and developing, Hoa Hao religion has advised people to live in harmony and build up the kindness. Hoa Hao encourages its follower to practice Hoa Hao's teachings at home rather than go to the temples or pagodas. For Hoa Hao followers, it is recommended to raise money for helping the poor rather than build up temples or holding expensive ceremonies. Hoa Hao religion worship Buddha, ancestral and heroes of the country. Even though there is no temple, no statues or ancestral tablets, Hoa Hao is still an important part of people in Mekong Delta's religious life with the motto: "Buddha in the mind, the mind is Buddha".
3. Cao Dai religion
Established in 1929, Cao Dai in Vietnamese means "at the high position". As compared to Buddhism or Catholic, Cao Dai is a new religion with more than three million followers Cao Dai is the combination and fusion of great religions of Buddhism, Taoism, and Confucianism.
Cao Dai become the specific religion of Mekong Delta
Cao Dai religion advises people to live honestly and harmoniously, do good things and avoid evil things. During the construction and development, Cao Dai followers have built up many religious centers: 9 Cao Dai churches and 19 Cao Dai independently operating organizations. In spite of being considered as the "youngest" religion in Vietnam, Cao Dai has put great influence on the culture of Mekong Delta. Cao Dai keeps its strict rules and tradition to protect its characteristic, making Cao Dai become the specific religion of Mekong Delta.
With diverse religions and beautiful natural landscapes, the Mekong Delta is truly an ideal destination for tourists. If you need further information about Mekong Delta tours or tips, via our website. Thank you!