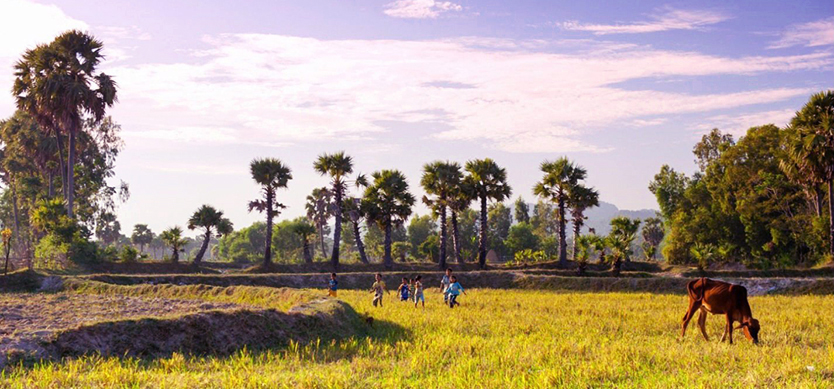 If you are familiar to the luxuries hotels, the pristine beaches, or the majestic highlands of Vietnam, maybe the rustic Mekong Delta tours will make you interested.
Where is Mekong Delta?
Mekong Delta or "Nine Dragon river delta" is the region in Southwestern Vietnam where the Mekong River approaches and empties into the sea through a network of distributaries. This region consists of 12 provinces of An Giang, Bac Lieu, Ben Tre, Ca Mau, Dong Thap, Hau Giang, Kien Giang, Tien Giang, Long An, Soc Trang, Tra Vinh, Vinh Long, and 1 municipality of Can Tho city. The Mekong Delta forms both the far southern region of Vietnam and one of country's two main rice-bowls. Dominated by the Mekong River and its many tributaries, the surrounding lands are comprised of low lying rice paddies and the rivers are bordered by dense mangroves and palms.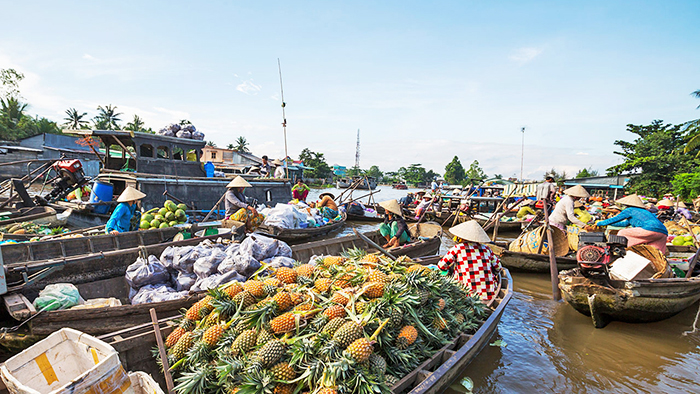 Cai Rang floating market - a unique characteristic of the Southwest
By embarking on a comprehensive exploration of the Delta, you will have the opportunity to observe and participate in an extra dimension of Vietnamese life and culture. The attractions of this region of Vietnam include the way in which life exists around the comprehensive river system. However, cruising up the rivers as the sun sets over the distant coconut trees as well is also a truly remarkable experience that will stay with you forever.
Tours to Mekong Delta can vary in duration, visitors who wish to explore more of this area can choose tours with more days in their itineraries. For Mekong Delta 1 day tours, tourists can choose itineraries that include visiting floating markets - one of the highlights of Mekong Delta, or a day trip to Can Gio eco-forest - the best choice for nature lovers.
Top attractions in Mekong Delta
Tra Su melaleuca forest, An Giang
Tra Su melaleuca forest is located in Tinh Bien district, covering an area of about 850 hectares with a rich ecosystem, symbolizing the beauty of An Giang water season. Experiencing sailing between the immense green duckweed, floating in the nooks and crannies of melaleuca forest, listening to the birds singing on the canopy will be very unforgettable.
Cai Rang floating market, Can Tho
Cai Rang floating market of Can Tho is very famous. This is the must-visit spot for everyone when traveling to the city. The floating market is a cultural characteristic of people in the Southwest that you can hardly find in other localities. Especially, Cai Rang floating market is one of the five largest floating markets in the Mekong Delta region.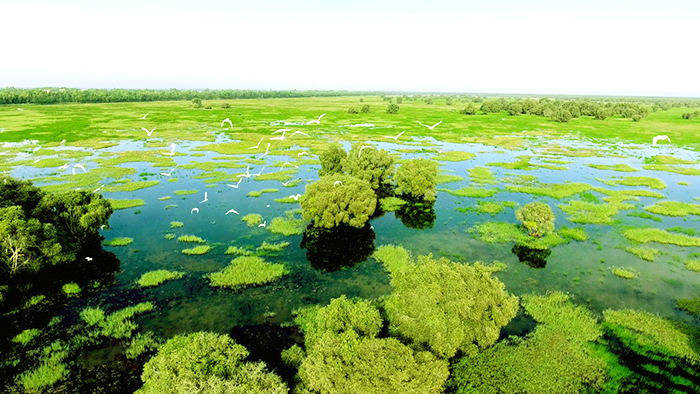 Tram Chim National Park
Bac Lieu wind power plant
From Bac Lieu city, following Cao Van Lau road to the sea, in the area of Dong A beach hamlet, Vinh Trach Dong commune is a wind power plant. The distance from the city center to the factory is about 20 kilometers, but from a distant, you can see the turbine pillars fitted with propellers like giant pinwheels printed on the sky. This is the favorite photo point of many young people coming to Bac Lieu.
Tram Chim National Park, Dong Thap
Tram Chim National Park is located in Tam Nong district, Dong Thap province, becoming a protected area since 1994. This place has the largest wetland area of Dong Thap Muoi area, recognized as the 4th largest biosphere reserve (Ramsar) of Vietnam and the 2,000th of the world with more than 232 species of birds, including many rare and precious species such as mycteria leucocephala, oriental darter, glossy ibis, and spoonbill, etc, especially red-headed cranes - birds within the world red list of endangered species.
Prince of Bac Lieu House
Located at 13 Dien Bien Phu, Ward 3, Bac Lieu City, with French-style design and materials transferred directly from France, this is considered the most luxurious house of Cochinchina in the early 20th century. Visitors coming here in addition to visiting, studying architecture and historical artifacts, also have the opportunity to hear about the life of the richest "playboy" of the south at that time. This is a destination that any visitor to Bac Lieu wants to visit.
Thoi Son isle, Tien Giang
Thoi Son isle, also known as Thai Son or Lan isle, is located downstream of Tien river, Thoi Son commune, My Tho city, Tien Giang province. What makes Thoi Son attractive and charming is not only that this is a land of delicious fruits, but also an ideal garden tourism destination for the weekend.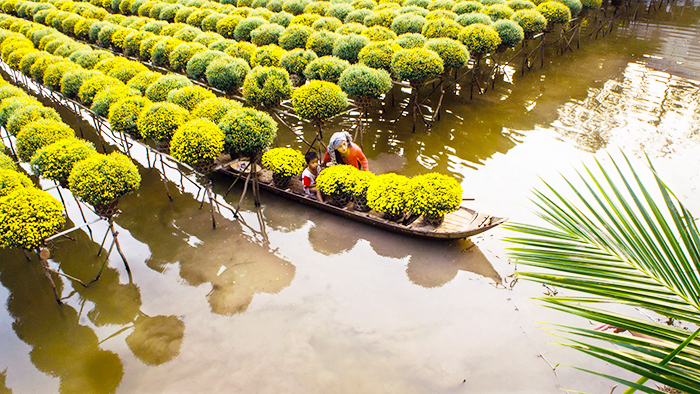 Flower garden in Southern Vietnam
As the Southernmost region of Vietnam, the Mekong Delta has its own characteristics of liberal and rustic lifestyle, making it the outstanding spot in the country. If the article is useful for your trip, don't hesitate to like and share this with others. Thank you.