Fed by snowmelt from the Himalayas of Tibet, the Mekong flows 2,700 miles to the sea in South Vietnam, a distance comparable to that between Los Angeles and New York City. The Vietnamese call it Song Cuu Long, the Nine Dragons River, for the nine branches of the Mekong Delta where land and water intertwine to make perfect conditions for growing rice. The best Mekong Delta tours offer a sense of the resilience of people who are remaking their lives, rebuilding cities destroyed by acts of war, and extending a warm welcome to visitors.
Best Time for Mekong River Cruises
Although Mekong River itineraries are offered for most of the year, the optimum time to go is during the winter, from November through February; it's cooler then (although still plenty hot) and the rainy season, which runs from July through October, has passed. But even during the rainy season, rains -- while dramatic -- typically last only 30 minutes or so.
Note that the cruise portion along the Mekong River and Lake Tonle Sap in Cambodia can be affected by seasonal water levels, so itinerary details are subject to change. The river reaches its highest level in September. Weird fact: The Tonle Sap River, which links the lake to the Mekong River, reverses its flow during periods of flooding. The surge of river water increases the lake's size six-fold and transforms it into one of the world's most productive fisheries.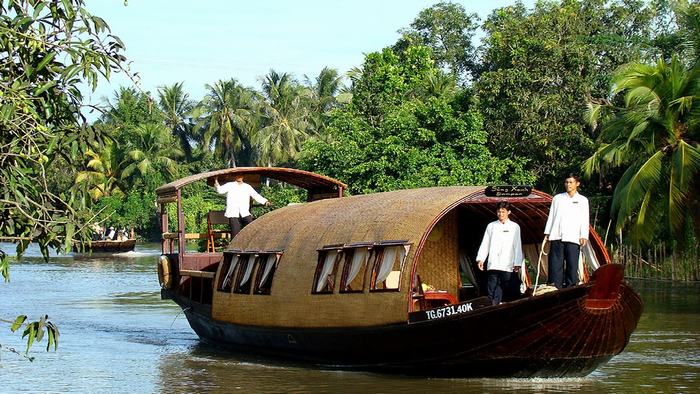 Cruise in Mekong Delta
Mekong River Cruise Lines
The major river cruise lines offer a series of Mekong trips in Vietnam and Cambodia. These include AmaWaterways, Avalon Waterways, Pandaw, Aqua Expeditions, Uniworld, Viking Cruises, CroisiEurope, and Vantage Deluxe World Travel.
Mekong River Cruise Tips
Beware of intestinal upset. Dealing with stomach issues is an unfortunate fact of life for Westerners who visit this region. Even if you're careful to avoid street food and to brush your teeth with bottled water only, it can happen. Best to bring remedies such as loperamide (Imodium), so you can minimize discomfort and get on with your trip.
Do not forget insect repellent. Even during the day, tiny gnats and fire ants can be bothersome (especially around temples), so the person with the bug spray is popular indeed.
Do not pet the monkeys. Ditto the dogs. Cute as the animals can be, rabies is an issue -- and the dogs can bite.
Learn how to cross the street in Vietnam. In the major burgs like Hanoi and Ho Chi Minh City, crossing the street isn't for sissies! Crosswalks (zebras, as they're called here) are meaningless. Your best bet is to wait it out until there are no cars or trucks coming, and then firmly and calmly step into the street and cross it, letting the motorbikes go around you. Let them zig and zag -- you keep walking! If you're still uneasy, wait until a local family crosses, and then merge into their group.
Plan for heat. Even in the "cool" season, the Mekong Delta has three temperatures: hot, hotter and hottest, they say. You don't really comprehend how hot 14 days of 90-plus degree days (with full-on humidity) can be until you've experienced them. Bring the wicking-est fibers you've got, and wear loose layers; skinny jeans and leggings won't cut it here. Plan to get sweaty no matter what, and pack extra tops or shirts since you won't get multiple wearings out of them.
Be an adventurous -- but smart -- eater. On several days of the tour, lunch is likely on your own, but it's easy to find a local pho (noodle soup) shop wherever you are. If you're not sure where to go, your program directors can offer suggestions. You'll also find interesting "fusion" cuisine, like Khmer-Pizza and Khmer-Mexican. Prices are very reasonable, even in big cities. However, use caution when purchasing food from street vendors. It's probably wise to stay away from dairy products, ice in drinks, salads, and fruit. Rest assured that bottled water is used for cooking and food preparation aboard ship.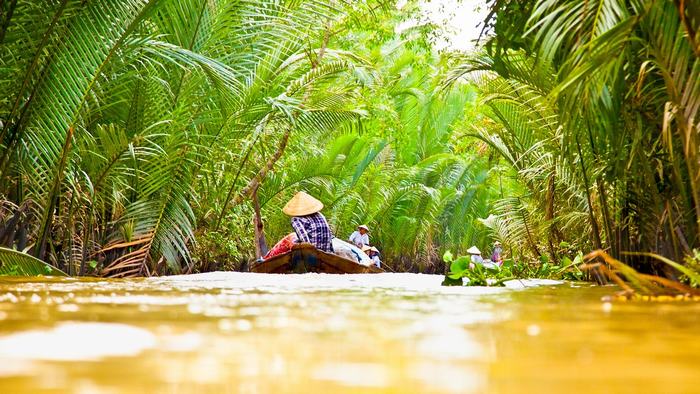 Cruise in Mekong Delta
Hope that our tips above will make your upcoming Mekong Delta trip easier and more convenient. To get further information about this region, please visit our website. If you have any questions, feel free to contact us. Have a nice trip!