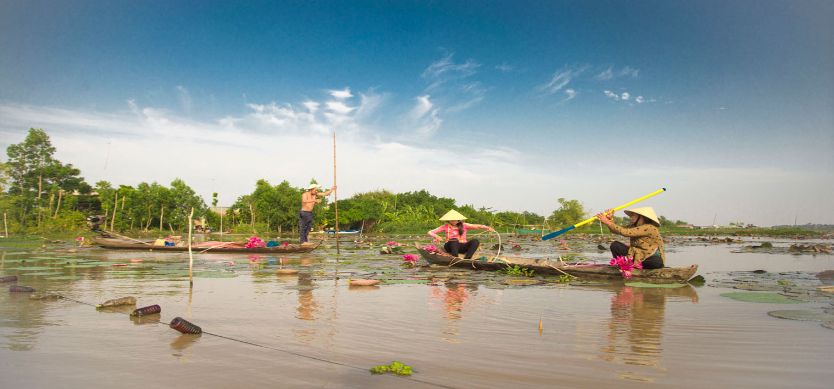 Dong Thap is a province in the Mekong Delta region of southern Vietnam with green rice paddies, beautiful lotus lakes, and Sa Dec colorful flower garden. If you are planning to travel Dong Thap with Mekong Delta tours, below tips are very helpful and necessary.
When to go?
Owning the peaceful canals, the endless fields, fragrant lotus pond changing with the rhythm of time, so anytime Dong Thap is an ideal place to see.
Specialties of Dong Thap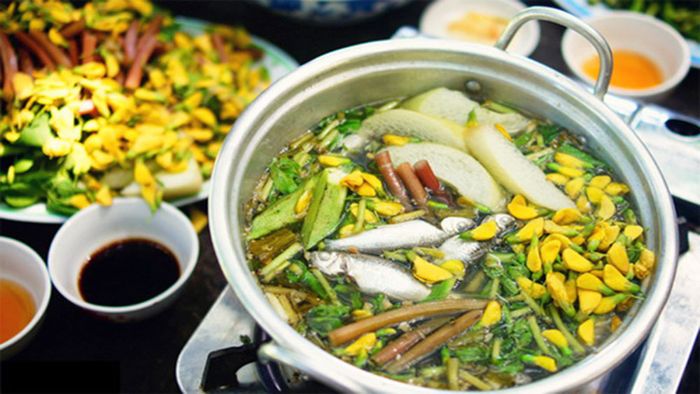 "Linh" fish soup with "Dien Dien" flower
It is regret if you do not try the dishes: "Linh" fish soup with "Dien Dien" flower, crab hotpot, frog fried butter, stir-fried frog with coconut milk, chili and grilled frogs or frog porridge, stir-fried mouse, tearing milling, gutter rat fat, Sa Dec noodles. Besides, you also buy special gifts for your friends and family such as Lai Vung pink mandarin, pink lotus wine, Chau Thanh logans, Sa Giang shrimp crackers...
Where to stay?
Hotels and guest houses in Dong Thap have relatively pleasant prices (of $7 - $23). Some recommended hotels you can refer as Thien An, Tra River, Thien An, Mong Yen...
What to see?
You can explore Dong Thap by motorcycle or car. However, with the characteristic of the river region, it is an enjoyable and peaceful experience when floating aboard the dinghy, wooling under the canal, and visiting landscapes.
Sites can discover while traveling on the boat including Nguyen Sinh Sac Deputy relic area. Besides the tomb, there are Bac Ho's fish pond and stilt house; Go Thap magnificent relic with typically 5 relics: Go Thap Muoi, Co Tu towers, Doc Binh Kieu tombs, and temples, Go Minh Su, Chua Xu Lady Temple; Kien An Cung ancient architecture was designed according to the "Quoc" solemnly; Xeo Quit base area with the wild giant Melaleuca trees. In additions, Dong Thap eco-tourism area is an interesting place to see including exotic bird park in Thap Muoi; Sa Dec colorful flower village; the orchards gardens as Cao Lanh mango, Chau Thanh logan, Phong Hoa grapefruit, and Lai Vung mandarin.
Lotus pond in Thap Muoi
The highlight is the Tram Chim National Park - Tam Nong, the important Vietnam's fourth wetlands and the 2,000th Ramsar of the world; or peaceful Gao Gong lungs with birdsongs, fishes during the dry season, yellow "Dien Dien"flowers, purple lily, pink lotus between heaven and earth in the flooding season.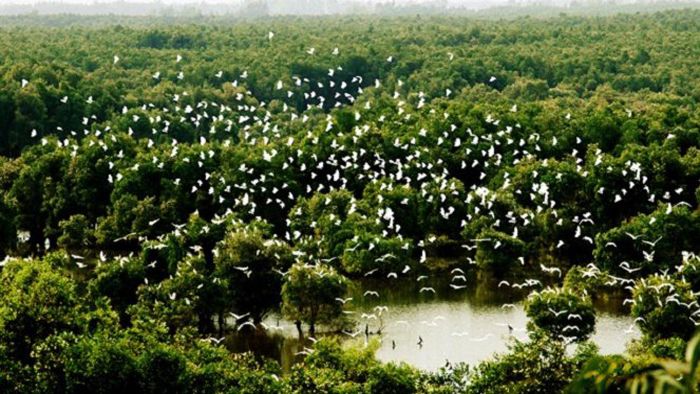 Tram Chim National Park
Other landmarks are Doc Binh Vang temple, Ca Bat pagoda, Southern Radio monument, Giong Thi Dam monument, Binh Thanh - Thanh Binh memorial monument, Dong Thap Muoi medicine reserve, Huynh Thuy Le ancient houses, Dinh Yen night market or shopping tour, Sa Dec night markets with tasty delicacies. If you want to swim, An Hoa beach or Con Tien beach is not a bad suggestion.
What to bring?
Coats, hats, masks, sunscreen on the dry season. Rain tools, specialized footwear on the rainy season.
Anti-mosquito cream and medications when insect bites, basic drugs
A tent, sleeping bags, jacket if camping outside

It is undeniable that Dong Thap is an ideal destination for those who want to escape the hustle and bustle life. If you want to know more about Dong Thap and Mekong Delta, via our website. Share this article if it is useful for you. Have a nice trip!