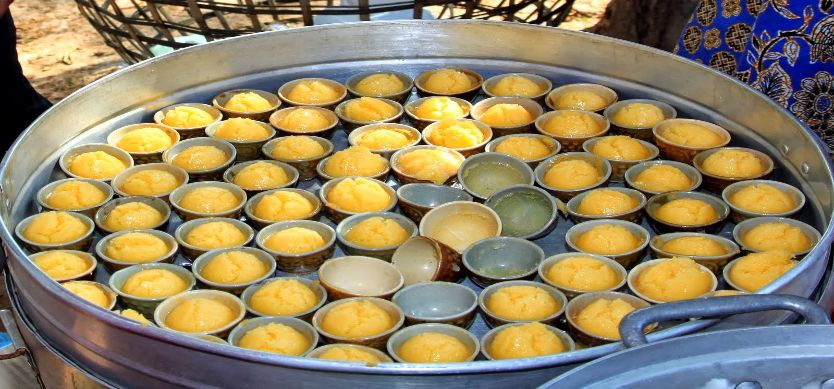 Mekong River Delta is a multicultural region which is the common house of many ethnic groups such as Kinh, Khmer, Cham, Hoa, etc, that leads to the cuisine of this region is extremely rich and diverse with many strange and delicious dishes. One of that dishes is banh bo which has origin from Cham people.
About banh bo of Cham people
Those who have been to the villages of Cham people in Chau Doc City of An Giang Province in the Mekong Delta should have seen the image of Cham women grilling yellow round food on clay ovens. Although the food is not popular among people in An Giang, it is a traditional sweet in the Cham community in the province.
On December 2 in HCMC, the food can be found at a sidewalk stall in front of a house on Street No.14, Linh Trung Ward in Thu Duc District. The stall's sign reads "banh bo Chau Doc" (Chau Doc-style sponge cake).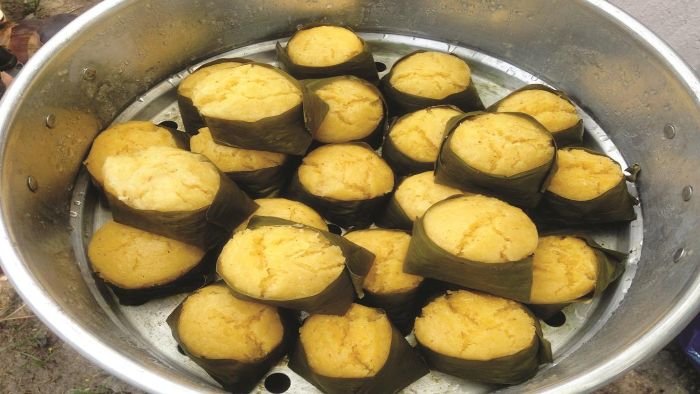 Chau Doc banh bo
A Chau Doc banh bo stall in Ho Chi Minh City
A woman identified as Thuy makes the dish in a traditional style of Cham people in combination with her own skills of making traditional Vietnamese sweets. Born into a Vietnamese family in Phu Tan District, An Giang Province, Thuy learned the technique of making traditional Vietnamese cakes from her mom.Later, she left her hometown for Chau Doc City and settled down near Cham villages where she learned how to make the Cham traditional sponge cake. More than a decade ago, Thuy moved to Saigon and failed in a couple of business plans before she realized the city is a food heaven.
Keeping that in mind, Thuy opened the stall in Thu Duc District four years ago to make the Cham sponge cake in her own style. The cake is made from a mixture of flour created from her own recipe. The flour is then mixed with sugar made from the sweet juice of thot not, a popular sugar palm plant in An Giang, and coconut milk.
Thuy's typical day starts at 2 a.m as she has to mix flour for two hours before putting it on the clay ovens so that the sweet hot sponge cake can be ready for customers early in the morning. Thot not sugar and coconut milk help create a mouthwatering smell. Costing VND5,000 (22 U.S. cents) per unit, the cake has a crunchy outer ring and a soft and greasy inner layer, as well as a light sweet flavor.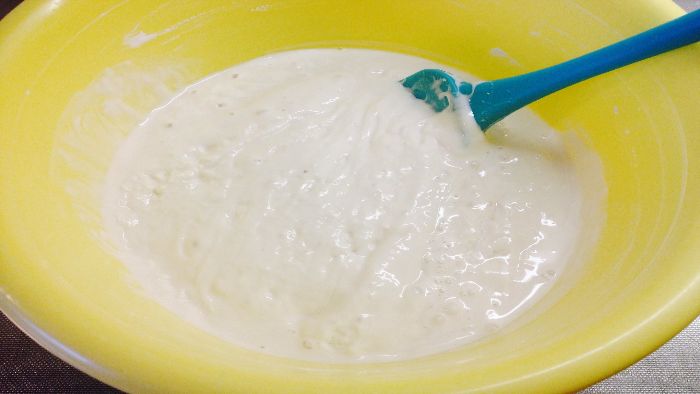 Flour to make banh bo
So far, the cake has not only come as a snack but a breakfast for many local students and workers. On special occasions such as festivals or parties, Thuy also receives big orders from companies. Migrant workers from northern and central regions often buy the cake as a gift for family and friends when they return home.
This is a food that brings the profound mark of Cham people in Southwestern Vietnam, let's find this stall in Ho Chi Minh City to try this dish and feel the taste of the countryside. If you need further information about Chau Doc banh bo or other dishes, contact us. Thank you!