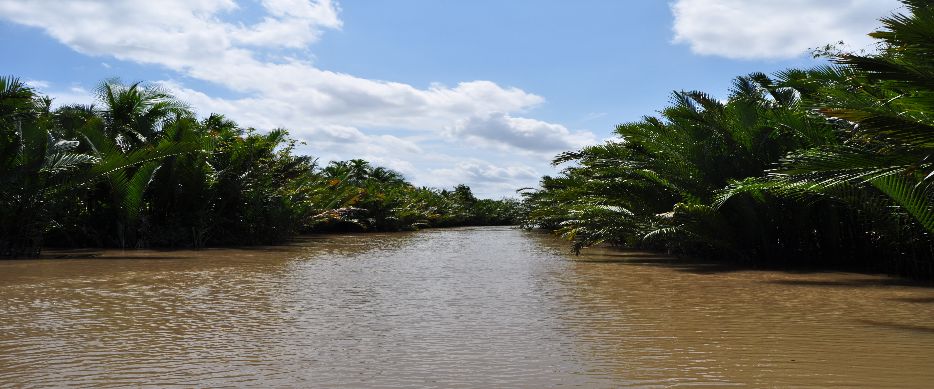 Mekong Delta is the largest river delta in Vietnam and the biggest rice bowl of the country. With the rich nature and beautiful landscape, this land is very suitable for developing the forms of ecotourism.
The first impressions in Mekong Delta
We go into the Mekong river asia on a minibus that follows the usual rules of Asian bus travel. No bus stops used, no official route being followed but somehow everything connects, people get on the bus, everyone squeezes up, and gets dropped to the door. Some sort of public transport sixth sense is in control directing buses and leading people to the side of the road. I can't fathom any of it.
Something else we couldn't fathom out that is the last night restaurant menu. We're in a small town called Ben Tre in the Mekong delta. It seems like no foreign tourists here, there is also no western restaurants or English menus. We stay overnight in a guesthouse run by a Vietnamese couple right on the river side. Our ordering strategy was simple – find a dish in the menu that had a picture of something you recognized (like a cow or a chicken) and then just randomly point to one of the options the jungle mechanics at work. When the first dish arrived we realized how hit and miss this policy was going to be, it looked as though the chef had taken a chicken – removed all the parts that are inedible, tossed the good stuff in the bin, cooked all the inedible parts and then served it with a warm papaya fruit. It was kind of an opposite to a chicken roast – so we pushed chicken heart, liver, feet and kidneys around the plate for 10 minutes before dish 2 turned up. This time the pendulum had swung in the opposite direction and somehow we had scored the eye on beef in black bean sauce served with chips. Sam's head almost flew off in excitement.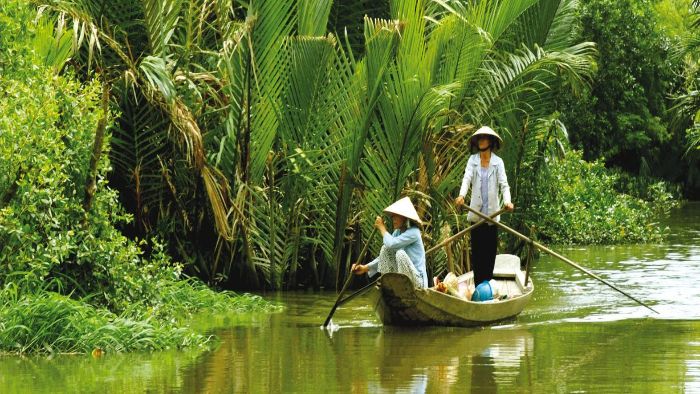 Boating in Mekong rivers
Exciting experience in Mekong Delta
The next day we borrowed some bikes from the guesthouse and went across the river via a row boat to look around town and then back across to ride around the stone paths between houses shacks and tributaries. The seat holding Sam had started to come loose so we stopped to take a look to see if we could adjust it. It was a fairly cheap seat that clung onto the crossbar and I didn't have any tools that could tighten it. But my worryness was soon faded because within moments some local people came to help us. This wasn't on the main strip, not even on a side road – but in a thin concrete path that ran past some wooden shacks and lots of palm trees.
People here are extremely friendly, they help us without any conditions, they rejected our money and just smiled and turned away. We felt bad for having trouble in the first experience but it just seemed to be a way for us to realize the kindness of people's heart here. Anyway you can see the image here in the blog so they will be preserved forever and when we look back in 10 years we'll remember them fondly. Tomorrow a 4 hour bus ride to Can Tho. We've stocked up on snacks and longevity mushrooms for the road in a local supermarket where every time I turned around a group of shoppers suddenly looked very busy and wandered off.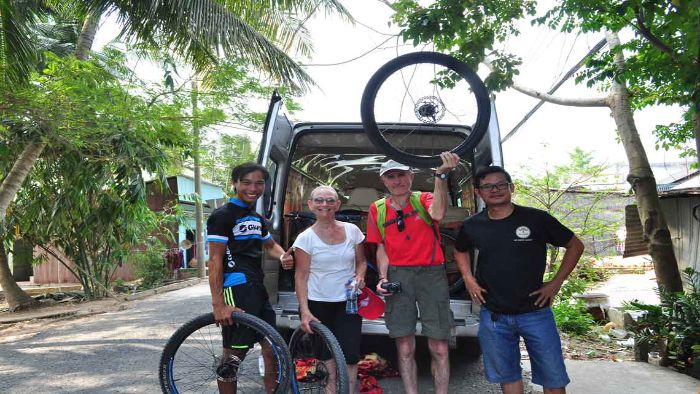 Warm hearts of local poeple
Each experience in life gives us a great lesson, so don't hesitate to go out and learn in the different places. Mekong Delta is truly a worth-visit place where you can learn and experience many interesting things. If you have any questions about Mekong tours, feel free to contact us. Thank you!