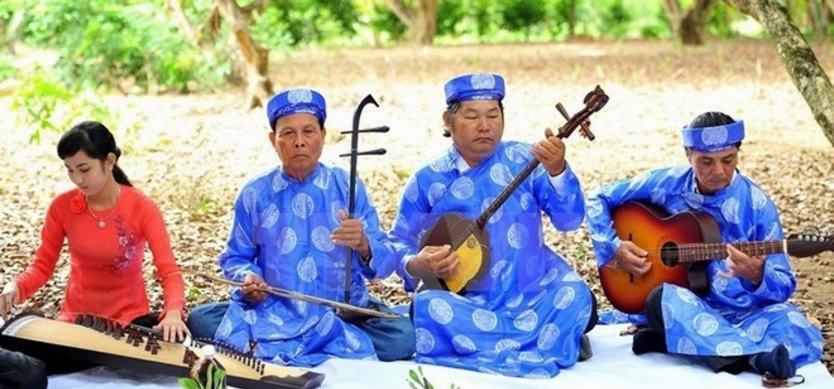 Besides appealing natural landscapes, Mekong Delta is also famous for its impressive culture that attracts a lot of tourists. One of the most interesting things that you should not miss when taking a Mekong Delta tour is to learn about Mekong farm music.
What to know about farm music in Mekong Delta
A CD collection of Tai Tu pieces performed and recorded by Meritorious Artist Ba Tu, one of the region's most famous musicians in Cai Luong (reformed opera), has been released in Long An Province. In 2013, Tai Tu was recognized as an Intangible Cultural Heritage of Humanity by UNESCO. It is considered a prototype of Vong Co (traditional tunes) and Cai Luong of the southern region, where the musical forms originated 100 years ago.
The music often centres around farmers who enjoy singing and playing musical instruments in the fields or while relaxing at the end of a hard day. The works are used mostly in Cai Luong plays.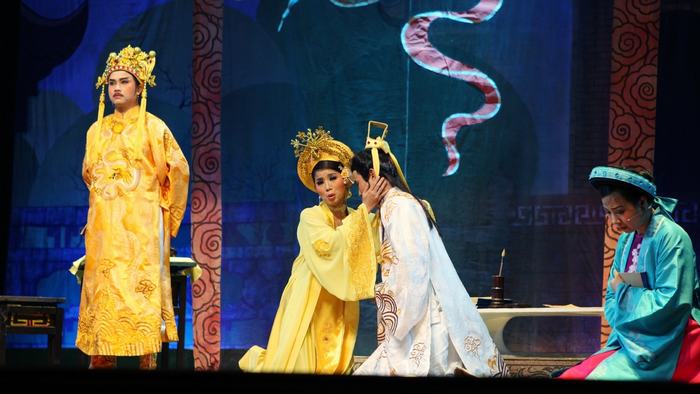 A Cai Luong play
Tu's collection of three CDs, 20 Ban To Nhac Tai Tu Dac Sac (20 Best Tai Tu Music Works), features themes of east, west, south, and north.
It includes four pieces depicting spring, seven of summer, three of autumn and four of winter.
The songs' themes include friendship, love, and dreams, as well as the culture and history of the country.
The songs are always performed at traditional festivals, weddings and death anniversaries in Cuu Long (Mekong) River Delta provinces along Mekong river in Vietnam - one of the brands of Mekong River Asia.
How the farm music developed
In the CDs, Tu plays four traditional instruments, the dan kim (two-stringed guitar), dan tranh (16-chord zither), dan nhi (two-chord fiddle), and Sao (flute).
He also wrote and presented explanations on the music.
He received support from cultural authorities of Long An, where he was born, to record and produce his CDs.
Printed by the National Political Publishing House, the book and CDs will be valuable for theatre lecturers and researchers, and students from art schools and institutes.
"I wanted to show my love for Tai Tu music to young generations, which should preserve and develop the traditional art," the 80-year-old said.
The most popular Tai Tu song is Da Co Hoai Lang (Night Drumbeats for Absent Husband), composed in 1919 by well-known composer Cao Van Lau, a native of Bac Lieu Province.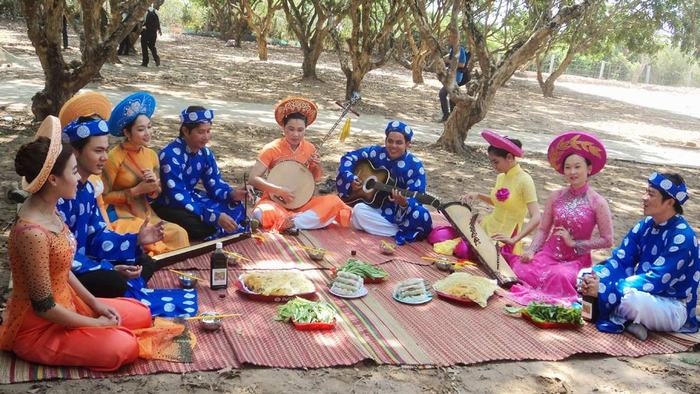 Don Ca Tai Tu Singing
The song tells of the love, anguish, and pride of a young woman watching her husband leave to fight for the country.
Tu was born in a traditional family in Long An. He studied Tai Tu with Chin Phan, Hai Vo, and Bay Que, who was considered the region's most talented musicians.
In the 1960s, he worked for dozens of leading Cai Luong troupes such as Phuoc Thanh and Minh To.
After 1975, he worked for the Sai Gon 3 Cai Luong Theatre and Tran Huu Trang Cai Luong Theatre.
Tu, who lives in HCM City, has composed several Tai Tu and Vong Co songs which are used in Cai Luong plays.
He has traveled around the region to introduce Tai Tu to local people and students. He has also trained theatre students at art schools.
For more information about Mekong Delta, you can visit our website. If you have any questions, feel free to contact us. Share this article with others if you find it useful. Have a nice trip!