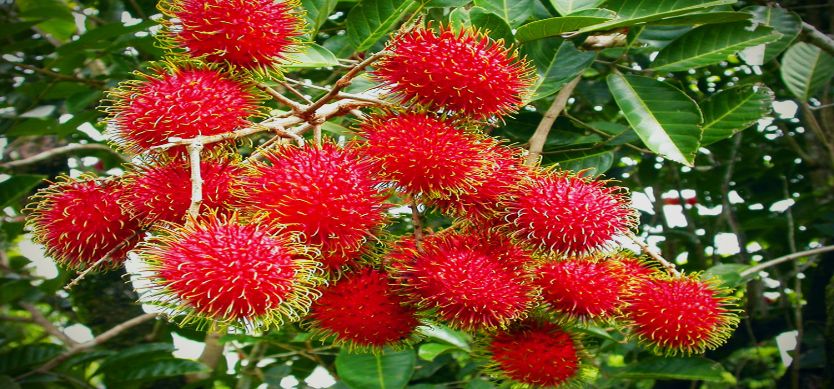 Mekong Delta is the largest river delta in Vietnam which is famous for the rice and fruit bowl of the country. Coming to Mekong Delta in the fruit season, you will have the chance to enjoy the most yummy kinds of tropical fruit in the world.
The fruit season in Mekong Delta
Mekong River Delta, Vietnam is famous for delicious orchards, especially both enjoying fresh fruits and listening to southern folk songs in peaceful space. Summer is the ideal time to explore the Mekong Delta fruit season with ripening fruit gardens. Visit to Tien Giang, Vinh Long and Can Tho, you also catch the sweet ripened fruit on the branches with fragrant in breeze. You will get a hearty fruit feast with Hoa Loc yellow mangoes, sweet longans, Lo Ren sweet star apples, fragrant durians, red and blue rambutans hanging on the branches, green grapefruits, mangosteens, tangerines, ect.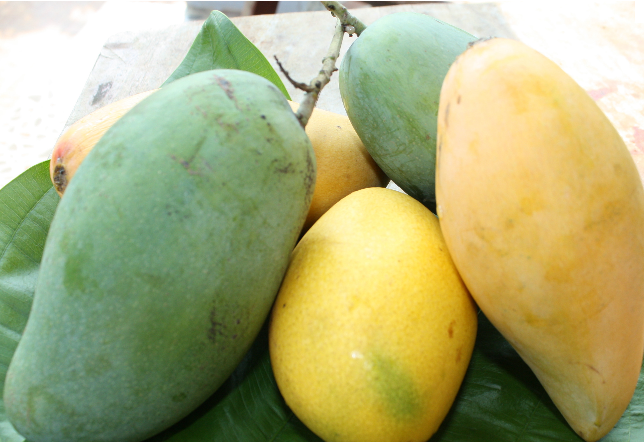 Hoa Loc mango
Especially, traveling Mekong River Delta on fruit season you would like to eat fruits as much as you like at orchard gardens, until your stomach is fulled. The entrance fee is depending on the current price of each type of fruit. Surely, It is a exciting experience when picking fruits on the branches and immediately enjoying their freshness. When you leave, if you buy fruits as gifts, garden owners will give delicious fruits with very cheap prices.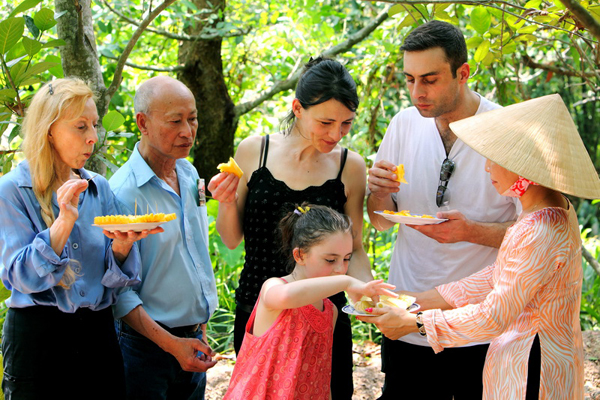 Enjoy Fresh Fruits at Garden
After enjoying fruits, the garden owners continue to treat you to lunch with a reclaiming cuisine culture such as fried elephant ear fish, mussels pancakes, hot pot sauce ... Each dish has a different flavor but shows the hospitality and friendly of Southern people.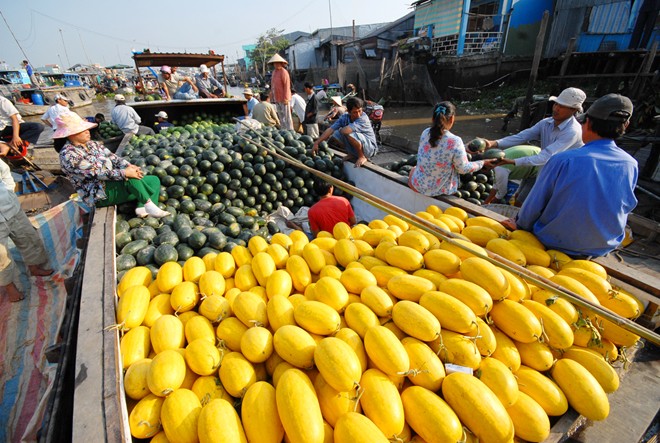 Cai Rang floating market
The other activities to do in Mekong Delta
Falling down Tien river, you will pass through the traditional villages of rice paper, coconut candy, crumb cake, honey .... In Cai Cuong old home (Vinh Long), built in 1885, one can imagine the rich lives of ancient landowners. Also, you do not forget visiting Cai Rang floating market where you can enjoy numerous fruits and learn the traditional sale methods.
Traveling Mekong Delta on fruit season, you will have a chance to sit on the boat wandering the cannals through the fruit gardens and enjoy the sweet favor of tropical fruits. If you need further information about Mekong tours, don't hesitate to contact us. Thank you!