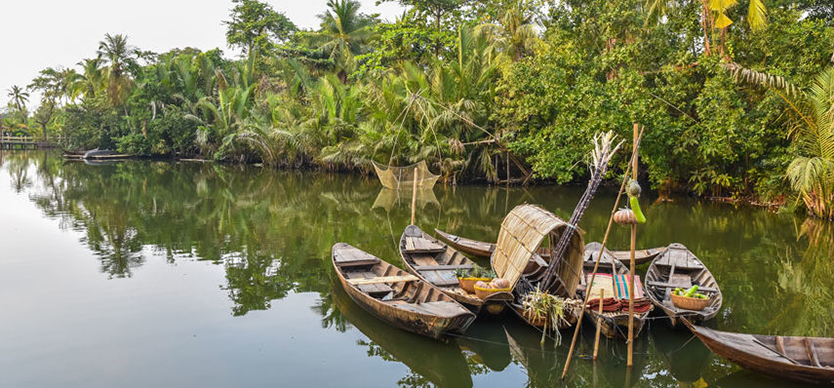 Hydroplane tourism has great potential to develop, especially in the Mekong River Delta, but only a few routes have been approved.
A hydroplane tour in Mekong Delta
Six months after opening the first hydroplane sightseeing tour to Halong Bay with departure in Hanoi, Hai Au Airline has begun another tour, from HCM City to Phan Thiet. And it is considering opening new tours in southern provinces. Hai Au has designed a tour to view HCM City from above. The tour begins at Tan Son Nhat Airport in HCM City, then flies over Thanh Da Peninsula, the central area of the city and ends at the Can Gio area.
Travelers will be able to enjoy the view from the height of 150-300 meters, fly over the Thu Thiem Peninsula, visit the Can Gio mangrove forest, and land at the Vam Sat eco-tourist site. Starting from June 2015, Hai Au will provide one flight a day with the return ticket of VND 12 million.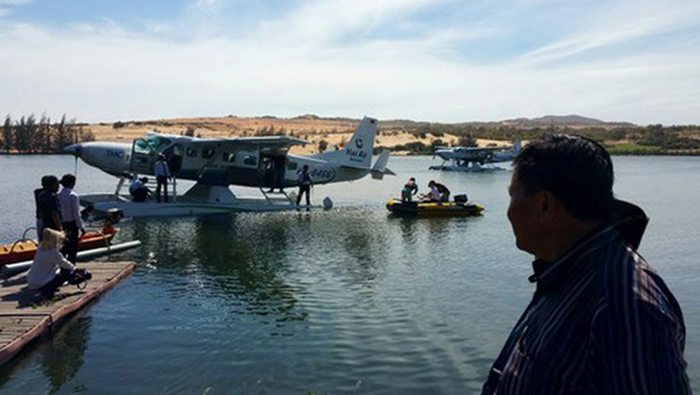 A hydroplane tour to Mekong Delta
More recently, Hai Au has asked for permission from the Ninh Binh provincial authorities to open the tour of Trang An beautiful landscapes from hydroplane. Hydroplanes would fly at a height of 300-2,000 meters. Meanwhile, it has fulfilled necessary legal procedures and prepared well for the exploitation of the HCM City – Can Tho City and HCM City – Chau Doc district (An Giang province) air routes.
The existing problems of hydroplane tourism
At first, Hai Au designed a sightseeing tour to Nha Trang. However, as the tour was turned down by management agencies, it has decided to fly to Halong Bay. Hai Au's CEO Luong Hoai Nam noted that it was more difficult to conduct general aviation operations than other scheduled and non-scheduled passenger or cargo air transport services because of the lack of a legal framework.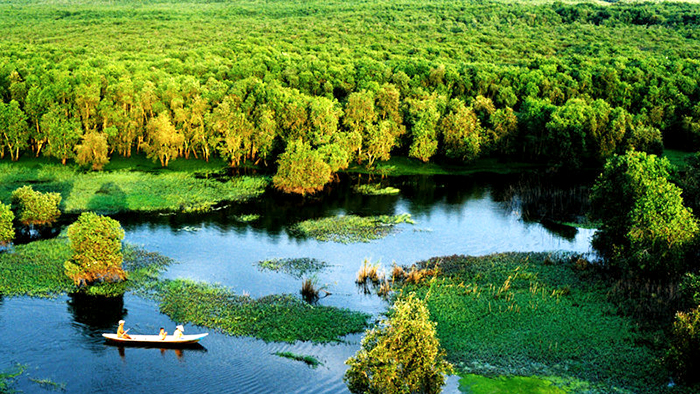 Tra Su forest viewed from above
Uncompleted sky planning in accordance with geographical and altitude maps is another reason only two air routes for hydroplanes have been approved. Nam said there is great potential to develop hydroplane tourism, which could bring 100,000 foreign travelers to Vietnam. However, since there is no transparent legal framework, Hai Au can only put into operation one of its three hydroplanes.
Meanwhile, the airline plans to buy 20 hydroplanes with delivery within five years. The Civil Aviation Authority of Vietnam (CAAV) said that general aviation is mentioned in the 2006 Civil Aviation Law, but many necessary legal documents still have not been released. This was why, though Hai Au was established in 2011, it could only provide the first flights in 2014. In order to get licenses for hydroplanes, air carriers have to ask for permissions from both the Ministry of National Defence and the Ministry of Transport.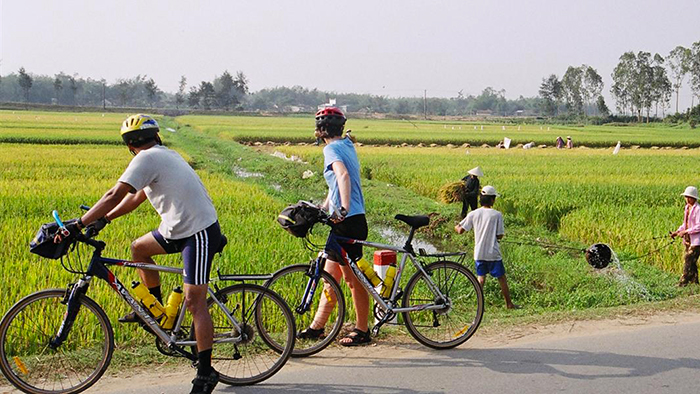 A bike tour in the Mekong is also very interesting
Traveling by hydroplane will bring tourists the interesting experience of a different Mekong Delta, even though this kind of tour has not been put into operation. For further information about Delta tours or what to do in Mekong Delta, feel free to contact us or visit our website. If the article is useful for you, don't hesitate to like and share it with others. Thank you.