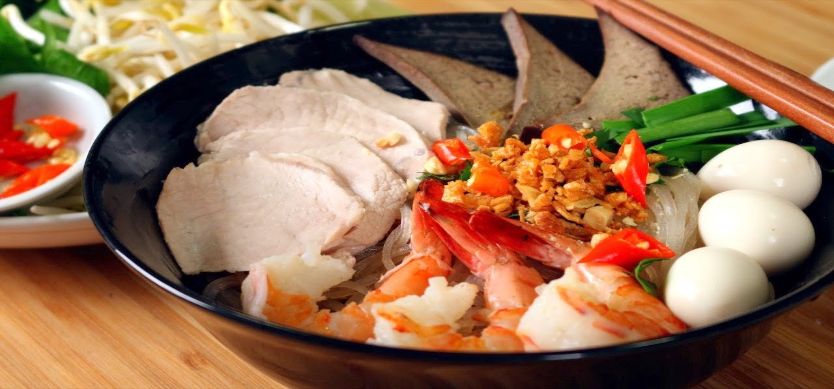 You are now bored with fussy, complicated, grease dishes? It's time for you to book our Mekong Delta Tours and sail along the Mekong River to explore many interestingly different dishes which are simple, light, but quite impressive!
1. Noodle made from sliced flour in Ben Tre
This is a truly specialty of the western area of Vietnam. The dish is made from rice flour and soup cooked carefully with duck meat and can be eaten with ginger fish sauce. The reason for the name "sliced flour" noodle is that people will use rice flour, molded according to each person's own recipe and then sliced into pieces.
2. Banh Bot Loc
Banh Bot Loc is sold at many small shops on Truong Dinh and Nguyen Van Cu Street. This dish is mostly eaten as a light meal. Banh Bot Loc is made from rice flour, filling with shrimp or roasted pork and then steamed. The cake is chewy with a unique taste thanks to the great combination of shrimp and pork. People usually eat Banh Bot Loc with fresh herbs and sweet sour fish sauce.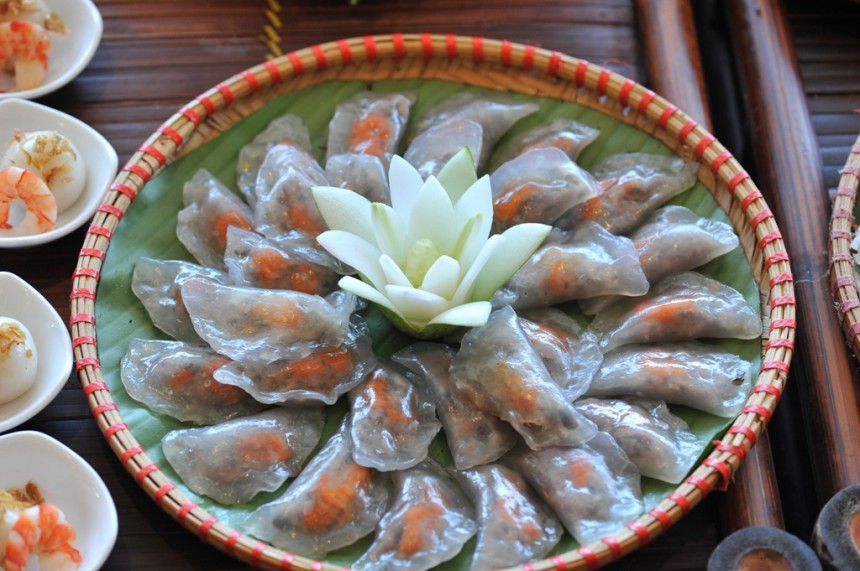 Banh bot loc
3. Sa Dec Noodle Soup
Sa Dec noodles and My Tho noodles are two most popular dishes in countless western specialties. Famous noodle soup of the western region has sweet taste, chewy and distinctive flavor. The noodle can be cooked in many ways. Dry noodle is not a bad idea as you eat noodle and soup in separated bowls.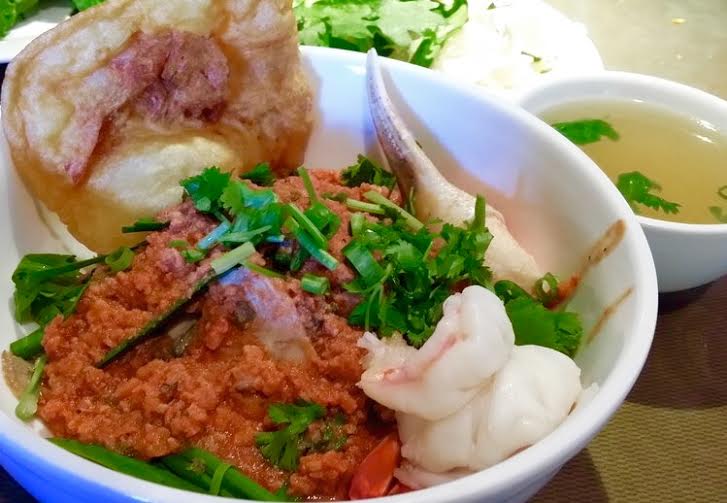 Sa Dec noodle
4. Hoi Cake eaten with baked rolls
Hoi cake has been a dreamy food for all foodies coming to Mekong Delta. This cake is white in color, also made from rice flour, eaten with baked rolls, vegetables and sweet sour fish sauce. Instead of fish sauce, peanut sauce can be used to creat another different taste for the food. If you are wondering how good the Hoi Cake is, don't miss out the chance to try it.
5. Banh bo thot not Chau Doc (Chau Doc's palm sugar steam rice cake)
Palm leaves are often used for roofing, fuels. Old trees are used to make house pillars, tables, chairs. Particularly, palmyra palm brings to foodies an unforgettable taste by simple but amazing dishes such as palm rice, palm juice, palm sugar, and palm sweets. Among these dishes, the one to impress tourists most in the harvest season is steamed rice cake with palm sugar.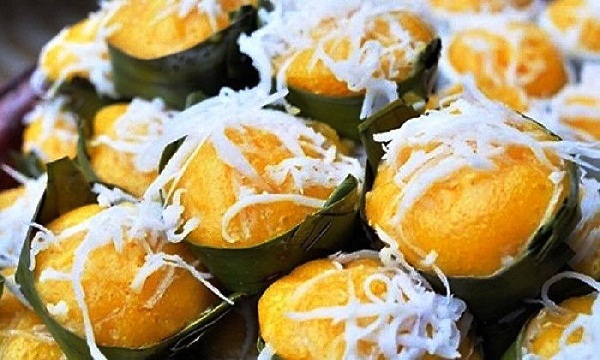 Chau Doc's palm sugar steam rice cake
Holding hot small cakes with the yellow of palm then tasting it will make you feel the tastiness, puff, sweetness and greasy from sugar and coconut mixed with the significant smell of palm sugar, which is not hard to recognize. The list is still long but we suggest you to make it longer by yourself to find the excitements, differences, unique lying in every food you try.
6. Luc Si's rice papers
Rice papers in this land include a various type such as: Nem rice papers, dipped rice papers, sweet rice papers, or baked rice papers. This dish is handmade with 100% rice flour and not used any chemicals. Rice papers are soft, medium salty, wrapped with shrimp, meat, vegetables, noodles, served with tamarind fish sauce, or soybean milled. This is really amazing dish, contributing to make uniqueness of Mekong Delta cuisine.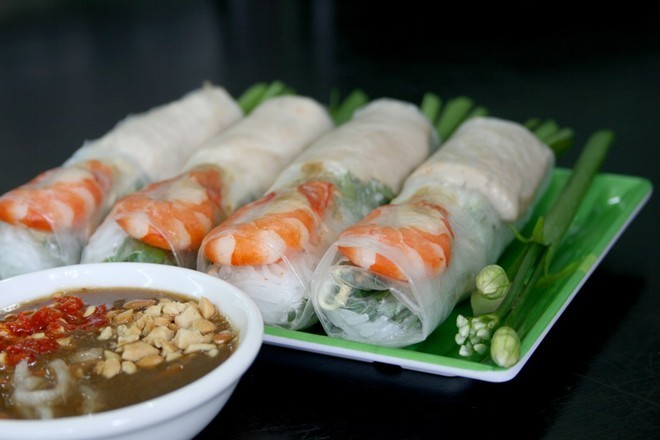 Luc Si's rice paper
7. Gray eel-catfish
Gray eel-catfish is quite dodgy, living only in deep-water level area. They even carved 2-3 meters deep caves for shelters. Therefore, fishing them is also difficult.There are many delicious dishes made from this fish like sour soup, grilled in banana sepal, fish sauce stew, steam or served with fermented scallion. However, the simplest way to make is grill gray eel-catfish in the banana sepal on the charcoal to keep the original sweetness of fresh water fish. You can try this dish with many kinds of vegetables and chili salt. Gray eel catfish stewed with fish sauce is the daily dish of the people in the West of Vietnam. Fish is rinsed thoroughly, marinated in delicious fish sauce, sugar, pepper, chili, and cooked on low heat to make it absorbed completely.
Mekong Delta is one of the large kitchens of Vietnam cuisine with variety of delicious and special dishes. Don't forget to go out and try the foods in Mekong Delta as well as Vietnam. If you need the longer list of delicious foods, contact us without hesitation. Thank you!